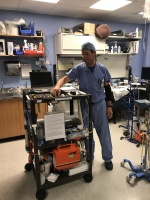 The secret to the ultimate biomed cart
May 29, 2020
by
Lisa Chamoff
, Contributing Reporter
In the Star Wars films, the Jedi are part of a group of warriors that keeps order and peace in the fictional galaxy. The Jedi-in-training are tasked with building their own lightsabers, harvesting a special crystal that's attuned to the Force, the name for the energy that is produced by all living things.

Scot Mackeil, a senior certified biomedical equipment technician (CBET) at Massachusetts General Hospital, where he provides support services for anesthesia and surgical systems, considers each of his specialized carts the equivalent of a Jedi's lightsaber, built to hold the mission-critical tools and testing devices he uses to keep the technology functioning correctly and meeting the needs of his coworkers, the doctors and nurses in perioperative services.

Mackeil has three carts: one for specialized anesthesia systems preventive maintenance (PM), a tool and repair cart for service jobs and a general purpose/vaporizer transport cart. Many of these carts are rolling workbenches that Mackeil repurposed from other uses in the hospital.

"Just as a Jedi must build their own lightsaber, a (biomedical engineering/equipment technician) must be able to build their own PM cart," Mackeil said.

We asked Mackeil to play Jedi Master Yoda, and provide a look at what makes his carts the heart of his hospital galaxy.

The ultimate biomed cart
"Every PM cart should have a laptop with a wireless barcode scanner connected to the PM database over the hospital WiFi system," Mackeil said. "Every cart should have a full drop-over cover for security and loss prevention. Biomed carts should have all the tools and devices needed neatly laid out to accomplish specified mission and tasks."

Tools include everything from cleaning supplies, screwdrivers and vacuums and pliers for maintenance, along with the testing equipment, including a Woodhead outlet tension tester and an Ideal Sure-test receptacle performance tester.

"Checklists of tasks and PMs should be part of the cart," Mackeil said. "For the anesthesia work that I do, I always have the testing checklist right there in front of me."

It's also important to have plenty of space for a laptop, which Mackeil uses to run the Draeger Service Connect application that allows him to log into the machine and enable service mode, review error logs and run diagnostic routines.

Having the manufacturer's guidelines for maintenance and repair handy is also important.

"I always keep the manufacturer's manual on the PM cart, or you can always have manuals on your laptop," Mackeil said.

Mackeil uses carts from an array of brands, including a "crash cart" from Armstrong Medical, with foldout wings on either side, that he repurposed to use as a repair cart.

"It's small enough for getting into tight places," Mackeil said. "It has locking drawers, quiet wheels and divided drawers to organize tools. A retired defibrillator cart makes a perfect biomed cart."

Luxor, which makes AV and projector carts, is one of Mackeil 's favorite manufacturers for PM carts because the top shelf is at standing desktop height, so he doesn't have to bend over his laptop for long periods of time.

"For me, the ergonomics is key," Mackeil said. "I would prefer a height that's similar to a standing desk."

Rubbermaid's plastic AV and transport carts are a popular choice for moving items around the OR at Mackeil's facility. Lakeside, which makes the tiered carts that are ubiquitous in food service, is also heavily utilized for biomedical testing equipment, Mackeil said.

"A multipurpose cart should be a workbench on wheels," Mackeil said. "Harbor Freight and Home Depot have great selections of rolling workbench carts."

A Jedi wish list
If Mackeil could create the ultimate biomed cart, he would add RFID chips to prevent loss and more easily locate it, along with a stereo sound bar to provide better sound while he performs his duties.

"I listen to talk radio on my laptop during PM work," Mackeil said. "I've also always wanted to put in a portable power bank so I wouldn't have to turn my test equipment on and off, and a towel rack to dry my microfiber cleaning cloths on after use."

Carts made for specialized uses have also come in handy.

"For me, a great cart that I had in the past was customized specifically to do IV maintenance," Mackeil said. "It had multiple poles on it, along with a place for my laptop and my supplies."

Mackeil, 2018 AAMI BMET of the Year, has also seen how his fellow biomedical engineers have outfitted their carts creatively.

"There was one where they had some kind of power transporter they'd adapted to their use," Mackeil said.