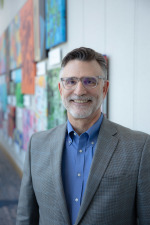 Q&A with Robert Jensen, president and CEO of AAMI
June 12, 2020
by
Sean Ruck
, Contributing Editor
Like so many other industry events, the 2020 AAMI Exchange has been cancelled in light of the ongoing coronavirus pandemic. While that means the HTM community will not be converging on New Orleans as planned, it also means that Robert Jensen, president and CEO of AAMI, has his hands full with making sure clinical engineers have access to the resources that will keep them safe and healthy during this time when their services are more critical than ever. HealthCare Business News spoke to him about the role of AAMI members, and leadership, in getting through these difficult times.

HCB News: Concerns about a pandemic have been discussed for years, but largely a "back burner" topic. Where did that stand on AAMI's radar?
Robert Jensen: Crises like this pandemic are the exact reason why consensus standards are so critical to begin with, as they help establish rigorous and thorough procedures and guidelines designed to protect patient safety. We've seen particular interest in standards related to personal protective equipment (PPE) and sterilization procedures, which is why we've made many of those resources freely available, and worked with ANSI to make sure that critical ISO and IEC Standards for medical equipment like ventilators and protective equipment are also freely available.

HCB News: What were the first steps AAMI took in regard to COVID-19 and when did those efforts begin?
RJ: We've taken several steps to help the health technology and sterilization communities fight the coronavirus pandemic.

One of the first steps we've taken is to make one standard and two technical information reports available at no cost. These resources address the production, selection, and use of PPE and surgical drapes for the healthcare environment and the effective disinfection of medical devices, patient-care equipment, and sterile processing environmental surfaces.
• ANSI/AAMI PB70:2012, Liquid barrier performance and classification of protective apparel and drapes intended for use in healthcare facilities
• AAMI TIR11:2005/(R)2015, Selection and use of protective apparel and surgical drapes in healthcare facilities
• TIR68:2018, Low and intermediate-level disinfection in healthcare settings for medical devices and patient care equipment and sterile processing environmental surfaces

We also set up a task group of industry, clinical, and regulatory leaders to develop consensus around requirements for emergency-use equipment. That group has already produced Consensus Reports (CRs) that detail the safety and performance requirements for emergency-use ventilators. They will be of great help to manufacturers who are producing this equipment, to those who are testing it, and to the regulators who need to approve this equipment for immediate use. The group is also preparing design guides for emergency-use resuscitators and CPAP/BiPAP equipment. Our CRs can be downloaded for free at www.aami.org/COVID_CR.

Working with our partners, we've held several virtual town halls, many with more than 1,000 participants. The intent of these town halls is to disseminate best practices, facilitate discussion, and help our communities understand that they aren't alone as they respond to this crisis.

We established a curated directory of credible resources, including relevant guidance documents and standards, on everything from PPE to masks and logistics.

For the safety of our staff, members, and collaborators, we proactively moved our operations, standards meetings, and training courses to a virtual formal.

We're also offering students enrolled in nonprofit biomedical equipment technician (BMET) programs who have been displaced by closures due to COVID-19 free access to a free eLearning study course for CBET certification.

To bring this all together, we established a coronavirus update page (www.aami.org/coronavirus) that collects all of our resources as well as provide an update to our members on changes to AAMI's operations.

HCB News: What work is AAMI doing to help alleviate equipment and/or supply shortages needed to combat the coronavirus?
RJ: Several of our close partners were able to quickly step in to fill some of the information gaps in this area. AAMI staff have spent hours working our networks, including our members, our manufacturers, our researchers, and our collaborators at the FDA to support those efforts.

We're working directly with SDOs and the FDA to facilitate the creation and dissemination of guidance and standards to assist new entrants into the field so that we can increase the supply of high-quality and medically safe products as quickly as possible. There's a lot of misinformation that could lead to wasted effort and we're doing everything we can to correct that.

We are also working with a group of test labs to connect them with equipment manufacturers who need their help, and to ensure that everyone is working with the same information about the requirements for emergency equipment

HCB News: What are the biggest challenges AAMI members are talking about during this crisis and how are those challenges being addressed?
RJ: We received feedback that some HTM and sterilization professionals were having difficulty establishing themselves as "essential personnel". To respond to that issue, we issued a Safe Passage letter for these critical professionals, so they may be granted priority access, right-of-passage, and exemption from shelter-in-place requirements that they need to perform their duties.

We have also heard concerns from the health technology community about efforts to design, recommission, refurbish, or adapt technologies without the expertise of HTM professionals. While this may be well-intentioned work in response to the coronavirus pandemic, we have strongly encouraged those new to this arena to seek out health technology management experts.

HCB News: Can you talk about the AAMI coronavirus town halls?
RJ: Town halls are an important way to unite professionals from around the world to discuss the topics that they're all facing. So far, we've held two HTM-based town halls (in our partnership with the Health Technology Alliance) and a sterilization-based town hall with IAHCSMM.

These meetings tackle many of the biggest questions facing our industry. For example, what steps should sterilization professionals take to protect themselves when processing reusable devices exposed to COVID-19? How does IT build out its infrastructure with so many healthcare personnel working remotely? What are the best practices for maintaining the massive amounts of new equipment? Those are all important topics of discussion.

We post the audio and transcript of each town hall online, and we hope it'll be a useful resource going forward. You can register for future town halls on our website.

HCB News: When are the PPE standard PB70 and sterilization TIRs being released and where can they be accessed?
RJ: PB70 and TIRs 11 and 68 are available as free PDF downloads on AAMI's coronavirus webpage, www.aami.org/coronavirus. We're keeping that web page updated with the latest coronavirus news and resources.
The relevant ISO and IEC standards (most of which were developed under AAMI leadership) have been made freely available by ANSI and can be obtained at www.surveymonkey.com/r/62DZ6TD

HCB News: How far along are you in shifting to virtual training courses and how many are being offered?
RJ: All of our training courses have switched to a virtual format, and I'm pleased to say that we're able to offer the same quality experience as before. We've been impressed by the extraordinary work of our education staff and our instructors, who built out the infrastructure to get this done and revised their plans. We're pleased with the results and feedback from participants has been on par with our in-person courses.