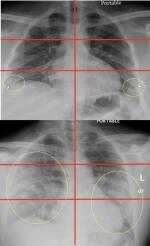 Chest X-rays in the ER identify COVID-19 severity in adult patients
May 19, 2020
by
John R. Fischer
, Senior Reporter
Young and middle-aged adults with COVID-19 may benefit from a chest X-ray when taken to the emergency room, says a new study conducted at Mount Sinai Health System.

Researchers at the New York-based practice found that a chest X-ray can help identify faster which patients require hospitalization and intubation based on the severity of coronavirus patterns in their lungs. They assert that the approach could enable quicker triage and treatment of high-risk patients.

"This is the first study looking at how we can use chest X-rays from the emergency room to predict how sick COVID-19 patients will get," first author Dr. Danielle Toussie, a resident in the department of radiology at the Icahn School of Medicine at Mount Sinai, said in a statement. "We demonstrate how valuable X-rays can be during this pandemic because, by evaluating disease in different portions of the lungs, we can predict outcomes, which can potentially help appropriately allocate resources and expedite treatment in the most severe cases."

The team involved in the study devised a unique scoring system from zero to six to measure the severity of the disease on the lungs and used it to assess records of 338 COVID-19 patients who were seen between March 10 and March 26. Subjects were between 21 and 50, and each underwent an X-ray in the ER at The Mount Sinai Hospital, Mount Sinai Queens or Mount Sinai Brooklyn.

Investigators searched for opacities and their locations on each scan, having previously found patients with opacities to fare worse than those with disease in the lower lobes only. The X-rays were divided into zones of upper right, upper left, middle right, middle left, lower right and lower left, with a patient's total score depending on how many zones the disease showed up in. Lower severity ranged from zero to two, and higher severity from three to six.

Of the 338 patients, 145 were admitted.Those with the highest scores were 6.2 times more likely to need hospitalization and 4.7 times more likely to be intubated. Of the 34 patients with a zero score, two were intubated, as was one out of the 15 that scored a one, six of the 38 that scored a two, two of the 14 that scored a three, 10 of the 32 that got a four and three of the seven who scored a five. Four of the five who scored a six were intubated.

Of the study participants, 61 percent were men, who were more likely to have higher chest X-ray scores and be admitted but less likely to be intubated. The report also took into account preexisting conditions such as obesity, with such patients more likely to have higher scores and require hospitalization.

In contrast to prior reports, no significant differences were found based on race and ethnicity when adjusting for other factors such as age, gender, comorbid medical conditions and weight. Those at Mount Sinai Queens, however, were more likely to have more severe forms of the disease and require intubation than Manhattan or Brooklyn patients.

"These findings underscore how COVID-19, despite its many manifestations, is largely a respiratory illness and the lung changes identifiable on X-ray are a primary predictor of disease progression," said senior author Dr. Adam Bernheim, assistant professor of diagnostic, molecular and interventional radiology at the Icahn School of Medicine at Mount Sinai, in a statement. "This work is foundational for demonstrating the role of radiology not only in diagnosis, but also in predicting, triaging, and risk-stratifying COVID-19 patients so that those at highest risk for severe disease can be immediately identified from the moment of the very first chest X-ray upon presentation."

Cardiothoracic radiologists at Mount Sinai are currently using the scoring system in clinical practice.

The BioMedical Engineering and Imaging Institute at Mount Sinai also contributed to the research.

The findings were published in the journal, Radiology.