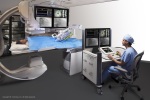 Robotic PCI exposes patients to 20% less radiation, says new study
May 19, 2020
by
John R. Fischer
, Senior Reporter
Applying robotic percutaneous coronary intervention exposes patients to 20% less exposure compared to manual PCI, says a new study by Siemens Healthineers company, Corindus.

The investigators found that using a robotic PCI solution like Corindus' CorPath GRX System cuts the amount of exposure for patients without increasing fluoroscopy time or contrast utilization. Their paper is titled, Comparison of Robotic Percutaneous Coronary Intervention with Traditional Percutaneous Coronary Intervention: A Propensity Score-Matched Analysis of a Large Cohort.

"CorPath GRX is designed to remove the physician from the radiation field during the procedure," Corindus CEO Mark Toland told HCB News. "They control the robot while watching a high-definition monitor from behind a protective shield or inside a control room adjacent to the lab. This reduces physician radiation exposure by over 95%."

Fluoroscopy systems expose interventional cardiology patients to more radiation than any other medical specialty, putting them at increased risk for cancer, cataracts, and other radiation-related illnesses. The authors note that raising the table, and hence, the patient, away from the radiation source is associated with minimized dose exposure. Robotics can perform this maneuver without limiting the operator's ability to work, as the devices are being held and driven inside the robot.

The authors measured air kerma (AK), dose area product (DAP), fluoroscopy time, volume of contrast and total procedural time in a comparison between 310 patients who underwent robotic PCI to 686 who received manual PCI. AK and DAP were significantly lower in the robotic PCI group compared to manual PCI patients, with no difference found in fluoroscopy time and contrast utilization. Total procedural time (minutes), however, was significantly higher in the R-PCI group.

In addition to reducing radiation exposure, the positioning of CorPath GRX provides the operating physician with greater visualization of the case than they would have if using manual PCI, due to closer proximity to the angiographic images. It allows them to limit their own exposure to radiation emitted by the fluoroscopy imaging system, while the patient is in the radiation field during the procedure.

"The pandemic has forced the entire healthcare community to rethink safety measures and consider how we will safely administer care while there is no cure or vaccine for COVID-19," said Toland. "While the robotic platform was designed to limit patient and physician radiation exposure, it also creates an environment conducive to "procedural distancing" or limiting the patient's exposure to the physician. As hospitals begin to plan for resuming elective procedures, they will undoubtedly institute guidelines to keep patients separated from hospital staff and physicians as much as possible, and we see robotic platforms playing a major role in that."

The findings were published in Circulation: Cardiovascular Interventions.