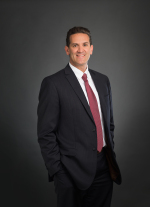 Q&A with Dolan Dalpoas, CEO of Abraham Lincoln Memorial Hospital
July 21, 2020
by
Sean Ruck
, Contributing Editor
Abraham Lincoln Memorial Hospital was one of the hospitals recently recognized with Practice Greenhealth's Environmental Excellence Award. Since we hadn't put the spotlight on them before, it seemed a good time to learn more, so we reached out and spoke with CEO Dolan Dalpoas to learn about his background as well as the work the hospital is doing to achieve recognition like that.

HCB News: What inspired you to follow a career in healthcare?
Dolan Dalpoas: I think I came about it just like everybody who wants to get into healthcare — I wanted to make a difference in people's lives and I wanted to serve my community. So I started out as a technician at the hospital and I ended up getting a scholarship to study physical therapy. When I finished my schooling, I came back and worked at the same hospital where I was born, Abraham Lincoln Memorial. I've enjoyed every minute of it, whether it was when I was helping patients with physical therapy, or serving in my role as administrator. It's been a very enjoyable career and I think we've done some good things in terms of fulfilling our mission.

HCB News: How did your career progress to where you are now?
DD: I started here in 1994, full-time as a physical therapist. In 1998, I got an opportunity to manage the department. At that point, I had hit my career goal. I set off to college, where I wanted to get my physical therapy degree, come back, work for Lincoln Hospital, and one day I wanted to manage the hospital's physical therapy department so that I could spend part of the time treating patients and part of the time managing it. So by October of 1998 I had really achieved my career goal, but then a couple of things happened. When I got into leadership, I liked it a lot, and the CEO at the time took me under his wing and mentored me. He really provided a lot of guidance to my early leadership journey. So those two things lit a fire in me to do more in terms of leadership.

So I went back to college and got a master's degree in Public Health, and joined the American College of Healthcare Executives. I read a lot about leadership, learned a lot from the CEO, and because of him, I saw what good leadership could do for an organization in terms of fulfilling missions and improving community health. That set me on a path to do more, which led to more opportunities around quality and safety, which continued to create more opportunities, so I took those and learned what I could. That opened an opportunity in our health system in 2005. I left Lincoln Hospital for the first time and went to work for one of our affiliates for 13 months, but then my dream job opened here as CEO in April of 2006. I was offered the position and enthusiastically accepted, and I've been here ever since.

HCB News: What attracts staff to the hospital?
DD: Because we're a small organization, I have the opportunity to meet with all our new colleagues, usually within their first 30 to 60 days. Our conversations are really just about building relationships. I ask each of them what their experience has been at the hospital — they'll tell me that everyone is so nice and helpful. So if I had to focus on one thing, it's that people are nice here, they're kind and compassionate. In addition to that, they're very good at what they do and take pride in what they do. They contribute to a strong culture in the hospital. I also hear that when I'm out in the community, whether I'm grocery shopping or going to the movies or what have you, because it's a small town so someone undoubtedly recognizes me.

HCB News: What is your patient makeup like?
DD: Like many small rural hospitals, we serve far more outpatients than patients who require admission. About 85 percent of what we do is on the outpatient side. That's changed over time and I think it's changed for the better. We're able to deliver our mission to our community in a way that allows them to improve their health.

Just a quick story to illustrate that. When I was a physical therapist in the early to mid-1990s, one of my jobs was to go on the inpatient units and make sure all the surgical patients got up and exercised to make sure they didn't get deconditioned while staying in the hospital. You fast-forward 25 years and now that same patient walks in, goes into our surgery room, gets their procedure and walks out the same day. So the model of care, at least in our small rural community hospital, has changed more toward the outpatient side and we can be very good on the outpatient side because we've oriented our hospital around that. It seems to have yielded a lot of health benefits to our community.

HCB News: In a lot of rural communities, it's an aging population, and I'm wondering if that's similar to what you're seeing?
DD: I'd say we're probably a typical rural county, in that more of our citizens are older than our urban counterparts. From the hospital perspective, Medicare is one of our largest portions of patients that we take care of. I think that speaks to the demographics of our local community.

HCB News: What are the biggest challenges, pre-COVID, facing your hospital?
DD: The biggest challenge we have here, because we're a small rural community: it's difficult to attract the talent that you need to drive the mission forward. It's getting harder. Some of that is due to supply and demand of pharmacists, nurses, physical therapists. Unless they've come from a small rural town, it's hard to attract to a small rural town. Knowing that, we've taken steps to provide educational grants and so forth to local students who want a career in healthcare. It's kind of like what I ended up doing. Because you never know who's going to lay down roots and stay in your hometown.

HCB News: I initially reached out because I saw Lincoln Memorial had been recognized by Practice Greenhealth with the Environmental Excellence Award. Can you talk about some of the things you've done to get there?
DD: We're pretty proud of that award. We've been on that journey for several years. We first became aware of Practice Greenhealth through their Healthier Hospitals Initiative. At the time, we were assessing the overall health of our community, and some of the initiatives in their
program aligned with what we were seeing in our community and what we thought we had to do to lead our community to a healthier state. At the same time, we were interested in environmental stewardship and making sure we were using resources wisely. What we lacked and what Practice Greenhealth gave us was the framework to put it all together.

Some of the things were low-hanging fruit, such as instituting a recycling program, but our efforts moved all the way to most recently, when we conducted a Lean Six Sigma Greenbelt project inside the OR to try and reduce waste. Other things included changing our menu to healthier food, adding flavored water as an option — and we saw soda consumption drop by about 30 percent. At the same time, what we saw in the community was significant health challenges, and we realized our mission in the community, which is to improve health, needs to transcend our walls. So we formed a community health collaborative to look at some of those community issues and think of ways to address them through partnerships with other agencies.

HCB News: Are there any big initiatives or developments in the works?
DD: Through this community health collaborative, we've done a number of things. The framework around that collaborative is based around the CDC's guidelines for improving health. Over the last few years, we've done some things to drive health improvement outside the walls of the hospital. For example, we created and operationalized an indoor producer-only farmer's market to get fresh fruit and produce into the local food system stream. We partnered with the fairgrounds, which is right across from the hospital, on that.

We partnered with the city of Lincoln and installed the first National Fitness Campaign fitness court in the state of Illinois on the grounds where the old hospital used to sit. We built our new hospital and opened it in 2011. The old hospital was razed and that land was turned over to the community, and we worked together on the fitness court that's free to use. We constructed a one mile walking trail on our campus as well.

We've partnered with the schools in a number of ways. One is through the CATCH Program which is the Coordinated Approach to Child Health. Most recently, we partnered with the largest school system in Lincoln and worked with them and a third party to transition their kitchens from processed foods to from-scratch cooking. To provide context, that's five kitchens, serving in the range of 300,000+ meals to kids. We launched that last summer with the goal of being close to 100 percent by spring semester of 2020. Then COVID hit and schools shut down. But we hope to pick that back up in the fall. That's about trying to teach kids about the difference between a go food and a slow food, and develop nutrient-dense palates to help reduce the likelihood of obesity and other chronic conditions when they get older.

We're also in the middle of partnering with the local YMCA to potentially construct a new facility to again promote exercise and wellness and health.