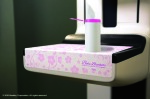 Women's health product showcase
July 17, 2020
by
Mai Hiraoka
, Media Relations Manager
The following are just some of the products and services that are ushering in a new era in women's health technology.

Beekley Medical
Bella Blankets® protective coverlets for mammography
Add to your infection control measures and put patient minds at ease. Thin by design, Bella Blankets allows technologists to position patients as close to the chest wall as possible. The textured material helps with "hard to position" breasts, prevents breasts from sticking to receptor plate to avoid skin tears, helps to shield cuts or infections in the inframammary fold, and acts as a sanitary barrier between patient and receptor plate. Bella Blankets remove without leaving residue for easier cleanup between patients.

CureMetrix
cmTriage™
cmTriage™ by CureMetrix - The first FDA-cleared AI-based triage solution for mammography in the U.S. Empowering radiologists to triage, sort and prioritize mammography worklists based on suspicious cases
that may need immediate attention. Based on studies, CureMetrix empowers the practice with: Faster reading time – 30% reduction in reading time looking at 2D mammograms; Fewer unnecessary patient recalls - 69% reduction in false positives vs. traditional CAD and Improved cancer detection – 27% increase in early cancer detection without increasing false-positive recalls.

EIZO Inc.
RadiForce RX1270 12-megapixel color medical Monitor
EIZO is releasing a 12-megapixel color medical monitor in July of 2020. You can now view an even wider range of medical images at once, including displaying full high volume images for increased reading efficiency. The RadiForce RX1270 resolution is approximately 1.3 times larger than EIZO's former monitors. Making it ideal for accurately viewing PACS images such as grayscale Mammogram and Tomosynthesis, as well as color images such as 3D rendering and image fusion.

Sun Nuclear
Modular DBT™ Phantom
The Modular DBT™ Phantom from Sun Nuclear enables comprehensive testing of digital breast tomosynthesis systems. A stack of modules supports a variety of tests and automatically aligns to the detector chest wall for easy setup and reproducibility. A range of simple to complex targets are precisely placed within tissue-equivalent breast material that is 50% breast-glandular and 50% breast-adipose. High-attenuating objects are used to test projection images, and low contrast objects simulate breast tissue for reconstructed images. Comply with developing protocols and standards, including EUREF, IEC2 and AAPM Task Group 245.

Sun Nuclear
Mammo 3D™ Performance Kit
The Mammo 3D™ Performance Kit from Sun Nuclear includes several PMMA plates, spacers, aluminum plates and foils, steel plates, plus a variety of customized test tools, and a custom case. It's designed to comply with IEC Protocol 601223-3-6, EUREF 1.03, EUREF 4th Edition 2B, and German DIN 6868-1.

Varex Imaging
The 3024MX is a second-generation FPD for Digital Breast Tomosynthesis (DBT) and Full Field Digital Mammography (FFDM). Its maximum frame rate of 5 fps, 40 percent higher saturation dose, and improved low dose performance make the 3024MX a robust and cost-efficient choice for 3D tomosynthesis and mammography.

Varex Imaging
The B-121 is an upgrade to the leading B-115 housing design and includes a unique fan shroud design allowing 300W of heat dissipation, which enables high patient throughput and tomosynthesis imaging, minimizing the possibility of overheating the X-ray unit. Varex offers a large tube portfolio for Full Field Digital Mammography (FFDM), including the widely used M-113 insert in the B-121 housing.