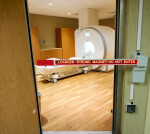 Imaging management product showcase
July 15, 2020
by
Mai Hiraoka
, Media Relations Manager
The following are just some of the products and services that are making imaging departments safer and more efficient.

Aegys • TechGate Auto
TechGate Auto from Aegys is an advanced warning system for controlling access to the MRI room. Warning messaging is effectively communicated through the utilization of bright, dynamic, color changing LED barrier arms which extend across the opening to the MRI room. These barrier arms are rotated into position automatically by activation from MRI conditional remote transmitters or by the transit of anyone into or out of the room. Unlike plastic chains or retractable belts that require manual latching each and every time, the TechGate Auto self deploys ensuring effective hazard warning and access control at all times. "Caution Barriers" are now recommended by the American College of Radiology to protect the MRI room entrance when the door to the MRI room is open.

Aegys and CEIA USA Ferromagnetic Division • CEIA PD240CH-Z4
The CEIA PD240CH-Z4 is the only handheld MRI patient screening solution that can operate on an all metal mode of detection and with a push of a button switch to a ferrous only mode of detection. This dual capability addresses the projectile threat of ferrous items while also addressing the RF induced burn risk or artifact generation caused by any metal item. Additionally, the Z4 is the also the only MRI handheld MRI patient screening solution validated as MRI-Conditional to 3T. MRI Safety just got safer!

AFC Industries • Height-adjustable standing desks
AFC's height-adjustable standing desks, with monitor mounts, CPU holders, and wire-management are designed for a home or office work environment. They also provide convenient programmable height level settings and preferences at the simple push of a button. Built to accommodate the heavy professional monitors needed when inspecting radiology images and scans. These workstations are available in multiple desktop work surface widths, so that they will easily fit in your dedicated workspace, whether it is in the comfort of your home office or at your workplace. With available monitor mounting solutions, we can build this station to accommodate as little or as many monitors as you desire. www.afcindustries.com

Ampronix • OEC LED Flat Panel Upgrade Kit
Ampronix Introduces the ( NEW ) Flat Panel LED Monitor Upgrade for the OEC 9800, 8800, & 6800 mobile C-arms. The monitors come mounted on an articulating Ball Bearing arm for increased versatility and the doit- yourself installation can be performed in approximately 45 minutes. Features: Dual 20.1" grayscale LEDs, 2MP per display including a touch screen on the right screen, 900 cd/m2 1500:1 contrast ratio, 170° viewing angle (H/V), articulating arm, and comes with a 3 year warranty.

AVID Products, Inc. • MRI Safe Program
Designed for the market in partnership with MRI Technologists, the AVID MRI Safe program enhances the patient experience, resulting in a higher rate of successful MRI scans and improves patient safety. Understanding that keeping patients relaxed reduces motion artifacts during scanning, the AVID MRI Safe headphone was developed specifically for patient comfort and safety and superior sound transfer with AVID's Sound+ tubing. Providing a cost-effective solution that improves the patient and technologist experience. The program includes; MRI Safe headphone, earmuffs, sanitary earpad covers, eye shades, earplugs, adapters, extension and repair kits. Learn more at avidproducts.com/markets/healthcare

Beekley Medical • iFIX™ patient stabilization system
Introducing iFIX™ – a patient stabilization system that conforms to patient anatomy like a second skin. Comprised of both reusable and single-use components, iFIX's versatile design allows for a variety of uses offering a head-to-toe solution for patient stabilization in multiple modalities. The comfortable iFIX Fleece stretches and gently "hugs" the contours of the patient's body for gentle, yet secure stabilization. The Fleece and other single-use components allow for increased hygiene and lower the risk of cross-contamination over other methods. Ideal for CT • MRI • X-Ray • Fluoroscopy • Ultrasound Distributed by Beekley Corporation to customers within the United States and its territories

CEIA USA Ferromagnetic Division • CEIA MSDW
The wall-mounted CEIA MSDW detects magnets and all ferromagnetic objects considered dangerous in the MRI environment. The MSDW can operate as a single unit for a pass-by or rotate-by checkpoint or it can operate in passthrough configuration with CEIA's exclusive EVO analyses, which features uniform detection sensitivity over the entire transit area. Multi-zone acoustic and optical alarm signaling indicates the ferrous threat items on patients and staff. Limited operator training is required for ease and speed of system use. Integrated memory logging is available for recording up to 70,000 events including alarms, programming modifications and diagnostics.

CEIA USA Ferromagnetic Division • CEIA MSDH
The MSDH is a flexible and portable ferromagnetic detector for MRI safety screening that features a one-piece, lightweight design for easy setup. The system provides fast, simple and effective analysis for the detection of ferromagnetic and magnetized objects that are considered dangerous to patients and staff in the MRI environment. The MSDH can operate as a single unit for a pass-by or rotate-by checkpoint or it can operate in a pass-through configuration with CEIA's exclusive EVO analyses, which features uniform detection sensitivity over the entire transit area. With no installation costs and built-in 26-hour battery, the system is ready for immediate use.

EIZO, Inc. • RadiForce MX315W 8-megapixel monitor
The RadiForce MX315W is the first 8-megapixel monitor in the RadiForce MX Series. The resolution is 4096 x 2160 pixels, and this 31.1-inch screen, so a large amount of information can be viewed all at once. The MX315W also offers the highest brightness in the RadiForce MX Series at 450 cd/m2. By utilizing the MX315W's increased viewing space and freedom of layout, it is possible to display various inspection images side-by-side, such as CT and MRI images in a tiled format. It allows the comparison of old and current scans, ultimately improving efficiency.

Hitachi Healthcare Americas • Vidistar Image and Reporting Platform
Hitachi Healthcare Americas delivers best in class imaging technologies for healthcare providers. Hitachi's VidiStar platform enables the creation of value-based reports leveraging a cloud-based image management and analytics platform for improved communication across the organization. As providers move towards value-based care, we will help them navigate the transition successfully with cloud-based solutions, that efficiently deploy and adopt technology across complex and diverse organizations; with structured reporting, that standardizes and improves the quality of clinical reports and streamlines communication while reducing errors and decreasing turn-around time; with advanced analytics and data mining, that identifies key value drivers and improves decision making.

Konica Minolta Healthcare Americas • Exa® Platform
Konica Minolta's Exa® Platform offers a unique and unparalleled software solution to manage medical imaging and patient data across the healthcare spectrum. Exa products including, PACS, RIS, specialty viewers and Billing all enjoy the distinct benefits of speed, security, and access, due to advanced features like Server-Side Rendering, Zero Footprint viewer and a single integrated database across modules. The combination of Server-Side Rendering and a diagnostic quality Zero Footprint viewer provide fast access to all DICOM images from any location and any device. For more information, please visit konicaminoltahcit.com.

Konica Minolta Healthcare Americas • KDR® Advanced U-arm System
The versatile, compact design of the KDR® Advanced U-arm System makes it ideal for locations that need to provide superior-quality radiography services in small spaces. The flexible and fully automated floor-mounted system can be installed under 8' ceilings, maximizing office space and improving positioning capabilities. The U-arm architecture and portable table allow for table work when needed. Workflow is enhanced by the 17" x 17" built-in detector, constant alignment, independent tilting of the tube and detector for simplified anatomy positioning. A tube-mounted console allows the operator to confirm patient information and image quality at the patient side, minimizing exam time.

Konica Minolta Healthcare Americas, SONIMAGE® HS1 and SONIMAGE® MX1
Konica Minolta's ultrasound systems feature advanced MSK functionality for superior image detail and contrast resolution for ultrasound guided procedures and therapies. Our UGPro™ Solution unites advanced ultrasound capabilities with the latest minimally invasive procedural technologies so clinicians have the confidence to make better decisions sooner. For enhanced needle guidance, the SONIMAGE® HS1 and SONIMAGE® MX1 incorporate an advanced algorithm that utilizes both in-plane and out-of-plane methods to improve needle visibility, especially in steep angle approaches. The clarity and blue color of the needle enables increased accuracy, making portable systems an ideal solution for pain management guided injections and therapeutic procedures.

Oakworks, Inc. • Build-A-Bed – Create Your Dream Table
Oakworks General 3 Section Ultrasound Table
The affordably priced ergonomically designed Oakworks General Ultrasound table with a three-section top can be customized to fit your clinical/and or procedural needs with over 12 optional features. Design your perfect table to compliment the sleek base that provides unobstructed compatibility with ultrasound machines promoting better ergonomic conditions for the sonographer. The twin tower design is for added stability on a table with a 550-pound bariatric-rated lift and load capacity. The table's adjustable height, from 22 to 38 inches is a preferred range for ergonomic working levels. The table is backed by a three-year manufacturer's warranty, FDA listed, ETL Listed and Made in the USA.

PDC Facilities and Sentient • Perfect Sky Image Ceiling
Since MRI hit the market, PDC has specialized in MRI RF shielding and MRI suites to create superior imaging environments. Today, we have expanded solutions into all Radiology, Oncology and general healthcare spaces to help providers meet their patient experience goals of any size through: Reduced anxiety, claustrophobia, patient motion and re-scans; Improved workflow and patient and caregiver experience; Fewer sedation and anesthesia cases; Increased patient referrals. PDC and Sentient's latest patient experience solutions include the MRI Wireless Portable Video Display for quick, easy install, Perfect Sky to Illuminate any space and the MRI full-length Privacy Switch Glass RF Door.

Richardson Healthcare • ALTA750
The ALTA750® is a form, fit and function replacement for the Toshiba/Canon Medical Systems CXB- 750D/4A CT tube. It is certified on OEM platforms, including the Aquilion 4- through 64-slice and the PRIME (Gen. 1). The ALTA750 is CE approved and is available with a 12-month warranty (certain restrictions apply). Stocked in 6 locations around the world and ready to ship today!

Shimadzu Medical Systems USA • FLUOROspeed X1
The FLUOROspeed X1 edition with its 665 lb. static patient weight capacity, easily performs both bariatric and routine RF exams. The X1 offers a cost-effective balance of functionality supporting a wide range of general RF applications, including chest, abdomen, or extremities along with Upper GI's, modified swallows and even joint injections. The X1 RF is designed with patient side table controls for the operator, comes equipped with a 17"x17" dynamic FPD in the table for both fluoroscopy and radiographic exams. With its 31.5-inch aperture opening, the X1 is the ideal digital RF system for wheelchair and stretcher work.

Shimadzu Medical Systems USA • MobileDaRt Evolution MX8 – Mobile X-Ray System for Infection Control
The MobileDaRt MX8 is Shimadzu's Next Generation mobile radiographic system with designed in features and value like "GlideView", the MX8's collapsing X-Ray tube column that raises the bar where features and operability are concerned. The MX8 is your optimal solution for enabling X-Ray imaging in any emergency. During a pandemic infection, it is expected that the existing X-ray room will not be available to be used for both isolation between infected and uninfected people. The MobileDaRt can be operated in newly isolated area(s) inside the hospital or outside in tented controlled space.

Varex Imaging
The 3024MX is a second-generation FPD for Digital Breast Tomosynthesis (DBT) and Full Field Digital Mammography (FFDM). Its maximum frame rate of 5 fps, 40 percent higher saturation dose, and improved low dose performance make the 3024MX a robust and cost-efficient choice for 3D tomosynthesis and mammography.

Varex Imaging
The B-121 is an upgrade to the leading B-115 housing design and includes a unique fan shroud design allowing 300W of heat dissipation, which enables high patient throughput and tomosynthesis imaging, minimizing the possibility of overheating the X-ray unit. Varex offers a large tube portfolio for Full Field Digital Mammography (FFDM), including the widely used M-113 insert in the B-121 housing.