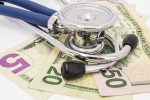 Margins and volumes for providers improving but still far from normal: report
June 29, 2020
by
John R. Fischer
, Senior Reporter
Hospitals and health systems, as a whole nationwide, saw a bump up in their margins and volumes in May, and for the first time in two months, as they continue to grapple with the COVID-19 pandemic, according to the June issue of Kaufman Hall's National Hospital Flash Report.

The authors credit funding from the federal emergency CARES Act for the significant margin improvement from April to May, and observed higher volumes of patients heading to providers than they were in April. They warn, however, that margins remain well below 2019 levels and below budgets.

"In March and April, we saw consistent and similar financial impact across all regions and all bed sizes throughout the U.S., independent of COVID infection rates and state shelter-in-place rules," Jim Blake, managing director of Kaufman Hall, told HCB News. "The primary drivers appeared to be a combination of healthcare systems limiting elective procedures, and consumers opting to not seek care. Though we saw slightly improved financial performance in May, the variance was significantly larger in May, meaning that certain states, cities and providers saw a stronger return than others but overall the median was only slight improvement."

The findings were derived from data collected from more than 800 hospitals, which, together, had a median hospital operating margin of 4% in May. The authors say that without the $50 billion provided as temporary relief by the CARES Act, the figure would have been -8%. Operating margin overall jumped 100% between April and May, but still dropped 13% year-over-year, and was 6% below budget. April's operating margin dropped 282% compared to the same period last year.

Month-over-month increases in volume were also seen in May but went down year-over-year and compared to budget across most measures. Adjusted discharges followed the same pattern, rising by 30% MOM, but decreasing 27% YOY and 26% below budget.

Operating room minutes, meanwhile, jumped 92% compared to levels in April, the largest of any volume metric increase. This was credited to many hospitals resuming non-urgent procedures. Revenue for May recovered somewhat too, but was still poor, with actual revenues lower YOY. Total gross revenue shrank 14% from its figure in May 2019, but was up 29% MOM. Outpatient revenue was down 27% YOY but had the largest MOM increase at 39%. Inpatient revenue fell 12% and rose 19%, respectively.

Hospital implementations of furloughs and other aggressive cost-control actions helped reduce actual expenses in May compared to the same time last year, with total expense decreasing 6% YOY. It was up 1% MOM. Total labor expense fell 3% and rose 2% respectively, while total non-labor expense fell 7% and rose less than 1%, respectively.

In addition to greater access to emergency funding, hospitals will have to assess their cost structure and consider the possibility of delay or cancelling capital projects, according to Blake, as well as develop new care models to manage rising demand for virtual care and to create greater clinical coordination and efficiency.

"Hospitals will need to focus relentlessly on their cost structure, their balance sheets, and the efficiency of their operations in order to maintain their financial footing through what we expect to be an extended period of significant challenge," he said, adding that "the rate of improvement will depend to a great degree on the path of COVID and the rate of return for non-COVID patients. The path of COVID is not known but healthcare systems that proactively manage the delivery and marketing of care such that they can assure the safety and gain the confidence of their potential patients will do better than those that cannot."