As the COVID-19 pandemic continues to spread, healthcare providers worldwide face an uncertain financial future.
Many have been afflicted with shrinking margins and dried up revenue streams from delaying non-urgent procedures and shifting their resources toward the novel coronavirus.
In many cases, third-party equipment service partners offer a desirable value proposition and significant savings over their OEM counterparts when it comes to servicing capital equipment such as imaging technology. Although they may not maintain some of the newest technology entering the market (usually, those systems can only be serviced by the manufacturer), independent service groups can provide excellent service at a competitive price for technology that has been around for a few years.
Cost effectiveness and efficiency have always been top priorities in equipment service, but never before has it been as urgent as during the coronavirus pandemic. From modifying their hours of operation, to implementing social distancing guidelines for their service teams, HealthCare Business News spoke to a few leading independent service organizations to find out how they're supporting their healthcare clients during these challenging times.
A decrease or shift in services?
Elective and non-urgent procedures represent a lucrative source of revenue for providers, but many of these exams (and scans) have seen dramatic cutbacks in utilization. This, in turn, has affected both the need and affordability of services.
"Because they're seeing decreased revenue, we did receive calls requesting suspensions of service contracts and reduced cost of annual contracts based on scan volumes," Mike Black, vice president of sales for Alpha Source Group, told HCB News. "We did everything we could to meet those requests and partner with our customers."
Imaging rates have been hit especially hard by COVID-19. A study out of Yale in April warned that radiology groups should expect a dip of 50% to 70% over a minimum of three to four months. That means paying for service at a time when the technology isn't bringing in the revenue it's supposed to.
"Hospitals suffering from a significant decline in revenue are questioning all of the costs of service delivery—including existing OEM programs— they were using prior to the pandemic," said Jerald Olsen, VP of sales and business development, and Wendy Diddell, EVP and chief operating officer for Richardson Healthcare. "When a system operates at half its intended capacity, it no longer makes sense to keep doing what you have always done. You have to look at other cost-saving options and third-party service organizations as well as in-house teams are well positioned to support this changing landscape."
These third-party providers have also experienced changes in the services they provide as a result of the pandemic's effects. X-ray tube replacement, for instance, is dependent on utilization rates. Decreases in scanning will reduce the need for this service, along with other corrective maintenance tasks. Rather than doing less work for their customers, some independent service organizations are focusing their support in new areas.
"While there has been a reduction in elective procedures and while that work may be less on the repair side, what we did see was an increase in projects to support COVID-19 response efforts and increased focus equipment being used for treatment, like ventilators and patient monitors," said LeAnne Hester, chief marketing officer at TRIMEDX.
Robert Moorey, TRIMEDX's senior vice president for customer delivery, added, "So it really wasn't a decrease from a clinical engineering point, as it was a shifting of resources from one area of need to another area of need."
Changes and decreases in medical services are seen as short-term, and although different parts of the U.S. are having varying degrees of success in their fight against the virus, many providers are beginning to resume their normal workloads.
"We did see a decrease in service needs from our customers, but have experienced a steady increase since mid-June," said Ted Lucidi, CBET and clinical marketing and commercial specialist for Innovatus Imaging's Centers of Excellence for Ultrasound and MRI Coil Repair, Radiography, Design and Manufacturing.
Prepping for onsite visits
The need for social distancing has led many service providers to avoid on-site visits and preventative maintenance unless absolutely necessary. In such situations, service engineers will don masks and other PPE to stay safe and keep the people they interact with safe.
Many service organizations have adopted their own policies around the use of PPE, but Pete Strimaitis, chief operating officer for Alpha Source Group, says the best approach is to abide by the protocols implemented by the healthcare facility.
"We've seen a lot of hospitals and imaging centers create more stringent policies to come on-site and do work, and so we have to adapt to those local and facility policies," he said. "Sometimes those differ tremendously from one facility to another. It was a little complex for us, but we wanted to make sure we were following those local policies in addition to our customer policy."
Service providers also have to be more flexible in when they perform preventive maintenance, scheduling it around the needs of their customers. This has led to some working during off-hours, including on weekends and even as late as midnight, to avoid delays when care is critical.
The need for social distancing has also forced independent service organizations to rethink the way they do business at their own facilities.
"We recognized that what we needed to do was spread people out," said Moorey with TRIMEDX. "Find other locations or split shifts and limit the number of people in the shops. If we did have a person come into contact with a positive patient, we made sure that they did not put everyone at risk. This has helped TRIMEDX limit the number of associates who could be potentially exposed."
Crothall addressed this issue by setting up a system for identifying which vendors are available and safe to do on-site jobs. "To provide optimum transparency in our systems, Crothall instituted a specific code for PMs impacted by the pandemic to identify which device vendors could not come onsite to conduct preventive maintenance, or which PMs were otherwise deferred due to the pandemic (allowed under the CMS Blanket Waiver)," said Sheila O'Donnell, VP, Technical Resources Group, and Shashi Avadhani, regional vice president of Crothall Healthcare Technology Solutions. "Deferred PMs affected by COVID-19 will be reported separately through the EOC and other governance structures for regulatory compliance."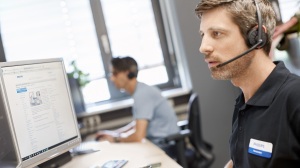 Service from a distance
With hospitals limiting the number of people in their facilities and service providers looking to avoid on-site visits, remote monitoring and telecommunications have become crucial preventive maintenance tools.
"We are actively enhancing our remote capabilities," Rob Stevens, service operations leader for services and solutions delivery of Philips North America, told HCB News regarding Philips' multi-vendor service offerings. "At our Customer Care Solutions Center in Atlanta, Georgia, we are increasing and improving our connections to systems via our Philips Remote Services (PRS) secured internet connection. Connected systems can 'phone home' to alert remote engineers that a system may be experiencing an issue that is not visible to the operator. In these cases, we can proactively initiate service to improve system performance."
The use of remote monitoring reduces the need for bringing service people on-site at the facility and can be used for a variety of purposes, including monitoring equipment, troubleshooting problems, performing diagnostics, database resets and cleanups, and in some cases, even equipment repair.
Meanwhile, service providers are using telecommunications technology to institute more online training for their service teams during the pandemic. It is a trend that is expected to continue even after the pandemic has ended, and extends beyond independent service engineers to healthcare systems and their own in-house service teams.
"There is a piece of technical training that is pure classroom," said Moorey. "I think there is an opportunity for the pure classroom, the lecture portion of that class to be more virtual, which would limit the amount of time a technician would have to be away from their job site."
He warns, however, that there's ultimately no replacement for hands-on learning.
"But for the technical aspect, it really is important to be in front of that device and to have the benefit of interaction with a peer or instructor and share those experiences to help solidify the technical part of that training."
Servicing a post-pandemic world
COVID-19 is certain to have long-term ramifications even after the pandemic has ended. Learning the lessons and being prepared the next time something like this happens will require a fundamental shift in the way many aspects of healthcare operate. Equipment service will be one part of the "new normal" we embark on.
"Long term we do not foresee a time when outside service employees will be able to enter a medical facility without additional health and wellness screenings," said Richardson Healthcare's Olsen and Diddell. "The rules will be IDN / Health system specific. If you do not follow their rules on entry, you cannot come onsite and do service work."
More-stringent disinfection policies and limiting the number of servicers arriving on site for a particular job may also be long term consequences.
"As part of our standard operating procedure, customer products arriving at our facilities are disinfected upon arrival and cleaned with hospital grade disinfecting products exiting our facility," said Lucidi with Innovatus Imaging. "Operationally, we've implemented work from home for certain roles which has allowed us to minimize the number of individuals in each facility. Furthermore, our teams have taken additional steps, such as implementing workspace distancing, limiting access to common areas, actively cleaning workspaces, and high-touch areas and maintaining strong hygiene practices."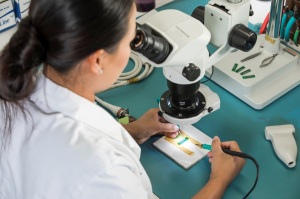 Service providers and hospitals alike will continue to rely more on remote monitoring to limit exposure, as well as online classes to educate not just independent service engineers but hospital in-house service teams, too.
"We have transitioned many of our classes to online learning and have opened nearly 1600 additional online, virtual training opportunities as of June," said Stevens. "Philips continues to invest in e-learning by developing virtual machines for a better remote experience, increasing communication quality and cadence to keep engineers informed, and developing training content specific to remote diagnostics and repair."
Hester with TRIMEDX expects COVID-19 to speed up the transition of patient care (and equipment service, with it) beyond hospital walls.
"Providers are looking at telehealth as well as hospitals at home―how they can get care closer to the patient. We will continue to support them in that process―as they continue to expand and distribute care―which will increase the need for technology and data we have, like remote monitoring, utilization and cybersecurity."
Improvements in emergency preparedness protocols will also be a big focus moving forward in case a resurgence or other pandemic should occur.
"We will continue to work closely with our client's lead on these protocols," said O'Donnell and Avadhani. "We will continue to bolster internal processes as not to be totally reliant on 'local' contingencies and to provide a standard and consistent message to HTS staff on how to manage/prepare for the next pandemic and/or respond to the next emergency situation."
Strimaitis says that independent service organizations should look at the pandemic as an opportunity to rethink their strategies going forward and invest in additional services and equipment to cater to the needs of providers now and in a post-pandemic world.
"The one thing we did as the pandemic started to take a foothold in the U.S. and globally, is we started to look at other solutions and other services we could provide to our customers," he said. "One part of our solutions is around imaging services but there are other ancillary types of products out there that we can provide relevant solutions for."