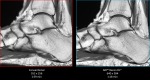 These new MR features promise to help with the COVID imaging backlog
September 21, 2020
by
Lisa Chamoff
, Contributing Reporter
Speeding up workflow while retaining image quality and increasing patient comfort has always been a priority for imaging departments. But with the novel coronavirus causing a case backlog and requiring a longer than normal cleaning process in between patients, decreased scan times are more important than ever.

Many manufacturers have been looking at how to keep caseloads flowing smoothly while improving outcomes using MR. Here's a look at what's new in MR scanners, software and coils and some new features that will help during the slow road back to business as usual.

Canon Medical Systems USA
The company received FDA 510(k) clearance for its AiCE Deep Learning Reconstruction recently for use with its Vantage Orian 1.5T scanner, and earlier this year for the Galan 3T.

The technology provides higher signal-to-noise images with enhanced resolution, without sacrificing scan time, for brain and knee scans, said Tom Naypauer, solutions marketing leader for MR at Canon Medical Systems USA.

"Normally there are trade-offs within that triangle," Naypauer said. "It's normally felt in 1.5T."

Canon Medical's Compressed SPEEDER MR Technology, a form of compressed sensing technology designed to reduce scan time, helping with COVID-19 backlogs, was cleared for the Galan earlier this year and for the Orian in June.

"Technologies like Compressed SPEEDER that provide faster scans could be one tool to increase throughput so you can help accommodate potential surge in volumes" Naypauer said.

GE Healthcare
In April, GE Healthcare received FDA clearance for its AIR Recon DL reconstruction software, which provides what the company says is the industry's first MR image reconstruction using deep learning for all anatomies.

"The software can be used to reconstruct images of any body part on a 3T scanner," while other solutions are mostly anatomy based, said Jie Xue, president and chief executive officer of the Global MR Business for GE Healthcare.

"Image quality and scan time is usually a tradeoff," Xue said. "We really take the balance between the image quality and the scan time to another level."

The technology is available on the company's SIGNA Premier, Architect and Pioneer systems as well as Discovery MR 750 and 750W systems through an upgrade.

The product should be able to help our customers to quickly reduce their procedure backlog caused by COVID-19.

"We never anticipated COVID," Xue said, "but we're glad we had an offering that can help clinicians."

Hitachi
Last year, the company released Evolution 6 software for its Echelon Oval and Echelon Smart Platforms. In June, Evolution 6 software was released for its Oasis 1.2T High Field Open MRI. The software offers an advanced sound reduction option, along with many standard ease of use features.

The software is now Windows 10 compatible.

"We're putting a big effort now into cybersecurity enhancements," said Scott Lytle, the senior MR product manager for Hitachi Healthcare Americas.

Hyperfine
In early February, the company received FDA clearance for the world's first portable MR system.

The company showcased the product with a .064 Tesla magnet at last year's RSNA, performing an MR scan on the show floor for the first time in the show's history.

In between, the startup has made progress on the device, fine-tuning some of the image processing hardware and software components, said Chris Ward, head of marketing for Hyperfine.

"The magnetic field and the form factor haven't changed," Ward said.

The company has installations for research purposes at seven different sites and many have the updated product.

Just before this magazine went to print in mid-August, Hyperfine announced FDA clearance for Swoop, its latest-generation point-of-care MR system, incorporating user feedback and technological enhancements evolving from the original device.

Portable MR may be even more compelling in the era of COVID-19.

At Northwell Health's North Shore University Hospital on Long Island, 75% of the facility's 850 beds were converted to COVID-19 beds and many of those patients had neurological symptoms. Using the Hyperfine scanner at the bedside meant that patients didn't have to be transported to the radiology department, which puts the rest of the hospital at risk.

"Conventional MR scanners have an hour-long COVID infection control cleaning process," Ward said. "For Hyperfine, you take a disinfecting wipe and clean the head coil and flat surfaces in minutes."

MR Instruments
MR Instruments is planning to release its ACCESS head coil, a soft, flexible, open coil that conforms to the patient's head.

The coil provides the image quality of a diagnostic coil, but its open design supports interventional procedures, said Tom Rheineck, the chief executive officer of MR Instruments.

"Now you can access the skull with devices like lasers and ultrasound transducers," Rheineck said. "Sometimes the nicest solutions are the simplest ones."

The coil, part of the company's DuoFLEX Coil Suite, is compatible with many 1.5T and 3T GE Healthcare and Siemens Healthineers scanners.

"If a customer has our DuoFLEX Suite they can add the plug-in," Rheineck said.

The company is also working on delivering its first MR-guided focused ultrasound device for clinical research in neuro therapy, and has a license to use technology from Fraunhofer IBMT. The company showed the device as a work-in-progress at last year's RSNA.

"This is a bigger market opportunity than receiver coils and provides avenues for substantial growth," Rheineck said.

NeoCoil/NeoSoft
The FDA recently cleared NeoCoil's new 16-channel shoulder coil for use with 3T GE scanners.

The coil has a unique hybrid construction, with a posterior side that's rigid and an anterior that's completely flexible and allows for a more comfortable fit and a higher signal-to-noise ratio.

"Most are totally rigid," said Dr. Steven Wolff, the owner of NeoCoil. "Now you can custom fit over a wide variety of shoulder sizes."

The coil also allows for the abduction external rotation (ABER) view during MR imaging, when looking for rotator cuff tears.

"I don't know of other coils that allow this," Wolff said.

Through a separate company called NeoSoft, there was a new feature for their cardiac MR software, suiteHEART, called Virtual Fellow. Virtual Fellow uses deep learning to speed cardiac MRI interpretation. It automatically identifies and organizes images by type and view. It also presents images in a standard format and orientation, optimizing brightness, contrast and magnification. To facilitate visual comparison, images acquired with different techniques are displayed adjacently at the same absolute magnification.

Because Virtual Fellow operates without any user input, images are organized and analyzed before the physician reviews them, saving the physician valuable time, Wolff said.

"This replaces the need for having a fellow, hence the name," Wolff said. "The radiologist can go through images more quickly."

Noras MRI Products
Noras MRI Products, in collaboration with radiotherapy company Qfix, recently released their new Encompass 15 Channel Head Coil.

The patent-pending coil, which was cleared by FDA in September 2019, is designed to be used during MR exams either independently or in conjunction with a patient immobilization device.

The coil is designed to accommodate Qfix's Encompass MR SRS Immobilization System, which includes a face mask for more accurate treatment planning and smaller tumor margins. When used with the Encompass immobilization device, images acquired with the coil can be useful for treatment planning prior to stereotactic radiosurgery.

"Prior positioning devices were not as accurate and as easy to use," said Dan Coppens, CEO/CTO of Qfix.

"Even though MR provides better image resolution and doesn't involve additional radiation exposure like CT imaging, traditionally it hasn't been widely used in radiation therapy planning due, in part, to problems arising from spatial accuracy and geometric constraints," said Coppens.

"Within the MR, you always need a dedicated coil close to anatomy," said Manuel Noras, chief executive officer of Noras MRI Products.

The adjustable geometry of the new coil can adapt to the particular patient setup by positioning the coil elements as closely as possible to the patient without disturbing the anatomy, Noras said. Additionally, the coil can be placed where the patient is positioned instead of snapping to the table, facilitating improved workflows.

"As imaging and treatment in radiation therapy has evolved, we could see the need for a coil and immobilization system that work together," Coppens said. "The Qfix/Noras partnership has allowed us to realize that goal. With the coil, we see beautiful images with very high detail."

Philips
Philips is introducing its new Ingenia Evolution 1.5T MR scanner, which supports the company's Smart Workflow automation, helping speed up exams in the era of increased cleaning.

"This suite of solutions provides guidance and automation," said Simon Krijnen, director of product management for MR at Philips. "From the moment they close the door, the scan begins."

The scanner also features 4D Free Breathing, which allows for free-breathing exams for patients who have difficulty holding their breath.

The scanner has the same specs as the Ingenia Ambition 1.5T scanner except for the BlueSeal fully-sealed magnet. The company decided to leave that out for a more value-focused market.

"It's great to be able to provide our Smart Workflow solution to even more customers," Krijnen said.

ScanMed
ScanMed recently released an upgrade to its PROCURE prostate pelvic coil, changing the fabric and foam housing to a full foam housing, allowing it to be fully flexible and help it conform to the body.

"We've also worked on the configuration of the internal antenna elements so it's flexible as well," said Natalie Hussey, ScanMed's marketing manager. "When the antenna elements are closer to the body, it produces better images."

The coils are compatible with GE Healthcare, Siemens Healthineers and Philips MR scanners.

Through its subsidiary Bot Image, the company recently passed the administrative review for FDA 510(k) clearance for its ProstatID software, which uses AI to assist radiologists in prostate cancer detection through MR.

The software processes the image data and generates a colorized map, with red indicating that there may be a suspicious lesion.

"There are assistance tools on the market that help physicians physically circle suspicious areas," Hussey said. "This does that automatically."

The tool is designed to help radiologists in reading the exams, Hussey said.

"We saw the opportunity to get into the software space as a result of the PROCURE coil and what we encountered in the market and seeing what radiologists were experiencing reading prostate images," Hussey said. "We're really looking to get them a tool to help."

Siemens Healthineers
The most recent MR developments from Siemens Healthineers include its new BioMatrix Body 18 MR coil.

The blanket-like coil, with Tim 4G coil technology, contains openings which provide breathability, said Chris Farischon, MR product manager for Siemens Healthineers.

"Personally, I'm a claustrophobic patient, and feeling warm adds to that claustrophobic feeling," Farischon said.

The coil's cable plugs into the head end or foot end of the table and SlideConnect technology helps to guide the coil plug into the table.

The coil offers the ability to do parallel imaging.

The company also introduced its Turbo Suite Excelerate MR software, which Farischon said will be helpful in speeding up scans as facilities address the COVID-19 imaging backlog and more stringent cleaning guidelines.

Two components of Turbo Suite Excelerate include Simultaneous Multi-Slice (SMS) and Compressed Sensing (CS). Simultaneous Multi-Slice technology speeds up common exams, with a complete knee exam sped up approximately 50% and breast diffusion seeing approximately 60% reduction in time. Additionally, Compressed Sensing provides acquisition time reductions along with new capabilities for 3D imaging, especially in the depiction of dynamic processes or moving organs.

"We can scan much faster, enabling the technologist to spend time disinfecting the equipment but still keep on time," Farischon said.

The Turbo Suite Excelerate package is available on the company's MAGNETOM Altea, Lumina, Sola and Vida scanners, along with the BioMatrix Fit upgrades for Aera and Skyra.

United Imaging
In May, United Imaging received FDA clearance for its uMR OMEGA MR scanner, a system equipped with the world's first ultra-wide 75-cm bore.

"There's a lot about this product that fits patients in the United States," said Jeffrey Bundy, Ph.D., chief executive officer of United Imaging Healthcare Solutions. "Clearly one of the things patients talk about is the size of the scanner."

The 3T scanner has a 680-pound capacity and includes a larger area of homogeneous signal and magnetic field to image larger patients and allow them to be more comfortable.

"If you're just going to quote specifications in one area or the other, maybe it doesn't rise to being a solution," Bundy said. "That solution requires the image quality to be better, which is accomplished primarily with the significant improvement in magnet homogeneity."

The signal-to-noise ratio in a 3T scanner is better than it would be in an open MR, which has a lower magnet field strength."

With greater comfort, there may be less of a need to sedate pediatric patients, and less of a need to reschedule patients who aren't able to undergo an exam due to discomfort.

In the MR technology space, last year, the company released a compressed sensing package called United Compressed Sensing, or uCS for all 1.5T and 3T scanners.

Earlier this year, the company received FDA clearance for its EasyScan Cardiac, a fully-automated cardiac localizer tool, for the OMEGA and the uMR 570.

"We believe uMR OMEGA will help our customers scan more patients and get much more flexibility out of their capital investment, which is even more important now than it was just a few months ago," Bundy said.