Healthcare Business News recently spoke with Rochelle Johnson, director of nursing for the Birth Center at Regions Hospital.
Johnson shared her background and provided an in-depth look at the challenges the COVID-19 pandemic has created and how she and her colleagues have risen to the challenge.
HCB News: Who or what inspired you to follow a career in healthcare?
RJ:
I initially obtained a degree in international relations. I got a promising job at our state capitol right out of university and I quickly discovered I needed to find a job that more tangibly helped people. So I decided to change pathways. I went back to school and went into nursing.
In politics I think you learn a lot around policy development and the importance of having relationships, but I am happy I made the change I did. I think I was put on the planet to be a nurse and nurse leader. Nursing is a job where you get to be a bridge for people and that's what I've been really blessed to do over the last 15 years. I've always worked in women's health, always been hospital-based and always worked in birth centers.
HCB News: How long have you been with Regions?
RJ:
I helped to open a women's and children's hospital in Doha, Qatar where I lived for four years with my family. When I returned to the states, the first day that I started at Regions, was the first day the architecture firm came to meet us for the birth center project. That was almost exactly three years ago.
HCB News: Did your experience studying international relations help in your work abroad?
RJ:
Absolutely. My husband and I have always looked for opportunities to expand our worldview. I'm a woman of color and I work in women's health and know there are many disparities in women's and children's health when it comes to people of color. So we thought it would be a great opportunity when we heard about an academic medical center being opened, to be able to see what healthcare was like in a different country. It let us see how other people practice around the world and what healthcare they provide that is supportive of people of color and to bring some of those ideas and leadership methods back to the United States.
HCB News: You mentioned being a bridge to people. On the day-to-day, what is it that brings you into work that you're happy about?
RJ:
My role as a nursing director is so different than our bedside care that we deliver, but I really see my role as the caregiver for our nurses and providers in the department. I enjoy being able to help create a vision for the work we do, to be able to help provide support for the people who are at the bedside and connecting with our patients to make sure they're happy with the care we're delivering.
HCB News: What attracts staff to Regions?
RJ:
What doesn't attract staff to Regions? We're a training site for multiple professions. We have medical students, midwifery students, nursing students, EMTs — we train a lot of people because we are a Level I trauma center for adults and pediatrics. We're the only one on the East side in the Twin Cities. Being a Level I brings in a lot of training opportunities. Once people step in the door and do their training here, we're able to recruit pretty easily. That's because the culture of the organization is really relational, community-based and supportive of the community we serve. Another great reason is that — and I can talk specifically about our birthing center — our patient population is unique. Because we're based in downtown St. Paul, 60 percent of the women who deliver with us are women of color. And 25 percent of them need an interpreter for their care. That's a really special population that people are drawn to and want to work with.
HCB News: What attracts patients to the birth center?
RJ:
I think a lot of similar things. The Twin Cities has great healthcare for women and children. There are many wonderful hospitals within the Twin Cities area. I think Regions is set apart and will be set apart even more once our new building opens. But it's our staff who draw people and keep them coming back. I have the opportunity to round on patients and get feedback. Over and over I hear so many comments about the excellent care they've received from their nurses or providers and how people treated them personally with great care.
Now with a larger patient of color population, we do sometimes fall down like every other hospital. We see the same disparities in the Twin Cities that are apparent on the national level for women and babies of color. That's something we take very seriously and we've done a lot of work around health equity to understand how to disrupt the disparities that we see between institutionalized racism and systematic structures that are set up to not support women of color.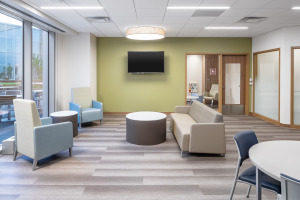 HCB News: How has the pandemic changed the day-to-day operations?
RJ:
COVID has thrown all of healthcare for a loop. We've had to change a lot of the practices we've had. I believe we've been able to hold onto our values at our birth center. The three values we base all our decisions on are high-quality care, family-centered care and health equity.
Through COVID, we've had to be thoughtful and innovative in how we hold onto those. We had to make the decision really early to look at our visitor policies. Luckily, because we have such great partnerships in our community, we're able to have a woman still bring her support people with her. At this time, she can have two support people with her during their time here at the hospital and that's really helpful. At the very beginning, we were only allowing one visitor, but we've been able to increase that to two.
During those times when she could have just one, we had to be innovative to make sure she could still connect with her family. Again in our culturally different populations, you should have more people at your delivery. We were able to create forums and through our foundation, which is super supportive of our birth center, purchase iPads and applications that helped our families connect with their family members while they were in the hospital. So we had virtual tools where family could be with the woman while she was delivering and could have that experience with her. Our patients have given great feedback around that and we've been happy to support that. So virtual care and virtual visits have been key ways we've managed through COVID.
HCB News: Many facilities have shifted some work and some services to remote or at home activities. Have you pursued anything similar?
RJ:
Regions Hospital is the largest hospital in the HealthPartners system. So we have a great opportunity to have a continuum of care where our health plan along with clinics services, research and education all work together. We've been innovative in connecting the dots during a time where healthcare has seemed disjointed.
Our hospital-based care hasn't changed. So we needed to a lot of work with marketing to our patients and connecting to our patients to let them know that it is safe to deliver at the hospital, especially for high-risk women. We did a lot of outreach to our communities to let them know we are open and they can come and deliver. We do have a lot of prenatal and post-partum follow-up appointments we do virtually with families because we were finding that they didn't feel comfortable coming into the clinic. That has been helpful to families. We do outpatient or drive-up testing related to COVID so they know their status before they get to the hospital and can plan accordingly. For the care that we're going to deliver, our care coordinators connect with those families who are COVID positive before they come and we just reassure them of all the things that are going to help keep them and their baby safe when they get here.
HCB News: Have you had any indications that more women are opting to have home births since the pandemic?
RJ:
It's really interesting because this is our busiest time as a birth center. When we had to start dealing with COVID from March through now, we've been at our busiest time of the year. We haven't seen a decrease in numbers. If anything, COVID puts women at risk for pre-term delivery, so we've seen a slight increase in our pre-term visits.
HCB News: Can you give some of the key takeaways learned over the last few months due to the pandemic?
RJ:
I think number one, we can do hard things. With the pandemic hitting us so quickly and without warning, I feel like we did a good job as an organization creating ways to care for our patients without skipping a beat. It took a lot of hard work, collaboration and connections with our community and partners. Second, I think it reiterates the point that we have to take care of the people who are providing care. Our caregivers should be our top priority in healthcare systems. Caregivers feeling supported, and having equipment and tools needed to care for patients, are paramount during something like this pandemic. By taking care of our caregivers we know they can turn around and take care of our patients in the best way they can. Lastly, I would say communications with our families — we have to learn how to do things differently. This pandemic has pushed our entire country and the world into that mindset. I think we'll see a lot of innovations come out of this. I know healthcare will be at the forefront, so it's a privilege to be within that bubble and to help guide those innovations.
HCB News: Over your 15 years of working in healthcare, what's been the most valuable lesson you've learned?
RJ:
I would say the thing I learned most, and like I said, I'm a woman of color which is rare in healthcare leadership, is that diversity matters. Different voices matter and whether that's different voices based on the position you hold, or the role you play — if you're a doctor or a nurse — your background ethnicity, hearing all those voices, including all those voices, only make us better. That's part of my leadership core – that we need to surround ourselves with diverse voices in healthcare.