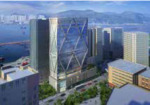 Radiation Oncology Product Showcase
October 16, 2020
by
Mai Hiraoka
, Media Relations Manager
The following are just some of the products and services raising the bar for radiation oncology providers.

BR+A Consulting Engineers • Hong Kong Sanatorium & Hospital
Proton Therapy Center in Happy Valley, Hong Kong, China
Faced with a challenging and constrained site, BR+A worked with Hitachi (proton equipment vendor), Tsoi Kobus Design (architect), and the Owner to arrange the proton system vertically, rather than horizontally, with the synchrotron and gantries located 40m below ground, and the beam line running vertically down three stories. An 18-story outpatient facility sits completely above the proton center. The project presented many site logistical and equipment technological challenges to the project team, which were successfully overcome, resulting in a showpiece project. Patient treatment scheduled for 2022. Rendering courtesy of Tsoi Kobus Design.

Cold Shot Chillers • ACWC-90-DM Air-Cooled Water Chiller
Our model ACWC-90-DM is an air-cooled water chiller. Two pumps are used with this chiller. A chiller pump is used to recirculate the fluid through the tank and evaporator to provide a consistent chilled fluid for your linear accelerator. A process pump is used to provide the proper flow and pressure needed based on the piping layout and the model of linear accelerator used. An onboard PLC monitors the operation of the chiller and will report any errors in a numeric code to the temperature controller LED display. This feature has proven to reduce downtime.

H&H Design-Build • Healthcare Design and Construction Solutions
Even in the midst of a pandemic, we continued to deliver 'essential' health care projects for our clients and maintained safe and clean jobsites for the patients, staff, and construction workers. On time delivery of MRI's, MR-Linacs, CT Scanners, ER FastTrack and many more projects stayed on course and on time. Our team of architects, project managers and superintendents are focused on the needs of each project we develop for our clients.

Call us today for an initial consultation about your project. We can help you from concept through completion.

Hitachi • Single Room Solution
The world's only synchrotron-based single room solution, the FLASH capable synchrotron accelerator technology minimizes the overall size of the layout and the concrete cost to the building. Hitachi's compact 360 degrees rotation gantry and 30 x 40 cm irradiation field size enables users to widely treat many tumor sites. Hitachi's industry-leading spot scanning technology allows IMPT with gantry mounted Isocentric CBCT. Our system is capable of interfacing with any motion management solutions, TPS and OIS.

IBA • IBA Motion Management Solution
Motion management tools are needed to ensure accurate treatment delivery by managing the challenges caused by tumor motion. With motion management, a proton therapy clinic will be able to treat more patients with more confidence. This is the reason why IBA is dedicated to offering an integrated solution for motion management that meets the medical needs.

IBA • Proton Arc Therapy
Proton Arc Therapy* has the potential to improve dose conformity to the tumor while further reducing dose to the adjacent surrounding healthy tissue and ultimately increasing treatment effectiveness. Thanks to IBA close collaboration with the Beaumont Proton Therapy Center (United States), we were able to deliver the first irradiation of a Proton Arc Therapy plan on a phantom. *Arc therapy is work in progress. It is not available for sale.

IBA • Proton Flash Therapy
Proton Flash therapy has the potential to revolutionize the radiation therapy world. It will enable Shorter treatment course with only 1 to 3 fractions which increases significantly patient comfort and overall throughput and less toxicity in healthy tissues while maintaining tumor control. As the industry leader, IBA is collaborating with several leading proton therapy centers in their pioneering research work to better understand the mechanisms of FLASH irradiation.

*Proton FLASH Therapy is currently under research. It is not available for sale.

Logos Systems International • Ranger-300
The Ranger-300 proton beam range verification tool gives a real-time view of 30 cm of the proton beam path as it travels toward its target depth, including the Bragg peak area, and proximal/distal locations of interest.

When mounted on the Logos Systems XRV-3000 Eagle or XRV-4000 Hawk phantom, the Ranger is oriented so the beam enters the 40 x 40 mm target window of the 305 mm transparent scintillator block. It is close to tissue equivalence, and the effective resolution is better than 0.5 mm over energy ranges from 70 to 230 MeV. Powerful BraggPeakView software performs the depth analysis. Visit LogosVisionSystem.com for information.

MarShield • Lead Lined Laboratory Furniture
MarShield manufactures a wide range of Standard or Custom Designed Lead Lined Laboratory Furniture suitable for Nuclear Medicine or Radiochemistry laboratories. MarShield has worked extensively with architects, engineers, contractors and end-users like doctors, hospitals, laboratories, and medical and veterinary clinics to ensure that our designs are functional and harmonious with their surroundings while meeting radiation code requirements. Please refer to our Cabinet/Furniture quotation and information guidelines at MarShield.com to design one for yourself today!

Mevion • Customized Image Guided Proton Therapy
Mevion's unique open architecture approach to Image Guided Proton Therapy (IGPT) enables our customers access to the greatest customization, flexibility, and the latest in imaging and positioning technology. Our suite of fully integrated IGPT capabilities has been created through development partnerships with technology leaders throughout the radiation oncology field.

Mevion • MEVION S250i Proton Therapy System
The MEVION S250i® with HYPERSCAN® technology is a radically different pencil beam scanning solution, built to eliminate the shortcomings of first generation PBS systems. HYPERSCAN technology utilizes a unique combination of optimum spot sizes, hyper-fast layer switching and a novel multi-layer proton MLC.

NELCO Worldwide • Guardian ProCare Door Service
MAXIMIZING FUNCTIONALITY AND SAFETY WHILE EXTENDING THE LIFE OF YOUR ENTRY EQUIPMENT. Your radiation door system is one of your most vital pieces of equipment. If your door system isn't operational, neither is your medical facility which means that your patients won't be treated. To ensure that your door is functioning properly and safely, the right training of your personnel and maintenance of the mechanical, electrical, and safety systems is needed. As demand for radiation therapy increases, it is even more important that your radiationshielded door functions at 100% speed and efficiency every day.

RaySearch Laboratories • RayStation
Market leading in particle therapy. Highlights include: Fast Monte Carlo dose computation on GPU (New!); Robust optimization and evaluation; 4D-optimization; PBS optimization with apertures; Multi-criteria optimization with robustness; Fully integrated adaptive planning; Automatic creation of backup photon plans; Simulated organ motion and Interplay evaluation. We support proton therapy systems from IBA, Hitachi, Mevion, ProNova, Varian and Sumitomo, as well as synchrotrons. The system offers the full range of treatment options, including pencil beam scanning, double scattering, uniform scanning, line scanning and wobbling.