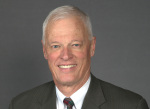 RSNA president shares four tips for equalizing care opportunities
November 29, 2020
by
John W. Mitchell
, Senior Correspondent
In the opening session of RSNA 2020, president Dr. James Borgstede, a diagnostic radiologist at UCHealth University of Colorado Hospital, was optimistic and upbeat in his global vision for radiologists worldwide.

"When I first started to think about the focus of this address, I could never have imagined this year. We have all been affected by COVID-19," he said. "It's redefined our lives, and the efforts of the medical community have been distinguished."

He noted that radiologists played an essential role in patient care early in the pandemic until lab tests were established to confirm a positive finding of COVID-19. The struggle against the virus highlighted the power of humans and technology to innovate and improve patient care. He emphasized this sentiment as it underscores the "Human Insight/Visionary Medicine" theme of RSNA 2020.

"They're really different sides of the same coin," he remarked. "One cannot exist without the other."

He noted that radiology is at the hub of biomedical innovation. Medical device patent applications have tripled in the past ten years, and technology cycle times have been cut in half in the past five years. Next year, he said, the world will have three times as many smart devices as people. And — as observed in imaging driven by AI — more and more medical devices and processes will contain integrated sensors.

However, the world needs much more from medical imaging.

"Some of our colleagues are under-resourced," said Borgstede. "And they face mountains of challenges. These challenges include too few radiologists … limited technology, and limited connectivity."

He cited figures from the Pan American Health Organization reporting that two-thirds of the world doesn't have access to many advanced imaging methods. This disparity — the highly-resourced and under-resourced — should not be accepted as status quo. As a specialty, he insisted, imaging can impact healthcare equity. Citing Thomas Freidman's book The World is Flat, Borgstede highlighted four strategies for how radiologists working domestically and as a worldwide specialty can equalize care for all patients. "Flatteners," Borgstede explained, drive globalization and create equal opportunities. Radiology flatteners include:

1: The humanity of radiologists While imaging is a technology-driven specialty, more than ever, human interaction is needed for patient care. Borgstede called it "radiologists' priceless professionalism." He spoke of taking the time to review a case involving complex lesion images with an angry family. They became advocates for the imaging department because he and his staff took the time to sit down with the family. Even though the technology's value to obtain images was not in doubt, the family needed the radiologists, as humans, to connect with them to feel reassured.

2: The role of patients as consumers Patients worldwide place sacred trust in radiologists. This is true whether they live in Cameroon, the Philippines, or Haiti — where Borgstede has volunteered — or in Colorado, where he practices. Patients, he said, "must see more of us."

3: The most effective technology Imaging is used at some point in every patient's care. Teleradiology, for example, allows worldwide interconnectivity. It also permits secure distribution and transfer for data sharing and clinical interpretations. AI can also be used to guide and prioritize, to flatten the world of interpretive skills. Borgstede stressed that AI will always remain a tool directed by radiologists, not as a replacement for radiologists. Radiologists, he reminded, solve clinical problems by integrating knowledge with precision medicine to care for patients.

4: The power of RSNA Another type of connectivity between radiologists worldwide is through professional organizations, including RSNA. Borgstede also mentioned the European Society of Radiology, the International Society of Radiology, the Asian Oceanian Society of Radiology, and others. Through such meetings, research, publications, and education interconnect medical imaging with common standards, such as the Diacom model, to make all brands interconnected. He noted that RSNA worked with these groups to develop a worldwide, consistent thoracic imaging standard to diagnose COVID-19.

"There is no substitute for human-to-human interaction in radiology, "said Borgstede. "There is a deep chasm between two different worlds of healthcare. We must make a conscious choice to collaborate worldwide … to learn from each other."

The opening session was the first to be held in a virtual setting due to the pandemic, but there was intimate opportunity for radiologists to connect with colleagues. Hundreds of worldwide RSNA attendees greeted each other in the comments section during the presentation in real time, worldwide, ranging from Russia to Greece and from India to Vermont.