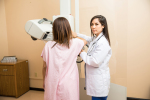 Inpatient mammograms may boost screening among low-income patients
January 15, 2021
by
John R. Fischer
, Senior Reporter
Researchers at Massachusetts General Hospital are seeking to lower disparities in breast cancer screening among low-income patients in a new study by performing mammograms while they are hospitalized.

The team incorporated patients insured by Medicaid or both Medicaid and Medicare (dual-eligible patients) within their study. "Having a centralized team that can help identify patients who are overdue for their preventive screening test and coordinate the test with the inpatient team will be important for success," Dr. Andrew Hwang, an internist at MGH and first author of the study told HCB News.

Challenges such as lack of transport or the inability to take time off from work can deter low-income patients from seeking preventive care like mammograms. National and local data shows Medicaid and dual-eligible patients have low rates of breast cancer screening.

The strategy employed by Hwang and his co-authors aims to address patient's acute needs and preventive care simultaneously. They recruited 21 Medicaid and dual-eligible patients who were admitted to MGH's General Medicine Service. While four of the women were discharged before the exam could be planned, 17 received one, including 35% that never had one. The other percentage was overdue for a mammogram by four years on average. The average age of participants was 59, and all had primary care physicians affiliated with MGH who would work with the MGH Breast Evaluation Team to follow up on abnormal results.

All mammograms were negative, except for one, which was inconclusive. Additional imaging was recommended to rule out cancer. Completing a mammogram did not increase the length of stay for patients in hospital, and participants were not charged additional out-of-pocket fees for exams.

"Attaining equitable health outcomes for all patients will require innovative solutions that lower the barriers to care by addressing patients' psychosocial needs," said Hwang in a statement. "In addition, as our healthcare system transitions from fee-for-service to value-based payment models, improving health outcomes among underserved patient populations will become increasingly important."

The findings were published in Annals of Family Medicine.