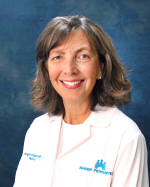 Physicians speak: Use the lessons of this crisis to re-engineer healthcare
February 08, 2021
By Dr. Margaret Ferguson

Physicians are on the front lines of healthcare every day. When they speak out about what the American healthcare system needs to function properly, we should listen.

Recently, physician leaders of America's top medical groups and health systems commented on how what they've learned from COVID-19 can chart the path for healthcare delivery in the future. Speaking as part of the Council of Accountable Physician Practices (CAPP), a coalition of more than 30 integrated medical groups and health systems encompassing more than 85,000 physicians, here are their ten recommendations.

1. Our fragmented care delivery system cannot support major healthcare crises or the effective management of care even in normal times. Medical groups that made investments in care delivery improvements--such as population health management, telehealth, robust health IT to support care teams-- had the culture, leadership, and connectivity to quickly pivot during the pandemic. They ramped up the number of telehealth visits from single digits to thousands a day, identified and managed vulnerable at-risk patients, and set up command centers and crisis communication channels to deploy their resources. Providers who did not have this integrated foundation struggled with the rapid response needed for the crisis. Offering this type of integrated care to all Americans at all times, rather than the fragmented system we have now, could benefit everyone.

2. Telehealth is now an established care delivery option that overcomes safety and access barriers, therefore it should be paid for at the same level as in-person care. Virtual visits are the house call of the present era. The waivers put in place to override restrictions on paying for both telephonic and video visits should be permanently adopted.

3. Care is moving home and should continue to do so. The need to care for patients who were especially vulnerable to COVID-19 furthered the use of home-monitoring devices, video visits, and in-home care. Even hospital-in-the-home is getting a boost as CMS relaxes regulations to care for these patients in alternative locations to make more room for inpatient COVID stays. Digital advances in medical devices and communication will reduce the need for in-person monitoring and check-ups, and intelligent devices will help vulnerable patients and their families stay safe and healthy at home. As with telehealth, payment policies should be modified to cover this increasingly preferred way of healthcare delivery.

4. Population health systems and predictive analytics are the key to managing patients effectively. These tools, developed to manage the care for specific cohorts of patients, measure outcomes, and qualify for value-based programs, proved their worth in this crisis by providing valuable intelligence to make quick, accurate decisions. Integrated health systems were able to quickly identify vulnerable patients and see to their needs, as well as evaluate infection trends. Some providers deployed artificial intelligence to predict future outbreaks on a block-by-city-block basis.

5. The pandemic could sound the death knell for fee-for-service medicine. The fee-for-service payment methodology is well known for its effect in fragmenting care, creating redundancies, and driving up costs. In this crisis, the financial downside of fee-for-service became clear, hitting some providers very hard. As patient visits dried up, pay-for-procedure medicine left many physician practices in a financial hole from which it will be hard to recover. In contrast, integrated groups that had primarily value-based and/or capitated contracts are expected to fare better. As we move back to more "normal" times, advocating for correctly incentivized payment for good medical outcomes will benefit all stakeholders.

6. Glaring disparities in access and health status must be addressed. The vulnerability of certain minority and low-income groups is forcing everyone to look at the reasons behind the statistics, and is creating momentum to address social determinants as well as employer-sponsored coverage. Public/private partnerships are needed to ensure that everyone has access to good care, coverage, and better opportunities to live healthy lives.

7. Give all physicians the support they need to be connected to other medical providers, specialists and patient resources so that they are able to practice proactive, preventive, coordinated medicine. Some larger medical groups already share resources with practices that are isolated or in rural areas to provide connected, coordinated care over a broader geography and/or network. This trend should continue to make sure no patient is left behind--and no doctor, either.

8. The well-being of medical providers must be a priority. During this crisis, stress, burnout and even trauma among healthcare providers also reached pandemic proportions. Health system leaders responded in numerous creative ways to help their frontline staff. This attention to mental and physical health of providers will also prove invaluable in the future and should be "baked" into the system.

9. Look at redesigning medical facilities. The anti-infection and safety precautions put in place during the pandemic will likely become permanent procedures in medical practice. Many employees who started working remotely may stay remote, and the use of telehealth and more in-home care will force us to rethink more strategically about what kinds of brick-and-mortar facilities are actually needed, and how they should be designed.

10. Finally, accountable medical leaders must be involved in designing the healthcare system of the future. Physicians, administrators and other providers who believe that they should be good stewards of every healthcare dollar and who have experience in value-based care have a wealth of knowledge to share. In re-designing the healthcare system of the future, they must have a seat at the table.

About the author: Dr. Margaret Ferguson is a board member for the Council of Accountable Physician Practices, and president and executive medical director for Colorado Permanente Medical Group.