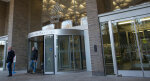 Mount Sinai to launch mobile MR unit for prostate cancer screenings
February 15, 2021
by
John R. Fischer
, Senior Reporter
The Milton and Caroll Petrie Department of Urology at Mount Sinai Health System is launching a mobile MR unit to provide prostate cancer screenings to the black community.

A $3.8 million donation from philanthropist Robert F. Smith will go toward the development of the Robert F. Smith Mobile MRI Unit, which will be dispatched to highly concentrated black communities in New York City starting at the end of this summer. The focus on black men stems from the fact that they are more likely to develop the disease and more than twice as likely to die from it.

"The challenges are multifold. We have to handle, first of all, trust, then we have to handle access, then education and then ease-in getting someone who doesn't have much time to take off from work to come in and get tested. We are trying to simplify all of that into one unified approach," Dr. Ash Tewari, chair of urology at Mount Sinai, told HCB News.

Upon its deployment, the unit will be equipped with a high-resolution, micro-ultrasound and later be installed with an MR scanner. It will also have the capacity to perform PSA testing and cystoscopy.

The hospital plans to help local community partners raise awareness about the disease and services offered by the unit. It will set up prostate screening appointments at the mobile MR unit in highly concentrated black neighborhoods, as well as follow-up visits for patients who need them with Mount Sinai Health System urologists.

Depending on funding, it also hopes to eventually introduce multiple units.

Mount Sinai is currently consulting different vendors about the installation of an MR scanner for the mobile unit.