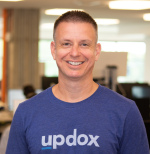 COVID-19 vaccine rollout: Why patient-provider communications are a top priority
March 05, 2021
By Michael Morgan

With the COVID-19 pandemic still in full swing, the newly sworn in President Biden has pledged to distribute 100 million COVID-19 shots in the first 100 days of his term. To date, we've successfully vaccinated 9.5 million people in the United States, however, millions of people are still awaiting their turn. As more individuals are vaccinated, consumer enthusiasm for receiving the vaccination has also increased. According to a recent survey from Kaiser, 41% of U.S. adults reported that when an FDA-approved vaccine for COVID-19 is available to them for free, they will get the vaccine as soon they can - which is up from 34% in December 2020. However, hesitations still exist, and immunizing such a large volume of people comes with challenges.

Many Americans have questions about what to expect with the COVID vaccine, where they can receive it, how it will be provided and more. Technology played a vital role in vaccine discovery and development. And it will also play a role in successful vaccine delivery. As they face an onslaught of questions, providers need to ensure they have a seamless workflow in place to communicate with patients, schedule appointments and ensure dose adherence.

Patients want to hear from their doctors
From concerns about potential side effects to questions regarding availability, now more than ever, patients need to hear from their physicians. While determining the true root of an individual's vaccine hesitancy can be complex, reasons for vaccine hesitancy typically fit into three categories:

1. Low confidence in the effectiveness of the vaccine
2. Complacency/perceived low risk of contracting the virus
3. Lack of convenience in the availability and accessibility of reviewing the vaccine

Physicians play a key role in driving vaccine acceptance and combatting hesitancy among patients. In fact, according to a recent survey by Updox conducted by The Harris Poll, more frequent patient and provider communication as the vaccine rollout continues is essential, as 39% of patients want to hear from their healthcare provider weekly or more often about the vaccine. Even if physicians are not the ones physically distributing the COVID-19 vaccine, providers are viewed as the most trusted resource on the topic, as 87% of patients prefer to hear COVID-19 vaccine related communications from their healthcare provider, with providers cited as the most trusted source on the topic (34%) -- behind health protection agencies (32%), government entities (9%), and the biotechnology companies developing the vaccines (4%).

In 2020, providers quickly integrated telehealth into their workflows to safely triage patients, underscoring the value of technology. Now, with the approval of a COVID-19 vaccine, technology is once again playing an essential role.

Technology plays a critical role in the COVID-19 vaccine rollout
There are multiple solutions that support patient communications, including secure text, broadcast reminders, email and phone calls. However, data shows that 46% of patients prefer to receive COVID-19 vaccine news and updates via email, with 34% preferring a phone call and 33% preferring text messages. In order to ensure a seamless experience for both staff and patients, solutions that eliminate repetition, streamlined operations that work together cohesively are key:

- Broadcast messaging - whether or not a practice is actively distributing vaccines, broadcast messaging can help proactively answer patient questions and provide a medium to share important information about the vaccine, availability at your practice and COVID-19 developments. This can help eliminate confusion, mass lines and phone line overload as patients look for information from your staff.

- Text messaging - to get patients ready for their vaccine appointment, practices can send a secure text message to share appointment details. Post-appointment, practices can reiterate possible side effects and confirm a patient's follow up vaccination. This is critical to ensuring adherence to the second dose.

- Paperless forms - can be used to streamline vaccination appointments. With electronic/online forms practices no longer have to swap clipboards and pens. Patients and staff can remain safe through contactless check-ins and digital intake, including signing of consent forms, a vaccine information statement, and follow- up/monitoring information.

With an uptick in physical appointments to receive the vaccine, additional paperwork and influx of questions -- saving time while safely and effectively communicating with patients is a top priority for physicians. As the vaccine becomes more available to the general public, proactive and consistent communications are key to a seamless vaccine delivery process.

About the Author: Michael Morgan is the president of Updox. With a successful track record in helping organizations use technology to transform the way healthcare is delivered, Mike has more than 25 years of healthcare leadership within software, behavioral health and HIT organizations. Updox was named to the Inc. 5000 list of fastest-growing companies in America for the past five consecutive years.