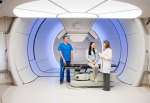 Proton therapy current events recap
March 29, 2021
by
Gus Iversen
, Editor in Chief
As part of our coverage of the National Association for Proton Therapy (NAPT) annual meeting, taking place April 15-16 online, here is a recap of some of the most interesting proton therapy stories we've published over the last several months.

For more stories like these, click "Proton Therapy" in the red navigation bar at the top of the screen.

Hackensack Meridian John Theurer Cancer Center affiliates with ProCure NJ
In March, the Hackensack Meridian John Theurer Cancer Center announced a clinical affiliation with ProCure Proton Therapy Center in Somerset, NJ, bringing improved access to proton therapy to its patients.

"At Hackensack Meridian Health, we've long provided a wide range of highly precise radiation therapy technologies to meet our patients' needs, treatments that target tumor tissue while sparing nearby healthy tissue as much as possible," said Robert C. Garrett, CEO of Hackensack Meridian Health, in a statement. "The affiliation with ProCure NJ will give our adult and pediatric patients direct access to every type of radiation therapy now available for people with cancer."

ProCure NJ was the first to bring proton therapy to the tri-state region (NY, NJ, CT) and offers advanced pencil beam scanning, which utilizes an ultra-narrow proton beam that deposits a radiation dose more precisely within a tumor.

"Being able to offer the most technologically advanced method to deliver radiation treatment will allow our radiation oncologists to customize the best treatment options for our patients at John Theurer Cancer Center," said Dr. Andre Goy, the center's chairman and executive director. "Radiation therapy is undergoing a sort of renaissance with these novel radiation modalities. Our cancer care team has exceptional expertise and extraordinary tools to help patients make the best decisions for their care."

IBA inks $100 million proton therapy licensing deal in China
Last August, Ion Beam Applications (IBA) signed a strategic licensing deal with China's CGN Nuclear Technology Development (CGNNT) Co. for the exclusive rights to IBA's ProteusPLUS technology.

Worth a minimum of 100 million EUR (approximately $118 million USD), the agreement gives CGNNT and its wholly-owned subsidiary CGN Dasheng Electron Accelerator Technology (CGN Dasheng) the right to use ProteusPLUS technology solely in the People's Republic of China, excluding Hong Kong, Taiwan, and Macau. The deal follows the Chinese government's decision to expand the number of proton therapy licenses from 10 to 16 in 2020.

"We have been present in China for more than 15 years and are the leading proton therapy provider in China," Olivier Legrain, chief executive officer of IBA, told HCB News. "We already have one system treating patients and two more close to completion. Globally, our systems lead the market in the number of patients treated. The deal with CGN Nuclear Technology Development further cements our position as the market leader in the region, with a commitment to providing the best possible care to patients and maximizing patient access to proton therapy in China."

Mevion and Proton International to partner on two proton therapy centers
Mevion Medical Systems and Proton International announced in September that they had signed a two-system contract to bring Mevion's compact proton therapy solution to new centers in locations to be announced in South Texas and the Southeast United States.

The new centers will feature the MEVION S250i Proton Therapy System with pencil beam scanning capabilities for faster and sharper delivery of therapeutic radiation to tumors. The system's clinical capabilities, combined with its compact, lower-cost design, and industry-leading ramp-up time, provide unique advantages in the evolving proton therapy technology market.

"We selected Mevion's compact system because it has the ability to offer an efficient clinical solution adopted by many major cancer programs while minimizing costs," said Chris Chandler, CEO of Proton International. "PI specializes in providing custom single-room proton therapy solutions to our clinical providers, and this technology will be a powerful addition to their cancer treatment arsenal."

Mevion has been selected by more NCI-Designated Cancer Centers in the U.S. than any other manufacturer. In July, another MEVION S250i system began treating patients at Barnes-Jewish Hospital in St. Louis. Another unit at Huntsman Cancer Institute at the University of Utah in Salt Lake City, Utah was slated to become clinically operational at the end of 2020.

Black children three times less likely to receive proton therapy than white children
Black children enrolled in national clinical trials are three times less likely to receive proton therapy than white children, according to a retrospective analysis published last August by researchers at Brigham and Women's Hospital.

Dr. Daphne Haas-Kogan, chair of the department of radiation oncology, and author of the study, first noticed racial disparities in accessing proton therapy years ago while working at the University of California, San Francisco. With few proton therapy facilities available on the west coast then, patients often had to travel far from their homes for treatment, and many of them came from wealthy, white families with the resources to afford it, she notes.

"The study doesn't give us insights into the ideology of the disparity in black children receiving this sophisticated form of radiation less than others," Haas-Kogan told HCB News. "One, however, might imagine that there are many disparities of both individual biases and systemic disenfranchisement that all intertwine from socioeconomic to educational disparities, that may contribute to black children being treated with proton therapy less than white children."

Varian gets FDA nod for Eclipse v16.1 treatment planning software
In September, Varian announced it had received FDA 510(k) clearance for its Eclipse v16.1 treatment planning software for proton therapy, offering intelligent features that leverage Siemens Healthineers' SOMATOM DECT diagnostic imager with its dual X-ray energies capability.

This new capability allows for increased visibility of soft tissue and more accurate information about tissue density, allowing dosimetrists to plan more precisely. This feature was validated through a clinical collaboration with the Roberts Proton Therapy Center at the University of Pennsylvania.

In August, Siemens announced a deal to acquire Varian Medical Systems for $16.4 billion. The arrangement brings together two medical equipment companies with a long track record of collaboration.

Also included in Eclipse v16.1 is the first clinical release of GPU Monte Carlo proton dose calculation technology, that was evaluated in partnership with the Emory Proton Therapy Center in Atlanta, Georgia. This technology enables clinicians to accelerate calculation speed and improve overall treatment planning efficiency.

"Varian's goal is to drive the next evolution of proton treatment planning by providing intelligent tools designed to improve plan quality, accelerate speed of dose calculations, and provide new levels of accuracy," said Varian's president of proton solutions and chief growth officer, Kolleen Kennedy, in a statement. "With the launch of Eclipse v16.1 we continue to build on our strong foundation, providing the most sophisticated proton therapy planning solutions to our clinical users across the globe."


Proton therapy reduces risk of heart disease for lung cancer patients
Lung cancer patients treated with proton therapy have less of a risk of incurring certain forms of heart disease than those treated with photon therapy.

That's what researchers at Penn Medicine said in a presentation last October at the American Society for Radiation Oncology virtual Annual Meeting, claiming that they observed fewer mini-strokes and heart attacks in such patients as part of a retrospective trial. They claim it is the first study to suggest that proton therapy is more beneficial than intensity modulated radiotherapy in reducing cardiac dose effects.

"This shows us another potential benefit of proton therapy for lung cancer patients," said Dr. Timothy Kegelman, M.D., chief resident in the department of radiation oncology in the Perelman School of Medicine at the University of Pennsylvania, in a statement. "We know proton has the ability to minimize radiation doses to surrounding organs like the heart. And these latest findings suggest that sparing correlates with fewer cardiac problems, compared to conventional therapy."

With proton therapy, users can target tumors more precisely and spare normal surrounding tissues and organs, such as the heart, to radiation, thereby decreasing the risk of cardiac toxicity.

Mevion proton accelerator shows efficacy in FLASH preclinical trial
Mevion Medical Systems has shown progress in utilizing the FLASH effect in a preclinical trial using its S250i proton accelerator, according to findings presented last November at the American Society for Radiation Oncology (ASTRO) annual meeting.

The company's research showed a clear signal in the survival curves, where the FLASH effect was delivered at the Bragg peak. The Bragg peak plots the energy loss of ionizing radiation as it travels through matter and occurs immediately before proton, Alpha-rays and other ion ray particles come to rest.

"The unique design of Mevion's energy selection system allows, for the first time, the use the Bragg peak of the proton in the FLASH research," Skip Rosenthal, senior vice president of clinical relations, told HCB News. "This opens the door for combining the protection of normal tissues within a FLASH field with the protection of rapid dose fall-off beyond a target. Demonstrating successful FLASH research on the most compact and affordable proton system will open research to a greater number of academic centers than otherwise possible."

IBA hits 100,000 patient milestone
Last fall, IBA announced more than 100,000 patients had undergone treatment with its proton therapy systems around the world. The company described the milestone as marking an important step towards its mission to make proton therapy available to all patients who could benefit from it, by providing healthcare professionals with advanced, high performance proton therapy solutions.

"We are immensely proud that IBA's technology has impacted 100,000 lives, giving patients and their families a new hope for the future," said Olivier Legrain, IBA CEO, in a statement. "Reaching this milestone would not have been possible without the commitment of our employees and the close relationships that we have continued to build with our clients and partners over the last 30 years. Our common goal is to make proton therapy accessible to a greater number of patients, and we believe that our passion, energy and expertise will enable us to achieve this."

Looking ahead, the technological roadmap of IBA is focused on three areas: motion management, arc therapy and flash irradiation. The company currently has 36 centers treating patients in 86 rooms, and another 20 centers in development.

RefleXion announces multi system agreement with integrated proton solutions
RefleXion Medical, a therapeutic oncology company pioneering biology-guided radiotherapy (BgRT) as a new modality for treating all stages of cancer, announced in November its first multi-system contract with Integrated Proton Solutions (IPS), a provider of turn-key proton therapy programs in the U.S. The multi-year, multi-site contract will create centers that house both of these advanced approaches to external beam radiotherapy (EBRT) for treating malignant tumors.

"IPS looks forward to adding biology-guided radiotherapy to our armamentarium of therapeutic offerings, as we expect it to bring the efficacy of radiotherapy so often seen in early-stage cancer to late-stage or metastatic disease," said Jeff Bordok, CEO of IPS. "Other radiotherapy machines cannot efficiently treat multiple, moving tumors on one patient, and then be used for single-tumor treatment on the next patient. This eventual flexibility of the RefleXion machine makes it a clear winner in our view."

The RefleXion X1 machine with BgRT is designed to overcome the technical limitations that restrict radiotherapy to one or two tumors. Instead, aims to one day allow radiotherapy to reach more tumors during the same treatment session, even those tumors that move due to patient motion, such as breathing or digestion.

C-RAD receives order for three proton cancer treatment centers in the US
C-RAD announced in December that it had been selected as the partner to implement surface tracking technology for three proton cancer treatment centers in the US.

C-RAD offers a specific version of its Catalyst System for use in proton and particle therapy - Catalyst PT. It is based on the patented Catalyst technology and software as well as the hardware are tailored for the application in this environment.

The Catalyst system is delivered with the complete software suite with modules for Respiratory Gating, Patient Setup and Positioning and Motion Monitoring. The C-RAD SIGRT solution provides a continuous monitoring of the patient during a treatment fraction. The system is delivered with interfaces that allow to interrupt the treatment beam if patient motion is above a clinically defined threshold.

C-RAD Sentinel 4DCT is an easy-to-use, laser-based optical surface scanning system with functionality for four-dimensional CT image reconstruction and gated imaging in a CT room.

The total order has a value of 15 MSEK for C-RAD. Delivery and installation for the first center are expected to be concluded during the next three months. The other sites will follow in 2021 and 2022.

ProTom International inks China distribution deal
ProTom International Holding Corporation announce in January that it signed a distribution and licensing agreement in China. The arrangement was made with Guohong Guokang (Beijing) Health Technology Development Co., LTD ("GHGK") for exclusive rights to distribute ProTom's Radiance 330 Proton Therapy System in mainland China.

Under the agreement, ProTom also provides for the exclusive distribution rights to expand to certain other countries over time, and establishes a co-marketing area where ProTom and GHGK will work together to distribute the Radiance 330 in other Asia-Pacific countries.

"As the world's largest market, China brings unique challenges in bringing new cancer therapy to improve the lives of cancer patients and their families," said Stephen Spotts, CEO of ProTom in a statement. "The relationship we have established with GHGK overcomes these challenges and brings together the strengths of the two companies with the common goal of broader access to this life changing cancer treatment."

GHGK is a proton therapy technology platform company established by the Sino Hope Group especially for the distribution of ProTom's Radiance 330 system.

Varian installs world's first ProBeam 360 at Penn Medicine
In February, Varian announced it had started the installation of the cyclotron and gantry for its ProBeam 360 single-room proton therapy system at Penn Medicine Lancaster General Health's Ann B. Barshinger Cancer Institute.

The Ann B. Barshinger Cancer Institute, which is part of Penn Medicine Lancaster General Health, has become the first treatment center in the world to have a ProBeam 360 system from Varian. The center is expected to treat its first patients in 2022.

"Varian is proud of our longstanding collaboration with Penn Medicine, which goes back decades and encompasses joint innovation, clinical research, training and education, and bringing new technologies to cancer patients," said Kolleen Kennedy, chief growth officer and president of proton therapy solutions at Varian, in a statement. "We're especially pleased to be taking this next step with them, delivering the latest innovations in proton therapy technology for the cancer patients of South Central Pennsylvania."

The cyclotron is a particle accelerator that accelerates protons to extremely fast speeds; roughly 100,000 miles per second or roughly two-thirds the speed of light, to create a beam that can precisely reach tumors wherever they are in the body.