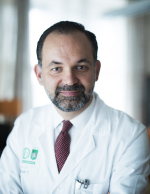 Q&A with ECR President, Michael Fuchsjäger
March 03, 2021
by
Sean Ruck
, Contributing Editor
Like ECR 2020, this year's congress, taking place March 3 to 7, will also be virtual due to the ongoing challenges presented by the pandemic. With the experience of last year's congress to build on and a full year to prepare, ESR President, Professor of Radiology, and Chairman of the Department of Radiology at the Medical University of Graz, Michael Fuchsjäger, believes the event will raise the bar and exceed the expectations of its virtual attendees. HealthCare Business News spoke with Professor Fuchsjäger to learn more about his background and the latest about ECR.

HCB News: What inspired you to pursue a career in healthcare?
Michael Fuchsjäger: In my family, there are several doctors – among them my mother, my father and my grandfather. Therefore, it has always been a part of my life and, even when I was young, I could envision what my job would be like. I think I am also an empathic person, so it fits together well.

HCB News: Can you tell us about your personal background with the European Society of Radiology?
MF: I started my scientific career rather young, out of an intrinsic motivation and interest in research and science. And because it is something you have joy doing, you go along with it without having a predetermined goal in mind.

During my residency at the Medical University of Vienna, I took the chance to submit an abstract to the European Congress of Radiology – and it got accepted. That is how I started and over time, also through my personal growth as an expert in breast cancer, I advanced within the society until I was invited to serve on the Programme Planning Committee of ECR 2012. That is how it all began – I guess I performed well.

I have always had fun working on committees, trying to build something. Once I started taking part in ESR agendas, I gradually got involved and became a member of the ESR Executive Council, the second highest committee within the ESR. For three years now, I have been on the Board of Directors and currently I am President of the society. After this period, I will become Chair of the Board and in my final year on the board, I will serve as past president.

For all this, you really must be driven intrinsically. You cannot simply set the goal, "I want to become the president of the society" and that is it. You must have the interest, must be able to perform and then there is, of course, a certain kind of luck, the right subspecialty at the right time, in order to be considered for the Board of Directors. After all, members are electing candidates from all over Europe!

HCB News: What are your goals when you assume the position of Chairman of the Board of Directors?
MF: As we are still dealing with the pandemic, this issue will dominate our agenda for some time. As for the scientific societies, a lot is going to change due to the "new reality" we have to adjust to. This also means that we have to work to maintain our sustainability as an organization.

Apart from overcoming the COVID situation, we are always running many initiatives and projects, for instance, the European School of Radiology, a long-standing section of the organisation that provides year-round teaching through numerous online and face-to-face events. These take place throughout the world and are aimed at professionals from many different subspecialties with different levels of knowledge and experience.

We are also responsible for the EuroSafe Imaging campaign, one of the ESR's flagship initiatives to promote quality and safety in medical imaging. The mission of EuroSafe Imaging is to support and strengthen medical radiation protection across Europe following a holistic, inclusive approach.

Even before the pandemic, I started to take the initiative to focus on our own wellbeing as healthcare professionals. There will be an advanced course at ECR 2021 focusing on wellbeing, as I strongly believe that we can only serve our patients best if we first look after ourselves.

HCB News: Are there efforts on the ESR side to make sure the society can remain strong the next time something like the pandemic occurs?
MF: Of course. We are learning this experience continuously. We also develop standards and procedures on how to deal with this "new reality." In this evolving process, the ESR came up with many resources to help radiologists and radiological departments, from realizing that there is a pandemic to strategizing and implementing measures into our daily work.

We still do not have an all-solving long-term recipe for overcoming this situation, but what we can see with the three scientific journals offered through our society, is that many of the submissions we receive are focused on COVID-19. We gain a lot of knowledge by focusing on COVID-19, knowledge we can build on.

HCB News: Who should consider joining the society and why?
MF: The ESR is a society that embraces radiologists and radiographers from all over the world. In fact, only one-third of our members are from within Europe. The ECR is also the largest congress for radiographers, with the European Federation of Radiographer Societies (EFRS) working in collaboration with us and using the ECR, also as their own annual meeting. All professionals from the life sciences, for instance, physicists and other medical specialists are also welcome in our society.

As mentioned before, in addition to the annual ECR, our databases, quality initiatives and e-learning offers, we also run the European Institute for Biomedical Imaging Research, which is dedicated to coordinating research projects, supporting researchers in the application for grants and supporting the development of biomedical imaging technologies. You see, there are vast advantages to be gained from becoming a member the ESR.

HCB News: Other than the challenges brought on by the pandemic, what other challenges does the ESR face and how are they being addressed?
MF: At present, we are so focused on dealing with the situation of COVID, which is challenging to look beyond. I can, however, say that, due to this unique challenge, imaging technologies have become very appealing in the public eye. Our role is developing and adapting alongside advancements in technology. Radiological diagnostics are being asked to do much more than they were 20 or even 10 years ago, and other specialties like cardiology or angiology call on us, because they want to be part of it. In order to embrace this opportunity, we are in constant communication with other medical societies and regularly take part in interdisciplinary meetings. Our role is more managerial and not just that of interpreters of images. In the near future, we plan to enlarge this strategy towards integrative diagnostics, together with pathology, lab medicine etc.

HCB News: What are you most looking forward to at this year's congress?
MF: For me this is my dream come true, something I have been working on and striving for over a long time. Very dear to me are certain specific courses and some special programme features such as the "meets" country sessions. This year, we will feature the Arabian Peninsula, Armenia, India and my home country, Austria as "meets" regions. These are very colorful sessions that give attendees a better understanding of how radiology is being practiced in those countries.

As mentioned above, I aim to put a focus on the wellbeing of radiologists and radiographers. Therefore, there will a series of sessions called Healthcare Professionals in Focus, which will focus on this topic; another series will focus on breast imaging, my subspecialty. For a better understanding of what we do, we will have a course on MRI technique and MRI safety, interpretation quizzes and other formats, such as a Pop-Up World Tour with events from around the world hosted by experts in a variety of cities.

In order to reach all interested people around the globe we start early for our Asian colleagues (7:30 CET) and end late for people in the USA and South America (9:30 CET) who want to indulge into our fantastic programme.

One thing I am particularly excited about is this year's Opening Ceremony. Unfortunately, I cannot go into too much detail, as it is a surprise, but I can say this: it will be something that has never been seen at ECR before and you can expect to be amazed!

Last, but not least, our theme, "Embracing" is a key part of our congress this year. We chose it even before the pandemic, and looking at it now, it could not be more appropriate. Looking at the wonderful painting depicted in our congress poster of Gustav Klimt's "The Kiss," it just perfectly displays our feelings at this time. We miss our human interactions with one another and we hope to regain these connections very soon.