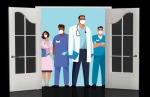 Community poses greater risk of infecting medical personnel with COVID-19 than hospitals
March 18, 2021
by
John R. Fischer
, Senior Reporter
Healthcare personnel infected with COVID-19 were more likely to contract the virus outside the hospital or medical practice where they work.

Researchers at the University of Maryland School of Medicine make this claim in a new study that found that having a known exposure to someone who tested positive for COVID-19 in the community was the strongest risk factor for testing positive for COVID-19. The authors conducted the research with members of the Centers for Disease Control and Prevention, Emory University School of Medicine and Rollins School of Public Health in Atlanta, Rush University Medical Center in Chicago, and Johns Hopkins University School of Medicine.

"I think that early on, there was tremendous fear among healthcare workers about their safety. This was warranted in that a lot was unknown about covid-19. Fairly early on, however, many hospitals felt that the protective measures that were being provided were adequate," Dr. Anthony Harris, professor of epidemiology & public health at the University of Maryland School of Medicine, told HCB News.

Harris says that the study and others indicate that people were overly worried at the beginning of the pandemic that healthcare workers were not properly protected. "A misconception that healthcare workers were at greatly increased risk could have potentially affected the care that healthcare workers provided nationwide," he adds. "We hope it did not, but it could have."

The findings were based on a survey issued to nearly 25,000 healthcare providers in Baltimore, Atlanta and Chicago. In addition to a high-risk of contracting COVID-19 from someone they knew in the community, healthcare workers were also at high risk if they lived in a zip code with a high COVID-19 cumulative incidence rate. Black Americans who work as healthcare personnel were more likely to test positive for COVID-19 infections than their white colleagues, a fact that the authors possibly chalk up to existing disparities in community exposure rather than from healthcare-associated exposures.

One limitation was that infection control practices were not standardized across all healthcare sites, preventing the authors from determining the level of effectiveness of personal protective equipment. They also were unable to determine if specific infection control practices, such as frequent disinfection of surfaces in exam rooms, were more effective than others in preventing the spread of infection.

"Getting all healthcare workers vaccinated is the goal. Convincing skeptical healthcare workers to get vaccinated is a priority. Vaccination is the best way to protect healthcare workers," said Harris. "But along with vaccination, we continue to use other interventions to protect healthcare workers, including personal protective equipment like masks, gowns, and face shields as well as other interventions to reduce infection transmission."

The study was funded by the CDC's Prevention Epicenters Program.

The findings were published in JAMA Network Open.