By Eric Slimp

Financial health is a top priority for every healthcare organization, even in the best of times.
But hospital operating margins have plummeted due to COVID-19-related revenue losses and sky-high expenses. According to Kaufman Hall, hospital operating margins for the first 11 months of 2020 were 56% lower, compared to the same period in 2019. Compounding the problem, staff reductions have left fewer contracting and supply chain staff available, and they must scramble to meet demands for supplies and outsourced services while working remotely.
To survive this financial crisis, healthcare organizations need to control their non-labor costs. Supply-chain spending accounts for one third of the typical hospital's overall operating expenses. An analysis by Navigant revealed that the average hospital spends $12.1M more than it needs to on med/surg and pharmaceutical supplies, medical and implantable devices, and maintenance supplies.
One approach that has yielded meaningful results is to ensure that your health system is focusing on the right categories that will yield significant savings rather than merely reacting. This requires visibility and digestible data related to your current spend, as well as data-driven approaches to create a roadmap of categories that lets you strike when the time is right. To achieve savings goals and displace lost revenues, hospital supply chains must transition from only tactical activities, such as negotiating contract renewal quotes, into proactively attacking categories and sourcing strategically.
One way understaffed hospital personnel can address this urgent problem is by enlisting the services of an outside organization to act as a consultant and unbiased advisor to the provider as they negotiate with their suppliers. That's what happened in the case of a large children's hospital in the Southeastern U.S. that was spending vast sums on a lifesaving therapy for newborns and children with cardiorespiratory problems.
Pediatric healthcare is a dynamic industry that changes quickly and requires specialized — often expensive — equipment and supplies to diagnose and treat children with a large variety of needs. One such item in this client's budget was iNO therapy, which is used extensively in children's hospitals for the management of neonates and children with cardiorespiratory failure. This important therapy was expensive because of an orphan drug designation that impeded competition.
The hospital's outside sourcing analysts identified iNO therapy during a review of the hospital's spend as a "category to watch" for high savings opportunities. The hospital and its consultants shared intel over the years, resulting in quick action when exclusivity expired on the orphan drug.
The consultant's advisory team worked with the hospital's Strategic Sourcing and Respiratory personnel and provided product evaluation, further data analytics, and targeted negotiation points for a successful, competitively priced new agreement with an emerging iNO therapy supplier. Specifically, the consulting team was able to identify what alternatives were emerging into the market, what type of fee structures they offered, and what a competitive price was for the therapy based on visibility into what other providers were paying. This level of insight and transparency into these specialized and rapidly changing markets is not and cannot be available without leveraging a third party with access to an extensive database of market pricing that is updated in real time.
With its market intel and expertise in spend management, the consulting organization helped the hospital achieve cost savings of more than $350,000 annually. The effort underscored the hospital team's commitment to obtaining a critical service for its patients at a lower cost, without impacting patient care.
Working with a knowledgeable partner allows hospitals to analyze data and develop spend insights for immediate action. Categories with the most opportunity for savings include purchased services, med-surg, and capital equipment and projects.
Every budget cycle comes with ambitious savings targets. But even after consolidating vendors and optimizing price, aggressive management of leakage, off-contract spend, and misbilling still needs to take place. This is especially difficult — and often mismanaged — when it comes to non-PO spend, which cannot be validated via a 3-way match in an ERP system. A combination of spend analytics and monitoring, coupled with contract negotiations and proven purchasing strategies, can help transform cost centers into savings opportunities.
Spend Analytics takes a goal-driven approach to how hospitals and health systems manage their supply chain spend and contract negotiations. It starts with a technology-enabled analysis into every dollar a health system spends (excluding payroll), and is guided by a team of spend analytics experts to achieve the organization's savings goals.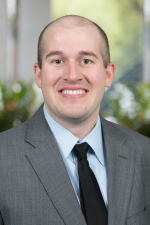 Working with its spend analytics consultants, clients like this children's hospital can determine the best opportunities for savings. Then, they are guided along the way with roadmaps and support to ensure that contract goals are met and savings are achieved. Such a true collaborative effort can yield meaningful results.
About the author: Eric Slimp is purchased services director for TractManager, a part of symplr.