By Scott Galbari
Provisions of the ONC and CMS interoperability rules begin to take effect in April of this year, and payers, providers, HIEs, and the developers who deliver HCIT solutions to these organizations are feverishly working to comply despite the many challenges they've faced as a result of the pandemic.
The pandemic has diverted resources and focus away from many strategic initiatives – and interoperability is no exception.
However, responding to the pandemic and meeting regulatory compliance are not mutually exclusive. Strategic health IT organizations are realizing that they can simultaneously make progress toward rule compliance while managing the demands of the pandemic. Specifically, by leveraging advanced integration technology, healthcare organizations can ensure compliance, and improve efficiency and efficacy of pandemic-driven IT initiatives.
Here's what organizations should know about the rules
The new rules serve two main purposes. One is to eliminate information blocking by organizations and software platforms and optimize data sharing across disparate systems. The second is to liberate patient data by increasing the use of FHIR APIs to improve consumer access to information and tools that help them make informed and empowered healthcare decisions.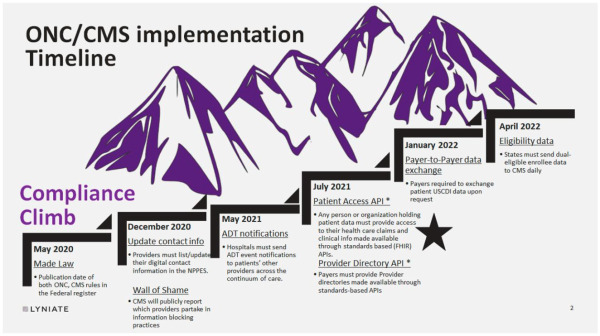 Though these requirements represent a significant challenge to the status quo of data exchange, they can be met in ways that optimize automation, efficiency, accuracy and security by using appropriate interoperability tools. These tools can also play a critical role in meeting the demands of the pandemic, including sharing data at-scale from heterogeneous sources such as testing centers and labs, contact-tracing systems, and vaccination management systems.
So what does this mean for payers and providers?
Payers and providers struggle with data integration for different reasons. Though provider organizations are likely to have the technology to store and aggregate patient data, they are often not equipped to effectively share it safely and securely among disparate systems and entities without compromising it in some way.
For payers, their interoperability challenges are the result of antiquated manual and paper-based processes and workflows as well as decades of merger and acquisition activity, which has left inefficient processes in its wake. Due to reliance on significant manual human and paper driven workflows, payers are left to deal with chronically "dirty" claims data and a host of related issues.
The pandemic has exacerbated these challenges for payers and providers – demanding ever-increasing rates of data sharing/reporting and technology implementation. Had the new rules been in place prior to the pandemic, the industry may have faced fewer challenges around contact tracing, managing testing, tracking PPE and other vital medical supplies, accessing data from alternative care settings and more.
One requirement of the new rules is the implementation of FHIR APIs, which will help to address data quality problems, inconsistent data, disparate data formats and missing information – all of which are critical to making informed care decisions and accurately processing claims.
Though FHIR is a powerful new tool for improving interoperability, there are still complications that need to be addressed. Variations in data formats for solutions that have implemented FHIR, as well as use cases where FHIR is not the best solution, are just two quick examples.
However, with the right integration technology such as integration engines and API managers, payers and providers can resolve many of their long-standing interoperability challenges, while also complying with industry regulations (i.e., implementing FHIR APIs), and minimizing the strain of the pandemic on core systems and personnel.
Integration engines and API managers are capable of coalescing with a range of systems and technology across the healthcare ecosystem, acting as a protective barrier between vulnerable health data and any threats of compromise. These tools offer a central hub to which all other systems and technology connect, thus limiting the number of point-to-point integrations.
These tools also inherently understand FHIR data and APIs, allowing payers, providers and patients to access data as it suits them, the very same way they would if they were using a database. Additionally, integration engines have the ability to seamlessly convert FHIR resources into an HL7v2 message, allowing third party systems optimized for HL7v2 to integrate seamlessly using the latest FHIR standards.
Why interoperability matters in meeting the pandemic's demands
Though many IT teams and infrastructures have not been optimally prepared for these challenges, by prioritizing interoperability technology, they can address the need for high-performance data sharing at scale, and benefit from the flexibility to incorporate data from a wide range of sources, formats and protocols.
The pandemic and its aftermath may look different for payers and providers, but the answers to their data sharing problems are very similar, and the need for sophisticated interoperability capabilities has never been more pressing.
Get ahead of compliance while meeting the challenges of today and tomorrow
Although the industry has long held onto the excuse that real interoperability is unachievable in the current environment, solutions are readily available to connect the disparate systems, regardless of data format and communication protocols used. High-performance interoperability is within reach, and the technology available today can enhance data sharing and optimization so that it is fast, accurate, flexible, scalable and secure.
Implementing an advanced data integration layer – like the API managers and integration engines we mentioned previously – will help healthcare organizations handle the higher levels of data traffic expected as the new interoperability rules come into play, and ensure accurate, complete and timely data sharing across platforms.
Advanced integration tools are essential to addressing the challenges still ahead as healthcare leaders work through the current pandemic and attempt to prepare for the next crisis. At a higher level, the ability to aggregate accurate, comprehensive, normalized data from a wide range of sources is fundamental to pursuing the big data analytics initiatives that are at the heart of many payer, provider and public health initiatives.
Healthcare leaders must embrace interoperability as a long-term strategy – not just to meet the demands of compliance and pandemic response today, but to meet longer term challenges of consumer experience, increased market competition and a dynamic policy environment. When interoperability has traditionally been viewed as a long-term goal, organizations that delay will risk being unable to adapt to new demands and crises, and will not be able to proactively address emerging challenges.
It is not an exaggeration to say that the success of every major healthcare initiative for the foreseeable future rests on the quality of the data gathered and shared by the providers and payers of the healthcare industry. Responding to today's challenges with the right technology will drive the future of healthcare.
About the author: Scott Galbari is the chief technology officer at Lyniate.