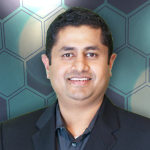 The digitization of healthcare — what about the back office?
April 16, 2021
By Vijay Ramnathan

The push to digitize healthcare — in the form of telehealth, remote access, and new patient care platforms — ramped up dramatically during the Covid-19 outbreak, and likely has fundamentally changed the model for patient care for the future. Meanwhile, modernizing and digitizing payments in the back office of healthcare organizations continues to take a backseat.

This is especially prevalent in small/medium sized healthcare organizations. Take supplier payments for example. Nearly 90% of these types of healthcare entities still receive paper invoices and utilize manual invoice data entry according to a 2019 report from Level Research. Yet, most account payable (AP) departments know that asking for funding for digital solutions for paying invoices will probably not be seen as a high priority.

At the same time, these organizations struggle as a result of these manual processes. Patient payments can be slow, negatively impacting cash flow. Manual approval processes and paper checks create more work for shorthanded staff and limit the visibility into cash positions and control of spending. These smaller hospitals and medical practices also typically depend on fewer suppliers for essential supplies and materials, so making on-time payments is critical to keeping these goods flowing.

The reality is smaller healthcare organizations have a whole lot to gain by digitizing back-office functions like accounts payable. Those that do, in our experience, typically wish they had done so sooner. Here's why:

Streamlined invoice capture and approvals
Without AP automation tools, capturing an invoice is a manual process which involves opening mail, scanning, and/or keying information into the accounting system. For providers that order large quantities of medical supplies and other goods, this can mean copying lines and lines of information from multi-page invoices. Then, on top of that, invoices are often collated and emailed to department heads for approval—a process that is even more challenging for healthcare organizations with multiple locations or entities. For one oncology practice that receives 1,000 invoices a month, this manual process previously took two AP clerks each 5-6 hours every day.

Another organization, an outpatient treatment facility, found that automating the invoice receipt and payment process allowed its accounting team to increase their productivity significantly by spending less time on invoice QA checks and chasing down approvals. AP automation solutions enable healthcare providers to capture any invoice in digital form and check for duplicates in the system, saving time and manual effort and eliminating entry errors and other unnecessary headaches. They can also digitize the invoice information, helping make more accurate spending forecasts and improving their long-term financial planning via easy historical and anticipated spend reporting.

Audit pain relief
Audits can be a messy situation for even the best finance teams. Auditors need copies of invoices, checks, reports, and other information, which can be especially cumbersome when they are in paper form. The ability to digitize and centralize that information makes the audit process much simpler and cleaner for all involved. Auditors get easy access to everything they need, and finance teams spend minimal time and effort around the audit.

Goodbye paper checks and fraud exposure
COVID and remote work requirements exposed the gross inefficiencies of paper checks. The pure logistical challenges of multiple people handling, printing, approving, signing and mailing out paper checks, not to mention the additional costs and lack of control over cash flow, put paper checks and the manual processes that go with them, on their way to extinction.

Even without the pandemic, paper checks are problematic. They are the leading payment method associated with fraud, according to the 2020 AFP Payments Fraud and Control Survey. 74% of finance professionals report that their check payments were targets of attempted and/or actual payments fraud. AP automation and electronic payments can minimize the chances of invoice fraud and phishing attacks.

Hello virtual card payments and rebates
With constant cost pressures and thin margins, healthcare providers can't afford to turn away opportunities to save and make money through early payment discounts and virtual card rebates. Virtual payment cards are unique 16-digit numbers created solely for a single-use transaction. Payments can be made from anywhere and they are highly secure for both payer and payee. Compared to the 74% of finance professionals referenced above that reported check fraud, just 3% reported fraud related to virtual cards.

Aside from the security benefits, virtual cards have also become widely accepted, making them as convenient as any other payment form. And businesses that use the cards can take advantage of valuable rebates to generate extra cash. In the words of one controller, "We're making these payments anyway, so the fact that virtual cards help us generate a new revenue stream from them is a huge win. It's been great for the accounting team to show that we're not just a cost center—now we're able to contribute to the organization's finances too."

Across the healthcare industry, digital has taken on a new sense of urgency to improve and streamline the delivery of patient care. That same thinking needs to be put on back office financial operations as well. Automating foundational processes like accounts payable can deliver dramatic benefits to healthcare providers, especially small and mid-size entities that have limited staff and budgets.

Finance teams are requesting digital tools to help them work more efficiently and effectively, and AP automation presents a low-hanging opportunity to do just that.


About the Author: Vijay Ramnathan is currently the president of MineralTree, a company specializing in AP and payment automation for middle-market and enterprise-level companies. A self-professed fintech and payments geek, Vijay has spent over 20 years in the space including strategic leadership and operational roles at companies including US Bank, Fifth Third Bank, and COMDATA/Fleetcor.