By Dominic Smith

The ability to offer medical technology with the latest advancements is a clear advantage when it comes to customer loyalty.
However, it's not the only one. Exceptional service is key to making the difference. In fact, according to the Salesforce report "State of the Connected Customer", 91% of customers say they're more likely to make another purchase after a great service experience. When outstanding technology and excellent service are combined, this creates a winning formula for customers to first choose a brand, and then stay with that brand for the long term.
Beyond break/fix
In the past, service quality was measured by uptime and repair time, and the expectation was that it would be the same for every customer. Today, service has evolved from fixing what is broken to a more nuanced approach requiring both customization and the ability to anticipate — then meet — those needs.
In our technological and customer-oriented world, customers have come to expect an all-encompassing, enjoyable, and easy experience. This is intensified by the ever-increasing emphasis on output and cost, leaving customers all too aware that anticipating and resolving problems before they happen can help avoid the expense and headaches associated with system and machine downtime.
Meeting change with innovation
Today, healthcare providers are seeking service partners who can provide customized agreements and real-time remote monitoring. Both of these elements can result in early detection of equipment issues to prevent costly downtimes. As the needs of hospitals get more complex, it's essential that service keep pace and provide peace of mind that systems are up and running properly and efficiently, with the parts they need, and that the systems, networks, and patient information are secure.
Unplanned downtime and suboptimal performance of diagnostic imaging systems can create significant challenges to provider finances, but the introduction of AI is giving them an edge. Through dashboards and reports from across facilities, vital usage insights are becoming more accessible than ever. I think that trend will continue into the future, with proactive maintenance alerts playing a bigger role in service decisions. This data could even facilitate benchmarking against other organizations to identify opportunities for greater efficiency.
When discussing equipment maintenance and service, cybersecurity must be addressed. Threats and attacks from hackers have skyrocketed in recent years, shining a light on healthcare's vulnerability. At the same time, many facilities struggle to support equipment from various vendors, which means an effective cyber security strategy must be vendor-neutral and provide multiple layers of protection. In many ways, this approach to preventing cyberattacks will align with greater efforts to enhance interoperability throughout the medical equipment ecosystem.
Taken as a whole, greater access to analytics and greater cyber security will usher in an era of better outcomes and better efficiency in healthcare.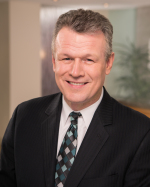 The human touch
Excellent customer service is more than adding additional online support or self-service opportunities. Instead, companies must take a multifaceted approach that combines modern digital services while also providing a human touch. This means maintaining a low ratio of customers to engineers, and having an extensive network of parts depots to ensure fast response times customers expect and deserve. As healthcare evolves, providers need access to a certified engineer within minutes, and have someone on site quickly.
The future of service has arrived. By evolving with the times, embracing technology, and retaining the human connection, medical equipment servicers will succeed in meeting the unique needs of their provider partners and help usher in a smarter, more sustainable era for healthcare.
About the author: Dominic Smith is the vice president for field and sales service at Canon Medical Systems, USA.