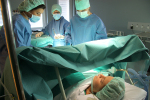 Bringing AI to the OR showcases promising future for healthcare
June 22, 2021
By Dr. James Clark

It is an incredibly exciting time to be a physician as medical technology advancements continue to transform health care in new and positive ways. This is especially true in surgery, thanks to digitalization and the use of artificial intelligence (AI).

With this transformation in its early stages, I am actively studying the ways in which digitizing surgery and bringing AI to surgical theatres can enhance surgical practice, with a focus on how it impacts surgical training, governance, and patient safety. As a Gastrointestinal and Bariatric surgeon—and an academic with a Ph.D. from Imperial College London in surgical technologies, including digitization of surgery—as well as specialty lead for surgery at The Royal Cornwall Teaching Hospital NHS Trust, this research topic is something I am particularly passionate about.

Why recording surgery matters
Recording operative videos will no doubt become standard practice over the next decade. The benefits are undisputable and range from a positive impact on surgeon training, surgical safety but above all transparency for patients.

Videos, especially supported by AI, enable surgeons to give specific and detailed feedback to trainees immediately after a procedure rather than in the middle of the operation, which is a high-stakes environment. I'm working on exciting research into whether surgical trainees are improving their technique from using the AI-enabled surgical video tools. While the results are not yet available early results are very exciting and are confirming the positive impact on our trainees. Objectively, their feedback about how using these tools improves performance from case to case, as well as their confidence in the OR, has been broadly outstanding.

It is not just the trainees that benefit, but experienced surgeons have also benefited. Being able to review any operation, whether for training purposes with a trainee or with colleagues afterwards, promotes self coaching. It enables surgeons to discuss, compare with colleagues, and adjust their approaches in a more relaxed setting. Even amongst more tenured surgeons, colleagues can share techniques and validate any difficult decisions they had to make to ensure these can be recognized if they were to arise again, and learned decisions can be reenacted or avoided. This capability is unique within an online easily accessible shared library of surgical videos.

Sharing videos also enables surgeons to have the real time details they need to have meaningful conversations with other specialists over a case, rather than simply using the notes. This may be relevant, for example, when a patient is transferred from the OR to ITU for handover to the intensive care team when the clarity of what has been undertaken in the operation provides great insight for their onward care. A specific example from my experience was during a recent laparoscopic bile duct exploration for gallstones during which time the anatomy was not exactly what the preoperative imaging had indicated. I made the decision, as the operating surgeon, to open the bile duct, remove the stone, and sew it back up. After the procedure, the patient had a narrow section of the bile duct and this was discussed with our locoregional centre. With the recorded video on hand, I was able to share the operation with those working at the centre to consult on the case and confirm that I made the right call for the patient under the circumstances. The reassurance for both the patient and myself was welcomed, and this would have been difficult to explain with clarity without the video. Overall, having video streamlines the process of referring, refining skills, broadening knowledge and evidenced learning.

Using AI-enabled surgical video tools can also enhance patient satisfaction and safety. In my experience, I have found that my relationship with my patients has significantly improved from showing them their operations. Their understanding of when the procedure was challenging and why, and the results and outcomes of the procedure, provides them with confidence. With more insight into the details of their own procedures, patients may be more attentive to postoperative care instructions and less prone to phantom symptoms of complications. Having video that indicates that their procedure went well helps patients feel confident in the outcome.

Shortcomings with traditional recording processes and encouraging advancements
While surgical video is clearly important, gathering the content has historically been quite cumbersome. Before, using USB drives or external hard drives, surgical videos were never in a consistent format and clinicians had to sift through an overwhelming amount of content to get to a particular part of the surgery.

Now, new technology exists that lives within a smart computer for the operating room (OR), with built-in AI anonymization capabilities that enable secure and easy access to surgical videos.

With a button click on the mobile device, the technology records the surgery and automatically uploads the video just a few minutes after the procedure into a vast library of consistently formatted surgical videos. AI algorithms anonymize the videos before they are uploaded, and full surgeries are automatically split into phases according to critical steps in a procedure.

This process allows clinicians to share their cases, without compromising patient privacy, on their phones with one another quickly and efficiently. Clinicians can also enter notes into each section of the surgery for further explanations, such as why a particular section may have been challenging or taken longer than the standard amount of time.

The importance of these features cannot be underscored enough. Anonymity, the removal of all personal patient information, is required by governance in order to share procedures for training purposes with anyone who was not in the surgery. Likewise, being able to jump to a portion of a particular surgical procedure that is already segmented from the rest of the surgery creates more efficient teaching conditions.

With thousands of shareable surgeries at their fingertips, trainees can walk through procedures time and again to hone their skills and thus further enhance patient care and patient safety; clinicians can talk through their work with patients to keep them confident and comfortable; and governance committees can stand by their surgeons' work with tertiary organizations. The benefits of taking this old process and streamlining it with digital properties are great for clinicians and patients alike.

An exciting future ahead
Looking ahead, AI has the potential to solve some of the biggest problems in health care in three key ways: reducing variability, reducing complications, and driving efficiency.

For example, in the future, AI may be able to track certain surgical techniques against patient outcomes in order to weed out inferior methods or approaches. AI might also be used to count the number of swabs used during a procedure and notify the surgeon if one is still in the body, which could be helpful in reducing litigation and reoperation costs long-term. Additionally, imagine if AI technology could grade procedures by level of complication to accurately determine how long a procedure will take. This capability could allow coordinators to adjust scheduling for theaters and patient preparations for the next surgery of the day in real time. This would save hospital systems money by reducing costly cancellations and staffing conflicts.

It's truly thrilling to think about how far surgery has come thanks to technology, but even more so when considering the potential that still exists to transform training, technique, and patient care.

As everyone in the medical community ultimately shares the same goal — to deliver the best possible patient care — it's incumbent on all of us to embrace innovations that can help accomplish that. I'm convinced digital tools like AI-powered surgical video recording platforms are one of them.

About the author: Dr. James Clark is a upper GI and bariatric surgeon, and specialty lead for surgery at Royal Cornwall Teaching Hospital NHS Trust in the United Kingdom.