As a manager, bringing out the best in your team is one of the most powerful skills you can have.
When people are passionate about their job, trust their colleagues, and feel good about what they can accomplish, only good things happen. Laurie Hitzel, administrative director, ancillary clinical services at AdventHealth Zephyrhills & Dade City, is no stranger to the concept of empowering a team. HealthCare Business News sat down with her to learn more about what good leadership looks like, and her own background in medicine.
HCB News: Can you tell us a bit about your background in hospital leadership?
Laurie Hitzel:
My background in hospital leadership culminated from a start in healthcare as a radiologic technologist in the U.S. Air Force. The military prepared me with leadership training and responsibilities early on that were transferable as a civilian. I have been part of the AdventHealth organization since 1999, and in management roles since 2006, as a radiology manager, director of imaging and women's services; and most recently, administrative director, Ancillary Clinical Services at two facilities, AdventHealth Dade City and Zephyrhills, with responsibilities in radiology, laboratory, physical therapy, occupational therapy, speech therapy, and an offsite wound care center. I am passionate about leading teams to ensure their best potential, excellence in customer service, financial management, growth strategies, stewardship, and volunteerism.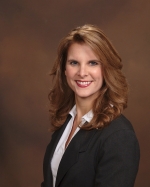 HCB News: What are some of the lessons you've learned over the years that have proven most valuable to your leadership approach?
LH:
Communication is the key to success. Teams should know the "why" behind the goals you are striving for. 2. Trust is earned. If you trust your teams, they will go the mile for excellence. 3. As a leader we do not have all the answers. It is okay to ask for help and lean on other leaders. Everyone has a story to share with diverse backgrounds and different views, which can be amazing, and your colleagues and teams may just hold the answer. 4. Humility and self-reflection. Solicit feedback. Feedback is a gift and self-reflection can make you a stronger leader in the long run. 5. Continuous learning. Always strive to keep up and push yourself. If it's self-help, immersing yourself in new technology, or finishing the book you started last year. Most of what I've learned over the years is based on experience, relationships, and some failure. Without failure, there is no success.
HCB News: In recent years there has been a push to break down operational silos within the hospital, has that had an impact on you and your team?
LH:
Breaking down silos can happen even within the departments themselves, so yes, my team at AdventHealth Dade City and Zephyrhills has worked very passionately at breaking down silos both cross-departmentally and hospitalwide. The impact is tremendously positive once there is increased effective communication and barriers are removed. We encourage others that may not work in radiology to "shadow" or "walk in our shoes" to see what goes on behind the scenes. This helps build trust, friendships, and a great understanding of a day in the life.
There is also a daily Safety Huddle where all leaders from both hospitals, off-campus treatment centers, and physician practices meet to provide any safety issues, census, and any help needed. This has been valuable over the last 4 years, and technology (Teams) has made it successful to attend. It is great to hear the daily devotion first thing in the morning and see or hear the leaders provide a report.
HCB News: What does it mean to take a layered approach to leadership? Can you provide an example?
LH:
Leadership isn't always a top-down and backup approach, but horizontal and vertical communication. However, during my time at AdventHealth, I've noticed frontline team members can lead just as much as their team leads as we are always learning from each other. Having layers embedded into practice helps tremendously with communication, growth, and seeking out the potential for future leaders of the department.
A layered approach to leadership is helping team members with personal growth and development. Succession planning in multiple areas of the team is instrumental in the success of the overall culture and team morale. For example, high performers are willing to learn and grow. If leaders are connected with their team members, then they should be in the pipeline for roles as they become available or even learning a new skill. We are piloting a new program, Clinical Ancillary Professional Recognition, which is a clinical ladder. Team members have opportunities to participate in a chosen level, based on time in service and experience. Those seeking leadership goals can participate in projects, committees, etc., which helps them gain more experience and confidence.
HCB News: In what ways can leadership set a positive tone for culture in the workplace?
LH:
Positive relationships across hospital leadership and connections with the frontline staff are paramount to a positive culture. Holding myself accountable and asking others to call me out if I'm not doing it. I expect others to be accountable for their actions, therefore I must act in the same fashion. Promoting recognition and praise for doing great work that is genuine sets the stage for positive culture and makes people feel valued.
HCB News: Are there any mistakes in leadership that you've learned from, or seen others make?
LH:
Sometimes I wish I had a do-over. One that comes to mind most recently is the pandemic. Early on, there was so much fear from the community and team members about COVID-19. The unknown led to rapid and continuous changes, miscommunications, frayed relationships, and the uncertainty of how long this will continue, etc. We were anxious and fearful of contracting the virus or spreading it to those we love at home. At some point along the way, I learned to take a breath (a lot) and reflect on how I could be a better leader for my team at AdventHealth Dade City and Zephyrhills. I looked around and in the midst of the chaos, we were stronger than ever. This reflection on myself is an ongoing journey. As I grow, the reflection will change too.
HCB News: Can you share some strategies for bringing out the best in team members?
LH:
Technology has certainly helped with one strategy that I began about 6 months ago. It is really a no-brainer; how come I did not think of it sooner? On birthdays and work anniversaries, I record a video of myself sharing a personalized message to my team members. I received texts, messages, and emails back from individuals saying how much that made their day.
I have found mailing handwritten cards (depending on the occasion) to individuals' homes are special too because they love to share with their family.
I keep a team member "snapshot" for each of my leaders. It is a simple form that the employee fills out which helps me know about the team member, their family, how they like recognition, favorites such as food, hobbies, etc. This way when I recognize them, I know what their likes and dislikes are. We've all become one big family with the sole mission of providing wholeness, restoration, and quality healthcare. It is part of the mission of AdventHealth to extend the healing ministry of Christ.
HCB News: Have you learned any important lessons from the ongoing pandemic?
LH:
I've learned that what was working well in some areas no longer applied and that there was an opportunity for improvement. Knowing that relationships are always important, I now value a phone call or a visit to another department (or someone stopping in to see me), instead of a text message or email. The way we do business has changed (and in some ways improved communication). Teams and Zoom meetings are great and have opened the pathways for so many more ways to connect than ever before. I, however, cannot wait for the day when the pandemic ends, so I can see the smiles of team members and patients again. For now, I will continue to look into their eyes because those eyes have a story to tell. Spend time with those you care for and make memories.
HCB News: What's the best piece of advice you've ever gotten?
LH:
The best piece of advice given to me was from my father. I was in the 7th grade on the middle school cross country team and was not the fastest runner; rather, usually finished last on my team. I wanted to quit. My dad flat out told me, "An Armbruster (my maiden name) never quits. Finish the season with your team because you do not want to let them down. If next year you don't want to run, then don't sign up again." I took his advice, and I did not quit the team. The following year, I joined the team again and improved my time. Ironically, I grew up enjoying distance running, completing 4 marathons, 3 half marathons, and multiple other races over the years. It doesn't matter if I finished first or last, it is about the stuff in between. His advice has echoed in my mind on several occasions where I may have wanted to give up. However, I have persevered because that is what life is, a journey.