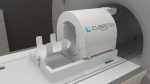 The latest PET and SPECT technology
June 28, 2021
by
Lisa Chamoff
, Contributing Reporter
New products in the PET and SPECT space are focused on speeding up scan times and keeping radiation dose low, while providing high-quality images for use in cancer staging and therapy response.

There's a continued interest in radiotracer research, with a spectrum ranging from smaller scanners and MR inserts to large, whole-body scanners like the one released by Siemens Healthineers earlier this year.

Here's a look the new products on the market and what's on the horizon.

Cubresa
Cubresa is launching its clinical product, the BrainPET, a PET insert designed for use in an MR scanner, enabling simultaneous PET/MRI imaging of the brain.

"We are in discussions with a number of notable research centers and are looking forward to finalizing our early customers this year," said Lisa Bako, director of marketing for Cubresa.

The BrainPET scanner may play an important role in the diagnosis, treatment, and management of diseases of the brain including Alzheimer's, epilepsy, brain cancer, and psychiatric disorders like addiction. The BrainPET is not yet FDA or Health Canada approved, and early customers will use the device for clinical research purposes.

In September 2020, Cubresa was awarded a contract by Innovative Solutions Canada for its recently launched NuPET Bio, the company's preclinical PET scanner that is lightweight, portable and designed for use in infectious disease research within high containment facilities. A system has been installed at the IWK Health Center in Halifax and will be used for preclinical research into SARS-CoV-2 and other infectious diseases.

Digirad
Over the last year, Digirad has transitioned its Ergo, Cardius 2 XPO, Cardius 3 XPO and Cardius X-ACT+ scanners to the Windows 10 operating system and introduced "all in one" chassis designs for the Carius 2 XPO and Cardius 3 XPO.

Additionally, in January of this year, the company began offering a Boost upgrade package to allow customers to retrofit their portable general nuclear medicine Ergo Imaging System. The Boost package comes with a lithium-ion battery and a new, larger monitor, as well as a Cedars CSView processing package, 250-gigabyte solid state drive, wireless data transfer and connectivity and new exterior panels.

The battery has a longer life and the computer is now internal instead of removable, providing more security, said Martin Shirley, president of diagnostic services at Digirad.

"All of those features and benefits are part of new Ergo, but the Boost is a third of the cost," Shirley said. "It's retrofittable to the original Ergo that is more than 10 years old. We thought that was the right thing to do."

GE Healthcare
At the end of 2020, GE Healthcare introduced the Discovery MI Gen 2 PET/CT platform. The scanner is designed to be scalable to a 30-centimeter axial field of view with a potential NEMA sensitivity of 30 cps/kBq, which the company is planning to make available in the near future.

The company redesigned the detector to enable and enhance scalability and system sensitivity, said Jamie McCoy, general manager of PET at GE Healthcare.

"Someone could purchase a 15-centimeter system and be able to upgrade and scale to 30 centimeters," McCoy said. "We believe this scalability will be vital as new tracers and therapies enter the market and become a part of the standard of care."

The NEMA system sensitivity is a nearly 50% percent reduction in scan time and lower patient dose, with improved image quality.

The system features the company's new TrueFidelity CT deep learning image reconstruction to help achieve natural-looking image texture at a low dose.

Another capability of the system, called AutoIN, allows PET/CT operators to perform more tasks remotely, to reduce their exposure to radiation and to COVID-19.

Earlier this year, GE Healthcare introduced StarGuide, a new SPECT/CT system with 12 CZT Digital Focus Detectors that scan patients in 3D and are optimized for theranostic procedures, according to Erez Levy, general manager of nuclear medicine at GE Healthcare.

StarGuide's Optical Scout technology enables the detectors and table to be automatically positioned for scanning the patient at close proximity.

"This opens it up for new research applications," Levy said. "The system's Digital Focus Detectors also provide accurate quantitation and support a wide energy range capable of imaging the dual energy peaks of tracers used in theranostics — including 177Lu, which is used to diagnose and evaluate treatment response for prostate cancer."

Hermes Medical
In late 2019, Hermes Medical received FDA clearance for its Voxel Dosimetry software. Previously, dosimetry was more of an estimation, and the software can predict and quantify how much radiation a tumor and surrounding cells will receive.

"As therapies are shown to be safe, we'll see a modulation in doses and we can define the appropriate treatment for each individual," said Frank Hebert, vice president of business development at Hermes Medical.

The software can work with any PET and SPECT scanner and can support a full list of isotopes.

In 2020, the company released its AFFINITY platform, a new image viewing and analysis platform that can accommodate larger fields of view, including full-body PET scans, which can have in excess of 3-gigabytes of data.

"Most workstations aren't able to open those images," Hebert said.

Philips
Philips, which was the first to introduce Time-of-Flight scanning and digital PET/CT, is increasingly focusing on integrated solutions in oncology.

Shekar Ramakrishna, general manager for advanced molecular imaging at Philips, said that the company is aligning to deliver integrated, end-to-end solutions to oncology patients and their care providers.

"By incorporating molecular imaging data and informatics into these solutions, we can enhance clinical capabilities, empower precision diagnosis and contribute to optimal care pathways for individuals living with cancer across the globe," Ramakrishna said.



The scanner, which fits in a standard-sized room, features a 106-centimeter axial FoV that allows clinicians to image all the vital organs simultaneously with higher sensitivity than a routine clinical PET/CT scanner.

"We're in a completely new realm of PET scanner," said Andy Ono, PET/CT product manager at Siemens Healthineers North America. "This can basically acquire a whole body PET scan in one bed position."

Many customers will also be using the scanner for pharmaceutical research, Ono said, while faster whole-body scanning for pediatric patients can help lower sedation time.

The first installation of the Biograph Vision Quadra was in the nuclear medicine department at Inselspital at Bern University Hospital in Switzerland. The facility has performed more than 1,000 scans, with a throughput of 10 to 12 patients per day, said Katherina Swystun, PET/CT global marketing manager at Siemens Healthineers. The scanner is mainly used for cancer staging and therapy response, while the whole body dynamic imaging can be used for radiotracer research.

"They can see how things are happening at the point of injection to 60 minutes' worth of scanning, or more" Swystun said. "You have the best of both worlds. You can use it as a clinical scanner and also advance important research."

In late fall, the company also released a new version of its c.cam cardiac SPECT system. The system is designed to do in-office cardiology exams to avoid unnecessary visits to the cath lab.

The new c.cam has a reclining chair instead of a flat table, allowing the patient to remain seated comfortably, minimizing respiratory motion and cardiac image artifacts. The system has an integrated, bidirectional camera arm that permits easier patient positioning, and a Windows 10 operating system to enhance security.

Spectrum Dynamics
Spectrum Dynamics is planning an upcoming launch of the third version of the software for its VERITON-CT digital SPECT/CT system and VERITON-NM 12-detector digital SPECT system. The new software is designed to enable efficiency and reproducibility, to allow for scanning that is consistent between patients and technologists. The software includes new features 4D imaging, dynamic imaging in 3D SPECT/CT, and additional advanced reconstruction algorithms for both accurate SUV analysis and dosimetry calculations.

"We provide three touchless ways to position the patient, and now introducing P-Scope functionality," said Nilda Rivera, senior director of global marketing for Spectrum Dynamics.

The software allows for advanced reconstruction algorithms you currently find in PET/CT systems.

"You don't have to transfer the data somewhere else to quantify," Rivera said. "It's done in the TruView Console, the VERITON operator's console."

The company is also launching TruCorr, its emission-based attenuation correction based on deep learning. This capability will be available for its D-SPECT cardiac scanner, for both new and current customers.

United Imaging
In September 2020, United Imaging received FDA clearance for its HYPER DLR deep learning PET image reconstruction technology. The technology, which is seamlessly integrated into the workflow, can reduce scan time by up to 70% and improve signal to noise by about 50%, said Jeffrey Bundy, chief executive officer of United Imaging Healthcare Solutions LLC.

The solution is available on the company's uMI 550 scanners, which began shipping a year ago, and software upgrades are available for the current install base.

"Because of this approach, our technology is not only great today, but will continue to be state-of-the-art well into the future ," Bundy said.