By Bridget Duffy
Protecting the safety and well-being of patients and staff is a top priority for most hospitals.
To minimize risk of infection during the COVID-19 pandemic, many hospitals placed strict restrictions on visitors, often leaving patients alone and families anxious to remain apprised of their loved ones' status. After years of trying to humanize the healthcare experience for patients, families, and care teams, overnight the pandemic disrupted the progress made by many hospitals and placed an unbearable strain on a fragile system.
Many nurses, doctors, and other care team members were called upon to do more than provide clinical care. They were often put in the extremely uncomfortable position of denying family members visitor access and then becoming a surrogate family support system, adding more stress to their job.
As someone who has been in healthcare long enough to remember how revolutionary it felt when hospitals eased restrictions on visiting hours and opened access to family members 24-hours-a-day, it was virtually unthinkable that we would refuse family members a few moments at the bedside of a dying loved one.
The pandemic, of course, placed nearly all of us in situations or conditions we had never before anticipated, forcing us to adapt to a strange new normal. During the times that patients were unable to have their loved ones by their sides – or even in the waiting room – hospitals had to seek new ways to preserve the family-patient connection and maintain care team communication with family members.
Some clinicians used mobile apps on smartphones to send secure texts, photos and video updates. Others used tablets to enable video calls, while others opted to used hands-free, voice-activated devices for patients in isolation rooms. Among the pandemic's rare silver linings has been driving more innovations to support meaningful family communication, while protecting and connecting both patients and staff.
The healing power of family and friends
There is a strong case to be made for having family and friends nearby to support patients during their healing process in the hospital. Support from loved ones has the potential to make a big difference by improving communication with staff, decreasing length of stays, increasing patient and family satisfaction, and even leading to better health outcomes.
For example, one JAMA study led by a Duke University researcher illustrated the important role that family support can play in relation to improved medical outcomes. The study found that heart disease patients with a spouse, a confidant or both had a 5-year mortality rate of only 18%, compared to 50% in those with neither a spouse nor confidant.
Separately, researchers at Intermountain Healthcare performed a study that found when family members participate in the care of hospitalized patients, healing is enhanced and readmission rates drop. Specifically, the study compared adult heart surgery patients whose families participated in a family-care program with those whose relatives did not. Results showed the family-care program was associated with 65% lower 30-day readmission rates for participating families.
For many healthcare professionals, these results are hardly shocking, as many of us have long understood the strong correlation between human connection and healing.
Technology that restores human connection
Near the outset of the pandemic, University Hospitals (UH) Health System, a 17-hospital system in the Cleveland area, leveraged communication technology, typically used by care teams, to connect patients and families during COVID-19 restrictions. Hands-free communication devices attached to hospital beds enabled patients to speak with family members and allowed loved ones to participate in conversations with clinicians about ongoing plans of care. Additionally, the communication solution helped decrease infection risks by reducing the number of times staff needed to go in and out of isolation rooms and don and doff PPE.
Other hospitals and health systems continue using mobile applications to keep patients and families connected. A smartphone app was like a lifeline for worried parents of two premature twin daughters, who spent more than 200 days in the NICU at Orlando Health Winnie Palmer Hospital for Women and Babies. Nurses in the NICU used the app each day to send real-time updates to the parents and grandparents about the twins in the form of secure text messages, photos, and videos. These personal updates helped put the family at ease.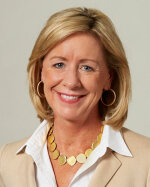 A future of communication and collaboration
The medical world has been forever changed by the COVID-19 pandemic, but it's important to keep in mind that some of these changes will be for the good. For example, telehealth has been around for decades, but only during the pandemic did regulatory authorities quickly loosen policies to improve telehealth access and ease-of-use for both patients and clinicians.
It is my hope that healthcare will continue to move faster and use more human-centered technology to improve care team communication and ease the burden of anxious patients and worried loved ones. A future of caring and healing is one where the healthcare system empowers care teams with solutions that keep them safe and connect them and their patients and families inside and outside the four walls of the hospital.
About the author: Bridget Duffy, MD, is the chief medical officer for Vocera.