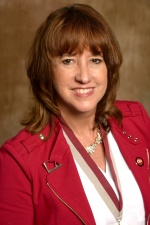 Are you ready for the AHRA annual meeting?
July 16, 2021
by
Gus Iversen
, Editor in Chief
The Association for Medical Imaging Management (AHRA) will be having its 49th annual meeting in Nashville over August 1-4. HealthCare Business News spoke with AHRA president Jacqui Rose, who is also director of medical imaging, telecommunications, IT and lab at Premiere Health – UVMC, about what the meeting will hold and about her own professional background.

HCB News: Who or what inspired you to follow a career in healthcare?
Jacqui Rose: Growing up, I had no idea what I wanted to do. So, I spent some time talking with a cousin who was a sonographer and decided that might be a good fit for me. After spending some time at a local hospital observing what they do, I found my passion in medical imaging. My counselor told me I would never get into the program because they only accepted 2 at the time and my GPA wasn't strong enough. Needless to say, I applied anyway and was accepted. I started my education in ultrasound, but found my love in diagnostic imaging and I transferred from the smaller local program to Ohio State University because I wanted a bachelor's degree. Like many technologists in our field, I knew I wanted to help people, and I was strong in science, so I needed the high-tech part of imaging. There is a little bit of nerd inside imaging professionals and we need this higher level of technology to keep us curious and happy. You know, "high touch, high tech". Personally, because of the amazing work we do and the opportunities this career offers, I feel this is the greatest profession on earth!

HCB News: Can you tell us about your history with the AHRA and why you first joined?
JR: When I was a young manager with a lot to learn, I started looking at all the associations (and joined them all at one point in my career) to see what would fit my needs. I tried them all, but when I found AHRA, it was home. I knew immediately this was my association. At AHRA, I found a family that are all invested in the success of each other and ultimately improving the outcomes of our customers. This is exactly what I was looking for, an association that provided all the education and networking in a way that fit my life and needs. I was amazed at the resources and friendships I quickly developed. I always thought I was an introvert and networking was hard for me. But within AHRA, they are friendships that run long. I can reach out to any of my AHRA family and within minutes have answers and resources for the most difficult questions. Every day, we compete for business, but inside AHRA, we are family!

HCB News: What did that journey look like, from joining AHRA to becoming president?
JR: I initially got involved through little volunteering opportunities at the annual meetings and built up to bigger opportunities. In 2010, I was asked to consider a nomination for the RACC (Radiology Administration Certification Commission) that oversees the CRA credential. I won the election and was hooked for life! I served with an amazing team on the RACC for 5 1/2 years and was nominated for the board of AHRA in 2015. I was blessed to serve in nearly every capacity the association offers and was ultimately nominated for president-elect. I have been serving as president since July of 2020. There are so many opportunities to volunteer and give back within AHRA that fit everyone's lifestyle and needs. This summer, we will be kicking off a newly created team to develop a leadership path for those wishing to do more within the association.

HCB News: How has the pandemic impacted your presidency?
JR: Serving an association as president is an honor and a challenge, but serving during a pandemic is another whole universe. As a team, the board was faced with decisions like never before; cancelling meetings, pivoting to virtual conferences, managing the financial turmoil that resulted, making tough decisions, etc. However, it taught us a great deal about being flexible and reevaluating how we serve members and non-members in creative and different ways. Our relationships with our vendor partners changed, as they were adjusting to the new environment, we developed new and unique opportunities to continue creating value for their support. Unfortunately, we are also seeing the same Zoom or virtual fatigue as is much of the world, and we want to get back to normal. But, as an association, we have to determine what that normal is and assure that we learned those lessons the pandemic taught us about flexibility. That flexibility was challenged as the board began working on our new strategic plan. But this team is resilient and they finished a strong strategic plan that will position us well for our future.

HCB News: What are some of the biggest initiatives that you have championed at the AHRA?
JR: Our strategic planning period started as the pandemic started, and a process that should have taken a few months took about a year to complete. Looking back, this was a blessing and a lesson. As I mentioned before, the pandemic presented opportunities for us all to learn, and we used this one to develop a strong plan that addresses the many facets of our mission and the lessons from the pandemic to create opportunities to grow our future. More details around the strategic plan were introduced in my May Link Update.

At the 2020 Annual Meeting, AHRA introduced the Imaging Innovation Council and began some really great work on the evolution of the partnership between vendor/industry partners and the imaging administrative teams. We have published several articles on key parts of the relationship to outline how the partnership can work differently to improve the overall outcomes of our customers. Going forward, this council will be working on tangible tools that imaging teams can use to be more successful in partnering with vendors to create stronger outcomes for all.

HCB News: The AHRA is returning to a live format annual meeting this year. Can you tell us more about what attendees can expect in Nashville?
JR: We are truly excited to be back in person and are working through all the details of how that will look in a post-pandemic era. As the health mandates evolve and change, we must be aware of all the concerns and issues that poses. Nashville was designated a "safe travel destination" by the World Travel and Tourism Council, which lends some peace of mind to its visitors, and it is open for convention business. Conference managers continue to plan for the current environment with the safety of our members and vendor partners, first and foremost. Many of us want to be live and in person, but it must be safe and comfortable for everyone. We hope that our members will be able to join us and really bring back the annual meeting in grand style!

HCB News: Are there any sessions or presentations that you're particularly excited about?
JR: Check out our keynote speakers, they are pretty amazing and will bring messages that inspire and motivate. On Monday August 2, Lex Gillette will discuss how to, "FLY!: Find Your Own Wings and Soar above Life's Challenges" (now that's a timely message!). On Tuesday August 3, Devin Henderson will help us understand how, "Something Greater is Always Possible". And on Wednesday August 4, Jason Hewlett will close our week sharing, "The Promise: Become a Legendary Leader and Discover Your Signature Moves".

HCB News: What are some of the hot topics you expect attendees to be talking about at this year's meeting?
JR: AI has been and will remain a hot topic for imaging. Using AI can help elevate our profession to new heights, and there will be challenges along the way. Coding and regulatory compliance always pack the house, so be sure to catch those sessions too. And don't forget the Exhibit Hall to see the latest and greatest imaging toys!