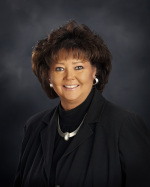 A rural hospital making big moves
July 23, 2021
by
Sean Ruck
, Contributing Editor
Fairfield Memorial Hospital caught our eye when we heard they were undergoing a massive $20 million expansion when the pandemic hit. For many rural hospitals, COVID-19 might have sidelined those plans, but Fairfield chose to stay the course.

We spoke to Dr. Katherine Bunting, the hospital's CEO, to learn what that was like behind the scenes, and also to get a better sense of her own background and what makes Fairfield Memorial a special place to work.

HCB News: What inspired you to get involved in healthcare?
Dr. Katherine Bunting: That's very simple. Ever since I was a little girl, I wanted to be a nurse. There was no doubt about it. My mom and dad said I would wear a play nurse's hat and a stethoscope and carry a little bag around with me. And I would tell everyone I was Kathy the nurse. I always aspired to that. When I first got out of high school, I went directly to a nursing program and eventually ended up with my master's degree in nursing. After several years of working, I knew if I wanted to impact real change, I needed to get a doctorate in business administration. So, that's what I did. That led me to the CEO position in the hospital in order to use my nursing skills and aptitude to help make decisions that have positive effects on the patients on a larger scale.

HCB News: What attracted you to Fairfield Memorial?
KB: I have never worked very far from home. I was born and raised in Edwards County, a very small county in Illinois — only 7,000 people in the entire county. When first got my nursing degree, I worked at Richland Memorial Hospital for 19 years and that was only 20 miles away from me. Then I decided I needed experience in a tertiary facility, so Deaconess Hospital in Evansville, Indiana was only 60 miles away. I worked there for a few years. I later had the opportunity to come to Fairfield and become the CEO. That ended up being 17 miles from home. Now I reside in Fairfield and I'm only seven minutes from home. I've been here 23 years.

HCB News: Is Fairfield a stand-alone hospital?
KB: We are a stand-alone hospital with four clinics in different towns close by. We are not affiliated with any of the larger tertiary facilities. That said, we work very well with Deaconess. In fact, I have a monthly meeting with their CEO — we alternate sites. We keep each other very informed of what's going on in our individual hospitals and I know if I need something, I can pick up the phone and give Shawn a call. And in turn, if he needs to know something about a rural hospital, he can pick up the phone and I'll be on the other end.

HCB News: Are stand-alone hospitals the norm for Illinois?
KB: I think it's pretty unusual. In this day and age, what we're typically seeing in smaller rural hospitals — many are operating in the red. The last study I read from the National Rural Health Association was that 46% of rural hospitals are operating in the red. And healthcare is a business. As any business goes, if they are unable to maintain a profitability to keep their heads above water and being able to sustain that is not happening, they only have a couple of options. The best option to avoid closing the hospital altogether is to affiliate with a larger institution. The larger institution will probably enable more specialists to be out to your hospital so that your community health can be served without their driving a long distance, but in the long run, sometimes you may lose your identity of being a rural hometown hospital.



HCB News: What attracts staff?
KB: One of the things I feel we're very good with is growing our own. By that I mean, what I do — I try to go out and identify young people through various degrees of their education and determine who would be a good fit to want to come back home to work in our hospital. When I do that, I immediately go into contractual negotiations with them to help offset the cost of their education. For instance, we have two physical therapists, I was able to get one in that manner. We have one pharamacist, I was able to get him in that manner. I have 11 midlevel, most of them I helped with their education. Fifty percent of our medical staff, I've been able to help with some form of their education. These people are identified early, they realize we are investing in their education because they've shown the skills, the leadership and the intellect throughout their lives. They represent what we want our patients to see and feel — to have that hometown feeling, but one of competence and professionalism. We've been very successful at that. Right now, I have seven different physicians in various stages of their education. This summer we're getting our orthopedic surgeon, in July. We've been helping with his medical school education. Next summer, I'll have an emergency physician come out of school, a general surgeon, and a family practitioner. A couple of years later, I'll have another emergency practitioner and another surgeon. All of these people are from Wayne County or counties close by.

HCB News: When you were a nurse, did you experience situations where you weren't empowered in that position and is that something that's informed your role as CEO?
KB: I've been in the nursing profession going on almost 42 years. In my early career, I absolutely experienced that. I experienced it from both male and female physicians. You have to realize, back in the late 70s, it was rare to see females as physicians. So when they came out of their residencies, they were looking to establish equality with their male peers. Unfortunately, in order to do that, some of the other team members such as nurses, lab personnel, radiology … might intersect with that fight for equality they were having. So it wasn't just the male physicians who were domineering. But that has changed. I'm so grateful for our medical staff we have here. Our surgeons, our specialists, they are now working completely integrated with the team concept at Fairfield. I'd like to say I had a hand in that, but I think the evolution of healthcare, the culture of taking care of people who are ill, vulnerable … physicians now realize they may still be the captain of the ship, but they can't do everything without the support of the whole team. I'm grateful for their ability to adapt and allow others to have a voice at the table when it comes to decision-making and what's in the patient's best interest.

HCB News: So I initially reached out after hearing about Fairfield's expansion. How long has the $20 to $24 million expansion been planned?
KB: We started working on those plans back in 2018. We broke ground in November of 2019 and started building in January the following year. And then the pandemic hit. We had to sit down as a group and discuss how we weren't sure what was going to happen over the next several months, how we were barely into the project and we needed to determine what to do. The bottom line is, we're building this expansion for better access to our patients, to bring in more specialists so those in our community don't have to drive long distances for specialty care and those things have not changed. Ultimately, there was no new decision to make — we continue to get the expansion completed.

HCB News: How has the pandemic impacted the expansion?
KB: There were some variables that had an impact. The first, the costs of supplies — it ended up being a blessing for us, but not so much for our construction crew. Our contract is a lump sum price for the build. So as things started going up, those costs aren't cost-shifted back to us. I would not be able to start a project today because of the cost.

One blessing of being in the early stages of this project was that I had maybe five negative pressure rooms built into our new expansion. Once we found out that the COVID virus is respiratory-driven and requires negative pressure rooms for best treatments, we knew then that every room in the ER that the state allows to be, would be negative pressure. We have nine now.

HCB News: Other than the expansion, how hard did COVID hit your area and how are you faring currently?
KB: We were fortunate at the beginning to have time to observe and absorb the lessons of what hospitals in large metropolitan areas were experiencing. It gave us the opportunity to get our plans in place, to write our policies, to gear up our employees. We were hit hard with the surge starting in September. We ended up having two COVID units — one on our third and one on our second floor. At any given time, we had seven to 19 patients with COVID. We had 67 deaths during that surge, which is a lot considering we're a small county, but we have several nursing homes in the area and the majority were patients from those homes and the pandemic impacted that population hard.

HCB News: As a small hospital, not having the power of economy of scale, were supplies difficult to obtain?
KB: The gougers came out in full force. I was never so disappointed in a group of vendors in my whole life. Typically, we were paying approximately 87 cents for a disposable isolation gown. At the height of the pandemic, we were being charged $8 for a single gown. So it was extraordinarily expensive to keep all our PPE in stock. However, we never ran out and we never had to compromise on how to gown up and protect ourselves and keep others safe. Through the federal CARES act we received extra money to offset the increased expenses for those types of equipment.

HCB News: Were these price increases with vendors you had relationships with or ones you hadn't worked with?
KB: The vendors we work with were great, but they ran out. It forced us to find others we normally don't do business with.

HCB News: Is there anything we missed that you'd like to mention?
KB: I just want to say that rural hospitals might not have the flash of the big healthcare systems, but we know what we do and do it well.