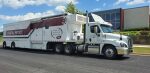 Scanning on wheels — the benefits of mobile imaging
July 05, 2021
by
John R. Fischer
, Senior Reporter
In rural America, medical imaging can be an inaccessible medical necessity. With many people in these areas unable to travel the long journey to urban hospitals, disease can sometimes go undetected for long periods of time. Mobile imaging helps resolve this problem by bringing the scanner directly to the people, whether it be right at their front door or in a parking lot in their hometown.

"It's not only about giving them access. It's also about doing it in a way where it's not intimidating or scary for the person, where it's much more of an at-home sort of feeling when they go to get the scan," David Webster, chief operating officer for NeuroLogica, which deploys mobile lung screening units in such areas, told HCB News.

Like every other aspect of healthcare, the pandemic has also left its mark on mobile imaging demand. Gina McCormack, vice president of sales at Shared Medical Services, says her company has seen a particular spike in the demand for interim CT rentals.

"We believe this is largely due to the pandemic and pent-up demand for imaging procedures," she said. "In addition, many hospitals and health system budgets were cut or frozen due to the financial impact of the temporary shutdown of many non-essential OP imaging procedures so mobile imaging has emerged as the solution for supplemental capacity and affordable access to new or upgraded technology."

Demand for mobile imaging is growing in both rural and urban areas, albeit for different reasons. HCB News sat down with experts in the field to learn what is driving this demand and how imaging on wheels is making a difference in U.S. healthcare.

Higher demand, higher imaging
Historically, rural hospitals have primarily depended on X-ray and ultrasound for their imaging needs, but with aging populations, many are in need of more advanced scanners such as CT, MR and PET to detect and evaluate more diseases. When these providers do not have enough patients to justify their need full-time, mobile imaging allows them access to these and other scanners on an as-needed basis.

"Our solutions enable them to efficiently offer those services one or two days a week," said Tim Krzyzanowski, SVP and general manager of Insight Imaging. "If demand grows, they can add days to a routed system, or transition to a mobile unit that is parked at their facility full-time until they are able to add the services in-house."

With mobile imaging, providers also save on the costs of installing and maintaining full-time modalities. "Mobile units can save the cost and burden of building an entire structure of brick and mortar that requires engineered drawings and building code compliances," said Chad Smith, division president of Medical Coaches and Armor Mobile Group.

Also contracting with mobile imaging providers are urban and metropolitan hospitals, which are looking to decrease backlogs and avoid service disruptions during construction projects.



Last year, Shared Medical Services announced that it was deploying the first digital PET/CT in a mobile environment in the U.S. According to McCormack, they are seeing a significant increase in requests for that service. She attributes the high demand to clinicians who have responded enthusiastically to the superior image quality and diagnostic advantages.

"Demand is being driven by urban hospitals expanding their services to the rural setting," said Larry Gabbert, COO of DMS Health Technologies. He says that hospitals, both rural and urban, can "eliminate capital and staffing burdens and expand their service capabilities by going with a mobile coach."

More convenience means more compliance
By bringing the scanner to the patient, mobile imaging makes scanning less scary and puts patients more at ease. This leads to faster and better workflow says Marty Shirley, president of diagnostic services at Digirad. "When you make scanning convenient, you get a higher compliance from the patient and naturally you find more disease, which is what we ultimately want to do in healthcare."

In addition, mobile imaging drives revenue for hospitals that can build programs that proliferate different techniques, pharmacological options, surgical options and procedures. "It's really a win-win across the board," said Webster.

It isn't only scanners on wheels that can fill the diagnostic void for healthcare providers. Modular labs can be positioned right on the ground and make it easier for bedridden patients to be wheeled in directly, says Mark Koers, executive vice president of sales and marketing at Modular Devices, a manufacturer of mobile cardiac cath labs. "Our modular cath labs are 50%-100% larger inside than a mobile trailer and the extra space makes working in a modular lab more productive for longer-term projects and for more complicated procedures such as interventions and EP. Modular labs fit on the same size mobile pad-site as a trailer, require the same connections, and can be rented for projects as short as a few months."



While valuable, he adds that such portable solutions will not entirely replace traditional mobile imaging scanners, which will still be needed for procedures like whole-body bone scanning. "It won't replace whole body imaging systems in mobile trailers in full. The reason you can make a lot of these systems portable is because they're built for a specific type of scan — usually one that has a high volume of clinical need."

Where demand is headed
With aging populations, higher demand for diagnostic imaging is to be expected. Mobile imaging will be especially popular in rural areas to help keep up with this demand. "This will free up the providers to use their capital for patient capacity expansions," said DMS Health's Gabbert.

Demand will be particularly strong for nuclear medical imaging for diagnosing cancer, cardiac and Alzheimer's disease, says Insight Imaging's Krzyzanowski. "We've seen an increased willingness among health systems to work with non-affiliated providers to ensure that the communities' health needs are met, regardless of site of care. Rural hospitals and oncology practices will continue to need PET/CT service for cancer and heart patients who may be too ill to travel to a larger city for imaging."

Scanning equipment is also expected to be lighter and faster and installed in more eco-friendly, electric vehicles with solar capabilities. "You may see newer hybrid models with combined imaging like MR/PET/CT all in one, as an example," said Smith of Medical Coaches and Armor Mobile Group. "Generators will become more environmentally friendly. You will see a definite shift in how you are positioning the patient experience inside your mobile unit."

Digirad's Shirley expects to see more mobile imaging vans show up at hospitals with equipment that can be transported right to the patient's bedside. "We will always have tractor trailers for things like whole body PET/CT scan. But I think we're going to see more and more smaller devices that change mobile imaging. We can use a service that brings scanners inside the hospital, images and leaves."



Providing the best quality imaging will require mobile imaging trucks to carry the latest in scanning technologies, especially in the cath lab arena, according to Mark Koers. He predicts mobile cath labs will grow bigger over the next decade. "There will always be a need to upgrade cath lab X-ray systems, and we see the window getting shorter as technology advances. Ten years ago we saw hospitals replacing X-ray systems every 7-10 years. Now, with the advances being made in imaging, we're seeing replacements occurring more often, as quickly as every 5-7 years."

For any mobile imaging operation, workflow is key and will depend on increased wireless network capabilities and 5G, says NeuroLogica's Webster. This will enable results to be transferred quicker to radiologists, who will play more of a role as supervisors of AI and deep learning solutions that will read and interpret scans and send them back to patients within seconds of the scan being completed.

"We can move people from diagnosis to procedure a lot quicker. Hospitals would like that too because it saves them time. I think that's going to be the biggest thing in the future," he said.