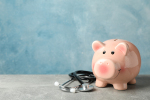 US hospitals face $17 billion deficit from lack of investments in community health
July 29, 2021
by
John R. Fischer
, Senior Reporter
Despite enjoying big tax breaks, many nonprofit hospitals fail to invest the same amount in community health.

That's what the healthcare think tank Lown Institute found in the findings of its Lown Hospitals Index 2021 Community Benefit report, which showed a deficit of nearly $17 billion invested in communities by their nonprofits. Investments in community health can help low-income families get financial assistance without going into debt, keep people from delaying care they cannot afford on their own, and address upstream social determinants to keep people from getting sick in the first place.

"The biggest reason a hospital wouldn't invest their fair share is that they don't have to. The IRS requires hospitals to spend on community benefit, but it doesn't specify how much. If hospitals can receive a huge tax break no matter what they spend, it makes sense that many would choose to just spend the bare minimum," Aaron Toleos, VP of communications at Lown Institute, told HCB News.

The report, for the first time, calculated fair share deficits by comparing each hospital's spending to the value of its tax exemption. Those that invested at least 5.9% of their overall expenditures in charity and community were considered to have spent their fair share.

Of the 2,391 hospitals assessed in this part of the study, 72% had a share deficit, from a few thousand to $261 million. The ten with the largest fair share deficits accounted for more than ten percent ($1.8 billion) of the nation's total fair share deficit and yet, were listed on U.S. News & World Report's 2020-2021 Honor Roll.

They include Cleveland Clinic (-$261M); New York-Presbyterian Hospital (-$237M); UCSF Medical Center in San Francisco (-$208M); Massachusetts General Hospital; University of Michigan Health System (-$169M); New York University Langone Medical Center (-$163M); Vanderbilt University Medical Center in Nashville (-$157M); Brigham and Women's Hospital in Boston (-$142M); Hospital of the University of Pennsylvania (-$142M); and Cedars-Sinai Medical Center in Los Angeles (-$138M).

The Lown Institute ranked 3,641 hospitals in all on their Medicaid revenue, charity care spending and other investments for community, including health clinics, housing and food security. Among the top ones, in order, were Paradise Valley Hospital (National City, CA); Elmhurst Hospital Center (Elmhurst, NY); Queens Hospital Center (Jamaica, NY); Metropolitan Hospital Center (New York, NY); Woodhull Medical and Mental Health Center (Brooklyn, NY); Leonard D. Chabert Medical Center (Houma, LA); NYC Health + Hospitals Coney Island (Brooklyn, NY); Lallie Kemp Medical Center (Independence, LA); Zuckerberg San Francisco General Hospital (San Francisco, CA); and The University Hospital (Newark, NJ).

Performance varied widely even among hospitals in the same city, despite facing similar tax rates and catering to communities with similar needs and similar rates of uninsurance. The first step, according to Toleos, for reducing these disparities as well as deficits is establishing more transparency between local hospitals and their communities.

"But we also need more regulation from the IRS and from states," he said. "We can look to states like Oregon, which has created community benefit spending minimums for each hospital, and Massachusetts which created more specific reporting requirements that tie community benefit spending to local health needs."

Data sources included hospital cost reports filed with CMS and IRS 990 forms, both from 2018. The full 2021 Lown Institute Hospitals Index is set to launch in early fall and will include rankings across 50 metrics.