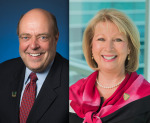 How a failing hospital was turned around to become a nationally recognized leader
August 20, 2021
by
Sean Ruck
, Contributing Editor
Bob Page, president and CEO of the University of Kansas Health System and Tammy Peterman, president of the Kansas City Division of the University of Kansas Health System wrote the book, Proud but Never Satisfied: Ten Transformative Actions for Healthcare Systems. The book was released earlier this year and offers a compelling story of how a failing hospital was turned around to become a nationally recognized leader. HealthCare Business News spoke with Bob and Tammy to learn more about the individuals and about the hospital that they've helped reinvigorate.

HCB News: Can you explain what led you to write the book?
Bob Page: Sure. From 1906 to 1998, the hospital was basically owned and governed by the University of Kansas. It had some really good years, some OK years and some really bad years. By the mid-90's we had the worst patient satisfaction in the country. Our turnover as an organization was 33% per year. When we surveyed our employees for their opinions, the three lowest rated questions from our 2,200 staff were: would you recommend the hospital as a place to work? Would you recommend the hospital as a place to receive care? Are you proud to work at the University of Kansas Hospital? The good news was the market for healthcare was growing. The bad news was it was growing everywhere but here. We were losing about 5% volume per year and bottomed out at about 13,000 discharges in 1998. That told us that our 500 bed hospital had 140 patients in beds. It also meant we had more medical students than patients. On top of all that, we had no money. For the first 92 years of our existence, every dollar the hospital made went back to the university. Some of that went back to the state of Kansas, but none of it was kept.

We brought in a consulting firm in. They told us two important things. First, if you don't fix the mess you're in, you're going to lose $20 million a year by the year 2000 — this was in 1997. Second, we're going to give you six recommendations to consider — one is to sell, one is to close. We were actually having those conversations on this campus during those years and we decided to take a third option which was to create a public authority. So on October 1, 1998, we became a public authority. We were all state employees at the time, so we had to sign a waiver to join the public authority. Our seed money to get started was $23 million, which was approximately 30 days of operating cash. We had a building that was antiquated, we got a board of directors for the first time, and we were cut off from state subsidies — we haven't received a dime from the state since 1998.

Tammy Peterman: So we have what we call our Five Stars — service, quality, people, growth and sustainability. Our performance is really strong in each of the Five Stars. We were in the lowest decile in patient satisfaction a number of years ago. Today, we're in the top decile. We've been at the 90th percentile for a number of years in patient satisfaction. From a quality perspective, we've made the U.S. News & World Report best hospitals list for a number of years. And each of the years U.S. News has identified the best hospital in the state and the best hospital in a metropolitan area, we have been that hospital.

From a people perspective, we had 2,200 employees in 1998 and now have nearly 13,000 people and we continue to grow.

The bottom line is that we have developed a culture here that allows everyone to be supported — of course we're focused on patients, but we're also focused on staff and physicians. Our culture has helped us weather some of the storms. During the pandemic for example, we told our staff early on we wouldn't layoff or furlough anyone. That made a really big difference when the time came to rebound. We had the opportunity to put some predictive models in place to let us know when we would need to start getting our volume back. We had a pretty quick rebound and have done remarkably well this year in terms of taking care of patients.

We have a formula that we've lived by since we moved out of the university system. It's a focus on the patient from a quality perspective and a satisfaction perspective, making sure we have the right people supported in the best and right way. If those three elements are in place, the growth and sustainability of the organization will follow. We've never flipped the formula where we might have focused on growth and finance first. Even during the pandemic and challenging economic times, we've maintained our focus on the patients and people.

HCB News: With the rough start you had when you walked into the organization, did that experience help you navigate through the difficulties caused by the pandemic?
BP: Tammy brought it up earlier — our culture is what got us through. We were on track to have one of the best years we've ever had and then the pandemic hit. Our year ended with financial results 60% less than what we were predicting. That was the result of two really rough months. Having said that, first of all, as Tammy said, we didn't furlough or lay anyone off, which was directly related to our culture of putting people first. Second, we got into a leadership role during the pandemic as the only true academic medical center in the area. Jill Chadwick (director of media relations) said, "let's put together a morning briefing that allows them (the media) to get answers to questions they should be asking." We have a studio inside the hospital, so we started that 17 months ago. It started out intending to be a morning briefing for media and it's now grown into this worldwide audience. We've kept people informed by stepping up as a source of truth. On the business side, we set very aggressive targets to get patients back. We also ramped up telehealth within two weeks. Our telehealth reach for new patients is now 45 states.

TP: Our morning briefings from the studio helped us to reach and inform millions of people, but we also used that tool internally. Bob and I went to the studio every day and put together what we call "The Take 10 with Leaders". We wanted to make sure we could communicate with all staff within our health system so they could know what was happening every single day. When we didn't know what was going on, we told them. If there were things happening that we didn't have the answer to at that time, we were honest about it. When we knew answers, we would tell them. We went every day because we wanted to make sure we stayed connected to our staff. We continue to do daily Take 10, with Bob and I participating three days a week and other leaders also participating and sharing updates.

HCB News: Will you keep telehealth services at a high level going forward post-pandemic?
TP: I think we'll continue to see telehealth as a strong part of our services because we've determined —and patients have determined — we can do it. We also have a greater reach. We know there's a need for specialists in some of the rural parts of Kansas and we've been able to meet some of those needs through telehealth. We won't see a high percentage of our ambulatory services being telehealth, but we may see about 20% of visits conducted through telehealth.

BP: The only limiter is payment. There were waivers during the pandemic that allowed for there to be payment for telehealth comparable to payment for an in-person visit. There are going to be issues going forward around whether payors pay at that same level. There are also going to be licensure issues as we take care of patients across different state boundaries. However, as long as we can work with those challenges, as Tammy said, we absolutely will stay in the telehealth business.

HCB News: What are the biggest challenges facing your organization today?
TP: Recruiting and retaining the very best people in this big and very busy, complex medical center is a challenge. We will always focus on people and we do a lot of things to retain, but we also need to continue working hard to recruit because we're growing.

BP: The capital side of healthcare is an arms race and those arms are very expensive. Unlike a lot of our local, regional and national competitors, our balance sheet is only 23 years old. So 92 years of earnings didn't make it to our balance sheet, they went somewhere else. As we look to continue to enhance our technology here, those are more difficult conversations for us to have than they are for some other places. While we do a great job on the philanthropic front, there are limits to philanthropy. We don't have a war chest of 92 years of earnings, which presents a challenge for us.

The other challenge is, quite frankly, the state of the healthcare delivery system in the state of Kansas. We have more critical access hospitals than any other state in the country. If you look at the economics of our delivery system in Kansas, hospitals are struggling. As the only academic medical center in the state, we're committed to improving the health of Kansans and we feel a significant responsibility to look at the delivery system and how we can partner. In our book, we refer to our care collaborative, which started with a $12.5 million challenge grant from CMS seven years ago. It lasted for about three years and we continued to fund it afterwards. It was really intended to show how we could partner with providers in the center part of the state to improve the health of folks who had heart attacks and strokes. We've now expanded to behavioral health, heart failure, and sepsis to name a few. We're doing it on our own dime. We've grown from 13 partners to 76 partners in 65 of the 105 counties. It's been a way for us to stay connected to these providers. We're looking very creatively to offer our expertise in partnership with local expertise to try to keep care local as much as it can be, but to bring it here to Kansas City when we can be the source for that higher level of care.