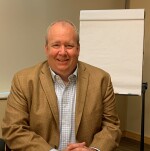 The future of device service: No longer a cost center
August 16, 2021
By Todd Brown

When backed by digital technologies, data analytics and deep expertise, service becomes a driver of productivity, clinical performance and financial results.

In contemplating service for medical equipment, healthcare providers typically ask: How will we maintain it? If it breaks, who will fix it? What will it cost?

In the future, those questions will fade, as service evolves into a discipline that helps foster gains in quality and consistency, staff and equipment productivity, improved patient satisfaction and revenue generation. In an increasingly digital and data-driven world, providers will ask these questions about their service programs:

1. Will devices be ready when patients need them? How can we tap their full potential?
Traditional service remains essential but is only the beginning. The preferred service providers will offer flexible solutions, considering users' needs before and after they acquire equipment.

Among powerful optimization tools are online real-time location systems that eliminate time clinicians spend searching for mobile devices: infusion pumps, telemetry monitors and other mobile equipment. Wireless and Bluetooth technology can help locate mobile devices when clinicians need them.

Meanwhile, digital technology supports training that aids staff with refreshing their skills, maximizing use of their equipment, and mastering devices' latest advanced features. Virtual tools deliver hands-on, personalized training; clinicians learn at their own pace and on their own schedules. And continuity programs ensure providers regularly receive updates to imaging platform hardware and software, benefitting patients with the latest in care technologies.

2. How can data support our critical mission?
More than ever, data drives performance, delivering key insights and supporting actionable recommendations. For example:
• A software suite lets caregivers orchestrate care, digitizing each patient's journey from complaint and diagnosis through treatment and follow-up. Real-time data connects caregivers across the enterprise, saving time and limiting stress.
• Digital tools help radiology departments maximize imaging device utilization, streamline scheduling and workflow, spot areas for improvement, and standardize care across the enterprise.
• A cloud-based management tool aids providers with standardizing imaging protocols and delivering the right exam to each patient — helping reduce variation, meet regulatory requirements, and improve imaging service consistency.
• Remote online surveillance detects impending CT tube failures or MR system anomalies, so repairs can be scheduled and costly, unplanned downtime prevented.
• A holistic dose management tool provides data to support low-dose strategies. It automatically tracks and analyzes radiation and contrast exposure, warning against excessive doses.
• A simple, intuitive app helps create and track service requests, monitor planned service, initiate repair calls, and proactively manage service for an entire diagnostic imaging fleet.

3. Is our equipment safe and secure?
Cybersecurity is critical as attacks on healthcare providers continue to increase. As care increasingly relies on interconnected devices, the cyber-threat becomes more severe: a single breach can seriously damage productivity, finances, care quality, and reputation.

The solution is a systematic and holistic program to ferret out vulnerabilities, measure risks, and enable protection against threats known and still to come. That requires a combination of deep expertise with medical devices and systems, sophisticated analytics, artificial intelligence, and the experience of cybersecurity specialists. This approach combines people, process, and technology.

The future is here
Service in the future will become not a cost to be minimized but a resource to be tapped in continuous pursuit of excellence. The tools and capabilities described here are not futuristic — they are available today. And the coming years are certain to bring further innovations. Service thus supported means service transformed — and care efficiency and quality raised to new levels.

About the author: Todd Brown is president of CoRE Partnerships & Service Growth in the U.S. and Canada for GE Healthcare.