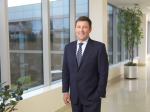 Bringing an innovative approach to healthcare
September 20, 2021
by
Sean Ruck
, Contributing Editor
This installment of Hospital Spotlight has us speaking with Sy Johnson from Renown Health, the organization carving out a niche in innovative approaches to healthcare.

HealthCare Business News: What inspired you to follow a career in healthcare?
Sy Johnson: My undergraduate training is in accounting, and I spent the first eight years of my career in public accounting. During that time, I had the opportunity to work with multiple healthcare organizations. I loved the industry because anytime I worked with a healthcare client, I could feel their commitment to the people they were serving. That commitment is what drew me to the industry. When I left public accounting and started looking for my next step, I chose healthcare because I saw it as an opportunity to apply my skills to help people.

I think one thing that grounded me in that transition to healthcare was my grandmother. She was a British nurse in World War II, and I grew up hearing stories about how she took care of people in London during air raids and things like that. It always stuck with me in terms of a calling.

HCB News: How long have you been with Renown?
SJ: Six years.

HCB News: What drew you to the organization?
SJ: I was considering different opportunities, but when the chance to work at Renown came up, I could tell the organization really could make a difference in the lives of the people it was serving. Renown is the region's strongest hospital with an integrated health system, a robust health plan and a large medical group. Therefore, I knew Renown was organized enough to take care of people across the continuum and had the capability, assets, and infrastructure to deliver. That positioning was fairly unique, so I wanted to join the team and start driving the community's health.

HCB News: What do you believe attracts others to work at Renown?
SJ: Everyone loves being part of a winning team and Renown is a winning team. We have a strong organization with a rich history, and I think people in this region recognize that Renown is a healthcare leader. We're the place to be for those who aspire to have the highest level career and develop themselves to their greatest potential.

I think it's also helpful that we're in a desirable community. I live within 45 minutes of Lake Tahoe, and so do most people in this area, so there's a lot of things to do outdoors. It's also easy to get to the Bay Area and wine country.

HCB News: How would you describe the leadership style of the organization?
SJ: The Renown leadership is committed to the health of our community. The way we approach that health is to take a wide-open perspective. We're interested in innovation and doing things differently than how they may have been done in the past. We're interested in creative solutions. The organization is not as interested in just following the traditions of the industry and hoping things become different; we're invested in driving change.

HCB News: There are a lot of specialties experiencing shortages throughout healthcare. Are you seeing that problem at Renown?
SJ: I think there are two aspects of that reality in this region. One part, and this is positive, is that Renown is a great organization and therefore attractive to potential recruits. This area is also a very attractive place to live, which helps in our recruiting efforts. The second part, the challenge, is that the recruitment pool is too scarce across the region and across the nation. That applies in primary care and other areas of physician practice in specialty areas. It also applies to nurses, tech positions, therapy positions and other critical skillsets that we need.

HCB News: With being in Reno, does your patient population skew older?
SJ: I think the population in this region is diverse, but it is growing in the over 65 category. There are retirees who come to this area, and that is a growing part of our demographic, but overall it's fairly balanced. Our mix from a revenue standpoint is plus/minus around 40% in the Medicare space, about 20% in Medicaid, and the difference is made up of commercial or uninsured.

HCB News: California and Washington are in the news for drought, heat and fires. Are you experiencing hotter temperatures, or does it seem pretty normal?
SJ: On average, I think what we're seeing is probably trending toward warmer than it has been historically. This area is just over on the east side of the Sierra Nevada mountain range, so we are susceptible to fires and the other risks that come with that location. We do see smoke from fires in our skies pretty routinely during the summer.

HCB News: Does your organization conduct drills and training for significant fire events or even just a significant heat event?
SJ: We certainly drill for the types of emergencies this region is susceptible to; that include fires, earthquakes and other natural disasters. We also have relationships with organizations around the community who help when circumstances aren't necessarily drivers of hospitalizations, but where people need support. For example, we work with and support our medical group and community organizations when there are serious heat challenges.

HCB News: What is Renown best known for on the national stage?
SJ: Renown is known for being an innovative healthcare leader. An example of a program that demonstrates this leadership is the Healthy Nevada Project, a population health study we launched five or six years ago. The study mixes clinical and genetic information with community information such as air and water quality to determine how these factors impact health. It's a unique study that was unlike anything else around at the time of its inception.

HCB News: Was the information you gathered in the Healthy Nevada Project helpful in battling COVID and managing your pandemic response?
SJ: It was. We used that information to help us target where we expected COVID hotspots to flare up. With that information, we could target education, outreach and provide PPE to help minimize the spread. The same study looked at the spread of COVID and air quality — an interesting conclusion was that poorer air quality led to a greater spread of the virus.

HCB News: Setting aside filling positions and the global pandemic, what other challenges does Renown face?
SJ: Overall, as we focus on health in this community, helping everyone have the coverage they need at an affordable cost is a challenge. However, it's a challenge we approach aggressively with our health plan and medical group. The whole mission at Renown Health is that we focus on investing in ways to help our communities stay healthy, rather than just being here to provide healthcare treatment.