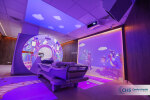 A better MR experience is just good business
September 27, 2021
by
John R. Fischer
, Senior Reporter
Lying perfectly still for a long time in a noisy, tightly confined, MR bore is nobody's idea of a fun time. Patients feeling anxious may choose to skip their exam out of fear or require sedation to calm them, delaying the scan and others scheduled for the day. Those that move during the scan as a result of their anxiety and claustrophobia often require a repeat scan, forcing them to go through the ordeal once more.

To help prevent incidents like this, hospitals are investing in solutions that help assuage these patient fears, or provide distractions to make the scan more tolerable. HealthCare Business News looked around the industry to learn more about some of the innovations that are taking the discomfort out of the MR experience, and the vendors who are developing them.

PDC Facilities utilizes video and lighting technology to transform MR rooms into interactive areas that offer an engaging experience to patients. The company's Caring MR Suite allows the patient to adjust video, lighting, music and communication and customize the scanning room into a more fun and interactive space.

"Patients and caregivers can select a favorite color, audio, nature theme video or even a movie before their scan," Michael Hemmerly, chief sales officer of PDC, and Blayne Seidl, chief sales officer of Sentient, a division of PDC, told HCB News. "Scrolling text and countdown timers help keep all patients encouraged and informed, and are particularly helpful for patients with hearing issues and foreign language speakers."

While MR continues to advance, the fundamental physics of the exam still prohibits certain comforts that have been incorporated into other aspects of healthcare. There are also tremendous safety concerns in the MR suite, due to the strength of the magnet that makes the imaging possible.

"In an ideal world, hospital architecture would be bright, open and lavish to help put patients at ease. The reality though, is very different," said Hemmerly and Seidl. "In MR imaging departments, for example, MR protection requirements must be observed. As a consequence, MR rooms tend to be in areas where natural light is a luxury and often windowless walls create a bunker-like atmosphere."

One way to improve the general ambiance of an MR suite is by going all-in on colorful and imaginative decorations. Character Farms is a company that specializes in draping medical equipment in other-worldly skins and dressing the walls in bright, immersive art. This transforms the cold and sterile MR environment into adventure-themed settings and paradises.

"We camouflage the sterile and intimidating medical environment into a non-threatening, fun and familiar place in which children feel comfortable," said Mark Sullivan, president of Character Farms.

Another company setting out to give a much-needed facelift to the MR suite is ComfortHealthSolutions, which also dresses equipment in custom skins and offers unique lighting, projections and displays to help suspend reality. Founder and CEO, David Mathieu, says the company's ImmerActive 360 interactive projection system with ambient lighting helps improve outcomes and reduce repeat scans with the use of customized environments patients choose based on images and designs they associate with comfort and tranquility.

"In addition to fewer cancellations and delays, MR patient experience solutions can help patients and providers save on the costs of scans," said Mathieu. "For example, less anxiety increases patient satisfaction scores for exams, which in turn leads to higher inflow of reimbursement from the government to providers."

A 2015 study conducted by the Harbor Review Medical Center in Seattle and published in the Journal of the American College of Radiology found that the average MR scanner loses as much as $115,000 annually in revenue due to the need to reimage patients due to motion artifacts. Across 192 completed clinical exams in the research, roughly 20% had to be repeated. According to Sullivan, that number would be even higher today.

While sedation is a reliable way to keep anxious patients, or young patients, from needing repeat scans, it comes at a cost. A study published in Radiology found that the average cost of an outpatient MR scan in 2011 was $665 without anesthesia and $902 with it. Other research, according to the ACR, suggests that pediatric MR costs for sedated and anesthetized patients are, respectively, 3.24 and 9.56 times higher than MR costs for patients who stay awake.

To decrease reliance on sedation, Resonance Technology offers providers the VR-based CinemaVision A/V system, in which the patient dons a pair of 3D goggles and a noise attenuating headset that enables them to watch TV or movies throughout the scan. The experience, according to the company, is similar to watching a high-resolution 62-inch screen from five feet away.

"Studies have shown patients who are using the goggles are less likely to move during the MR procedure," said Mokhtar Ziarati, president of Resonance Technology. "By offering goggle-based movie patient entertainment versus sedation, it decreases appointment cancellation due to the claustrophobia and increases patient referrals. Patients will prefer the MR site with the goggle solution."

Reimagine Well is another company using VR headsets to improve outcomes in the MR. Through a partnership with the Miami Cancer Institute, the company has developed a game that rewards patients for staying perfectly still.

"First, the patient can explore an MR suite in an Xbox-style environment on the laptop," said Roger Holzberg, founder of Reimagine Well. "The patient then puts on the VR headset and lies down. The headset can measure tiny movements of the head, and the game gives feedback to the patient and staff about their stillness."

The game comprises three levels that are timed to last the duration of the scan, and the objective is to fill black and white worlds with vibrant colors, which is achieved by keeping still. The first level is the rainforest, followed by a balloon fiesta and then a coral reef.

There is no one right answer for addressing comfort in the MR suite, but as the industry moves toward value-based care it's clear that patient experience cannot be ignored. Furthermore, as patients seek a more consumer-friendly experience, attractive designs and immersive distractions could help ensure that your patients leave happy and spread the word to others.

"The hospital market is a competitive one and facilities are looking for an edge to bring patients through their doors and away from their competition," said Mathieu. In that sense, patient experience technology helps providers build relationships and trust with patients that may bring them back for any future healthcare-related needs.

Return customers can make a big difference in paying off investments in this technology and even lead providers to order additional solutions, according to Ziarati. This allows them the opportunity to build a relationship with the vendor.

"Customers have returned to order multiple systems to equip all their MR Suites with such innovative technology," he said. "Stanford University has over 10 of our systems, Cincinnati Children's Hospital has more than 12 units and many others, and many customers are children's hospitals, nationwide as well as international."

Regardless of which solution a provider chooses for their MR suite, the end goal is the same: to make the patient feel comfortable and safe, and to ensure scans take place on schedule and as fast as possible to make diagnoses and get patients the care they need.