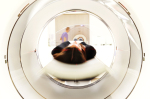 MR technology is getting smarter, faster
September 10, 2021
by
Lisa Chamoff
, Contributing Reporter
Deep learning has infused every aspect of medical imaging and MR is no exception. Artificial intelligence (AI) is now being deployed for image processing and reconstruction, as well as disease detection. The idea is to speed up workflow as the COVID-19 has continued to impact imaging centers and departments.

Here's a look at what's new in MR scanners, software and coils.

Canon Medical Systems
Last year, Canon Medical expanded its Advanced intelligent Clear-IQ Engine (AiCE) Deep Learning Reconstruction (DLR) from head and knee to all anatomies on its Vantage Orian 1.5T and Vantage Galan 3T systems.

The company asked its customers to take what it calls the AiCE Challenge to determine which images are from a 3T scanner and which are from a 1.5T with AiCE DLR applied.

"When the 1.5T images had deep learning reconstruction, it was very hard to figure out," said Mark Totina, managing director of marketing for the MR business unit for Canon Medical Systems.

In December, the FDA cleared the integration of Canon's Compressed SPEEDER technology for 3D sequences on the Vantage Orian 1.5T scanner.

At the end of April, the company introduced its Vantage Orian Aero X 1.5T scanner, which includes the company's Pianissimo technology to deliver quiet scanning, and can be upgraded to include its AiCE algorithm.

Last year, the company introduced ForeSee View, which allows clinicians to preview their slice planning in real time.

GE Healthcare
Installations started last year for AIR Recon DL reconstruction software, which provides what GE says is the industry's first MR image reconstruction using deep learning for all anatomies.

The software was cleared for 3T systems in April 2020, 1.5T systems in September 2020 and 7T scanners this past May.

There have been close to 300 installations of what Ioannis Panagiotelis, chief marketing officer for MR at GE Healthcare, says is "probably the biggest innovation that GE has come up with in 20 years."

"What we hear from customers is that it enables them to deal with the compromise of scan time versus image quality," Panagiotelis said.

There's a 30 to 50% reduction in exam times with improvement in image quality, Panagiotelis said. Exams are easier to read, with less eye strain.

Panagiotelis said the technology has helped its clients, particularly those with older scanners, handle the COVID-19 backlog.

"There are many customers with more than 1,000 people on waiting lists," Panagiotelis said. "They don't have time to replace systems."

In October of last year, the FDA cleared GE's SIGNA 7.0T scanner. Considered the most powerful FDA-cleared MR system to date, it is designed to image anatomy, function, metabolism and microvasculature in the brain and joints.

In July, GE Healthcare announced a collaboration with Spectronic Medical, integrating the company's AI-based software, in combination with the AIR Recon DL technology, for more precise MR-only radiotherapy planning, with better soft tissue differentiation than traditional CT. Spectronic's MRI Planner Software is CE-marked in Europe and 510(k) pending with the FDA.

Hyperfine
In February 2020, the Hyperfine Swoop, the world's first portable MR imaging system, received its first FDA 510(k) clearance. In August 2020, Hyperfine received word that the clearance was expanded to include brain imaging applications for patients of all ages.

The Swoop Portable MR Imaging System, with a 64mT magnet, has been deployed in North America and internationally.

Khan Siddiqui, Hyperfine chief medical officer and chief strategy officer, said that while the company thought they'd have the challenge of competing with high field scanners, they've found that using the portable scanner for inpatients increased outpatient utilization of high field scanners by 20%.

"MR is in short supply everywhere," Siddiqui said. "The typical academic center performs 100 to 200 inpatient scans. This portable MR imaging system can free up high field scanners, plus there's no need to transport patients with nurses and respiratory therapists and no risk to intubated patients."

In January, Hyperfine received FDA 510(k) clearance for Advanced AI Applications, its deep learning image analysis software that measures brain structure and pathology in images acquired by the Swoop system.

There are nearly 50 Swoop systems deployed worldwide and 30 studies in the pipeline, according to Siddiqui.

Philips
Last year, Philips and Imricor Medical Systems announced a sales collaboration in Europe that provides Philips with nonexclusive rights to resell Imricor's Advantage-MR System, which enables real-time MR-guided cardiac ablations.

In another collaboration, announced this past March, Philips teamed up with Disney to offer custom-made animations for Philips Ambient Experience, which projects images and movies onto a wall of the exam room, providing a more comfortable experience for patients.

"If patients are more comfortable, we have a large decrease in rescans," said Arjen Radder, global business leader for MR, diagnostic X-ray and OEM at Philips.

The company also introduced two new upgrade paths to its Ingenia Elition 3T and Ingenia Evolution 1.5T scanners

"It's all part of our philosophy that we can take our customers to the latest and greatest platform, including software," Radder said.

ScanMed
Siemens Healthineers is now a certified supplier of ScanMed's PROCURE prostate pelvic coil. The coil is certified by Siemens on all of their 1.5T and soon to be 3T systems, and will be available in the company's online and mailed catalogs of MR scanners and accessories.

"That's exciting for a small company like ours," said Randy Jones, founder, president and chief executive officer of ScanMed.

The "plug-and-play coil comes with automatic installation. Clinicians simply need to do a software update to accommodate the coil.

ScanMed also recently introduced pediatric coils with three different sizes, which allows for the 16 antenna elements to be closer to the patient's anatomy, leading to better performance.

"We're always considering how we can get it closer to the anatomy," Jones said. "If you make it big enough for most kids, it compromises image quality for the littler ones."

Sizing rings, placed over the patient's head, allows the technologist to choose the correct size without having to take the patient off the table."

"If a coil doesn't fit, it takes a while to change the coil on the table," Jones said. "We've eliminated any of that guesswork in changing the coil."

The company also just finished the first clinical study with top MR vendors, GE Healthcare, Philips and Siemens Healthineers of its ProstatID software, which uses AI to assist radiologists in prostate cancer detection through MR.

Provided through ScanMed's subsidiary, Bot Image, the software processes the image data and generates a colorized map, with red indicating that there may be a suspicious lesion, which Jones called a "world's first for prostate cancer detection."

The software auto segments the organ, as well as recognizes and corrects distortion.

"It does the entire function of the radiologist to increase their throughput and confidence," Jones said.

Siemens Healthineers
In July the FDA cleared Siemens Healthineers' MAGNETOM Free.Max, a compact whole-body scanner that requires no quench pipe.

The 0.55 T scanner also includes AI and advanced image processing. It is designed to bring these technologies to facilities, such as orthopedic practices and urgent care centers, that are new to MR scanning and want to perform routine, whole-body imaging, said Wesley Gilson, senior director of MR business management for Siemens Healthineers North America.

"We can bring advanced imaging and reconstruction strategies to places where they may not have wanted to utilize MR before," Gilson said.

The scanner is less than 80 inches high and the lack of a quench pipe allows for easy installation and maintenance, as the closed-loop system uses less than 1 liter of helium.

The system also doesn't require the same level of expertise on the part of the user as some scanners.

The scanner also opens up the use of MR for new clinical applications, such as lung scanning, said Kelly Parker, MR product manager for Siemens Healthineers. The reduced field strength allows for better imaging of implants with reduced artifacts.

United Imaging
This year, as part of their Software Upgrades for Life commitment, United Imaging upgraded its entire U.S. MR installed base at no charge with the latest major releases, including Windows 10, 12 new applications and the United Compressed Sensing (uCS 2.0) platform.

The United Compressed Sensing (uCS 2.0) platform offers up to 36 times acceleration for dynamic imaging and up to a 50% reduction in time for 2D and 3D exams, according to Jeffrey M. Bundy, Ph.D., chief executive officer of United Imaging Healthcare Solutions.

New clinical applications include an updated advanced cardiac package, a single-breath-hold, fully-automated, deep learning-based heart localizer and fully-automated, AI-empowered cardiac function analysis package. The upgrade and all applications were delivered with on-site training, which is included annually with a United Imaging service contract.

In the future the company has committed to also delivering additional software enhancements and applications packages, like the newly cleared deep-learning compressed sensing technique (ACS), which also received FDA 510(k) clearance in 2020.