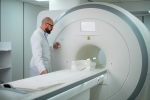 MR product showcase
September 17, 2021
TechGate Auto
Aegys
TechGate Auto from Aegys is an advanced warning system for controlling access to the MRI room. Warning messaging is effectively communicated through the utilization of bright, dynamic, color changing LED barrier arms which extend across the opening to the MRI room. These barrier arms are rotated into position automatically by activation from MRI conditional remote transmitters or by the transit of anyone into or out of the room. Unlike plastic chains or retractable belts that require manual latching each and every time, the TechGate Auto self deploys ensuring effective hazard warning and access control at all times. "Caution Barriers" are now recommended by the American College of Radiology to protect the MRI room entrance when the door to the MRI room is open.

CEIA PD240CH-Z4
Aegys and CEIA USA Ferromagnetic Division
The CEIA PD240CH-Z4 is the only handheld MRI patient screening solution that can operate on an all metal mode of detection and with a push of a button switch to a ferrous only mode of detection. This dual capability addresses the projectile threat of ferrous items while also addressing the RF induced burn risk or artifact generation caused by any metal item. Additionally, the Z4 is the also the only MRI handheld MRI patient screening solution validated as MRI-Conditional to 3T. MRI Safety just got safer!

CEIA MSDH
CEIA USA Ferromagnetic Division
The MSDH is a flexible and portable ferromagnetic detector for MRI safety screening that features a one-piece, lightweight design for easy setup. The system provides fast, simple and effective analysis for the detection of ferromagnetic and magnetized objects that are considered dangerous to patients and staff in the MRI environment. The MSDH can operate as a single unit for a pass-by or rotate-by checkpoint or it can operate in a pass-through configuration with CEIA's exclusive EVO analyses, which features uniform detection sensitivity over the entire transit area. With no installation costs and built-in 26-hour battery, the system is ready for immediate use.

CEIA MSDW
CEIA USA Ferromagnetic Division
The wall-mounted CEIA MSDW detects magnets and all ferromagnetic objects considered dangerous in the MRI environment. The MSDW can operate as a single unit for a pass-by or rotate-by checkpoint or it can operate in pass-through configuration with CEIA's exclusive EVO analyses, which features uniform detection sensitivity over the entire transit area. Multi-zone acoustic and optical alarm signaling indicates the ferrous threat items on patients and staff. Limited operator training is required for ease and speed of system use. Integrated memory logging is available for recording up to 70,000 events including alarms, programming modifications and diagnostics.

Air and Water Cooled Chillers
General Air Products
Medical imaging equipment like MRI machines, CT scanners, LINAC machines require a reliable source of cooling at all times. General Air Products offers standard and customized chillers to meet this requirement reliably and efficiently.

Our Process Cooling Experts build systems designed to protect your medical imaging equipment from the high volume demands of the medical environment. We also design our medical imaging air cooled chillers to work with YOUR equipment. Our chillers are directly compatible with major manufacturers such as GE, Elekta, Phillips, Siemens, Varian, & more.

Call us or visit our website to speak with our Process Cooling Experts today!

Mobile Wide Bore GE Signa Voyager and Siemens Aera
Shared Medical Services
Shared Medical Services has been providing outstanding Mobile MRI care to hundreds of hospitals and clinics since 1987. With our expansive fleet of Mobile MRI systems in service throughout the country, we are an industry leader with the knowledge, depth of experience and resources to get your facility up and running. Our certified Mobile MRI systems are housed in a self-contained environmental system which allows us to operate directly adjacent to your facility.
Contact us today about Mobile MRI www.sharedmed.com/mobile-mri

Swoop™ Portable MR Imaging System
Hyperfine, Inc.
The Hyperfine Swoop™ Portable MR Imaging System is designed to address the limitations of current imaging technologies and make MRI accessible anytime, anywhere, to any patient. Swoop™ wheels directly to the patient's bedside, plugs into a standard electrical wall outlet, and is controlled by an Apple iPad®. Designed as a complementary system to traditional MRIs at a fraction of the cost, images that display the internal structure of the head are captured by Swoop™ at the patient's bedside, with results in minutes, enabling critical decision-making capabilities across a variety of clinical settings. For more information, visit www.hyperfine.io.

MRI AC/Chiller Unit
Northern Air Systems
Northern Air Systems is a leading provider of specialized heating and cooling systems for the mobile medical, specialty vehicle, oil, gas, military and aviation markets. The company has manufactured thousands of customized and modified, high-quality systems that are in operation today, supported by a worldwide sales and service team.

Medical imaging customers worldwide use Northern Air's MRI AC/Chiller units due to their high reliability and track record of running 24/7 in extreme environmental conditions. A single MRI AC/Chiller replaces two BARD units and Belly Chiller. Our specialized design and engineering ensure customers the highest level of system functionality and durability.

Universal Shielding Corp
MRI Shielded Enclosures
USC has been providing MRI Shielded Enclosures to the medical industry for over 48 years. We design, fabricate, install, and test our enclosures to offer our customers a complete turn-key solution. We are an approved vendor of all of the major MRI manufacturers and manufacture all of our products in the United States. We also stock a wide variety of accessories including air vents, filters, and pipe penetrations. USC is acknowledged as a leader in the field, providing safe, interference-free environments for all MRI equipment. USC is extremely proud of its reputation for safety, on-time delivery, reliability, and industry expertise.

MRI Position Pad Kit
Patient Comfort Systems
We sell knee wedges, table pads, patient protection pads and position pads. Our pads work in MRI, CT, Ultrasound and Interventional Radiology. All pads are made with comfort memory foam and antimicrobials built right into the fabric.

PROCURE™ Prostate/Pelvic Coil
ScanMed
The PROCURE™ Prostate/Pelvic Coil is the world's first wearable MRI coil. Worn like a pair of shorts, the PROCURE provides the highest quality images of the reproductive and urological anatomies. The PROCURE's pioneering technology facilitates the closest positioning of the multiple antenna elements to the target anatomies regardless of patient size. Our phased array coil can be configured with or without an ER probe and accommodates biopsy systems. The flexible design enhances patient comfort and increases throughput. The PROCURE is certified by Siemens Healthineers, but is compatible with all major MRI systems. Learn more at scanmed.com or call 402.934.2650.

Non-Magnetic Products
MRIequip.com
MRIequip.com has a diverse line of Non-Magnetic products for your MRI environment. Including the First Non Ferromagnetic Wheelchair and Stretcher that will pass Ferromagnetic detection systems. We offer over 1,300 products including MRI Wheelchairs, MRI Stretchers, MRI Laryngoscopes, MRI Pulse Oximeters, MRI Safety, MRI Stools, MRI Furniture, MRI Anesthesia Equipment, MRI Carts and more. Keep your MR Suite safe with our non-magnetic products.

AIRSYS MRI Chillers
Advanced Cooling Technologies, Inc.
World-class MRI chillers for unique MRI cooling requirements. Advanced Cooling Technologies (ACT) is the exclusive AIRSYS chiller distributor for North America. We provide a wide range of medical chillers from 10kW to 70kW. AIRSYS MRI chillers are specifically designed for the duty cycle of MRI scanning. Cooling is better controlled, and large temperature swings are eliminated. You won't find better value, array of features, and state-of-the-art design which sets AIRSYS chillers apart from other manufacturers.

UV-C LED Bore Sanitization System
PDC Facilities
Introducing PDC's new UV-C LED Bore Sanitization System specifically designed to quickly, easily and verifiably sanitize MRI and any imaging bore and table in less than 5 minutes.

PDC's first-of-its-kind system generates UV-C light energy across the Germicidal Spectrum, killing all pathogens – including coronavirus – with a 99.9% confidence level. Applicable modalities include MRI, PET/MR, CT, PET, PET/CT, MR-guided Linac, Nuc Med and any other imaging bore (60-90 cm) and imaging table (200 cm or less).

Protect your patients and staff, reduce anxiety and easily deliver a verifiably sanitized imaging experience to every patient, every time.

FerrAlert® Products Preventing Accidents
Kopp Development
Kopp Development Inc., the leading manufacturer of ferromagnetic detection systems for MRI Safety, provides the most extensive product offerings to work safely with the powerful magnetic field of the MR modality. The FerrAlert® are the only ferromagnetic detection systems that provide an accurate location of ferromagnetic threat. FerrAlert® technology automatically detects and logs ferromagnetic events and exclusively provides a photographic stream which is date and time stamped. The secure application allows for generation of reports for TJC inspections and analysis of safety trends to be shared throughout the entire hospital system. The new upgrades allow for monitoring MRI door use, as required by the new ACR MRI Safety Standards.

100% Free-Standing RF Shield Seismic Design
IMEDCO
With our latest COPPERSHIELD package, we offer 100% free-standing Seismic Design to be compliance with Seismic Design Categories B-F. Package includes Structural calculations and PE Stamp.

O-scan Dedicated MRI
Esaote
The O-scan dedicated MRI scanner is a compact MRI system, which, thanks to its unique ergonomic design, provides great patient comfort and avoids claustrophobic reactions. The O-scan is the third generation of dedicated magnetic resonance imaging system designed specifically for imaging extremities (knee, ankle, foot, hand, wrist, and elbow). The O-scan combines excellent MRI capabilities, enhanced productivity, full connectivity, and superior cost-effectiveness. Suitable for radiology, orthopedic, rheumatology, and sports medicine departments, O-scan provides new opportunities for a larger range of patients and applications. O-scan is the system of choice for those sites that care about image quality and would like to have the potential to expand patient access as well as complementing the capabilities of high-field MRI scanners they may have within their imaging network.

MR-SPOT®
Beekley Medical
Unmistakable imaging, precise localization
Designed specifically for use in MRI, Beekley Medical's MR-SPOT® clearly identify areas of interest with a bright and consistent image on all MRI sequences, allowing for unmistakable communication between patient, MRI technologist, and interpreting radiologist

Professional and sanitary, self-adhesive MR-SPOTs are available in two styles and four sizes to suit all your localization needs from small point of view to thoracic spine studies. MR-SPOT tubes provide a sharp distinct image. MR-SPOT packets provide optimum patient comfort and help reduce marker indentation.

ClearShield S-Glass
ETS-Lindgren
ETS-Lindgren's latest product development, ClearShield S-Glass uses liquid crystal technology embedded in the window's glass, giving MRI personnel the ability to convert the glass from transparent to opaque with the simple flip of a switch. Switchable Glass offers a dynamic privacy option for windows incorporated directly to the glass, eliminating the need for blinds or ancillary options for covering windows that are difficult to maintain and keep clean from surface infection. ETS-Lindgren's S-Glass delivers a natural, clean appearance, providing privacy when you need it and a clear view when you don't. S-Glass is now available on all ETS-Lindgren windows.