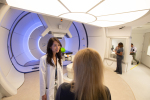 Improving patient access to proton therapy
October 25, 2021
by
John R. Fischer
, Senior Reporter
From New Hampshire to Alabama, more than 20 of the 38 proton therapy centers in the U.S. are scattered across the East coast. Out West, these cutting-edge cancer treatment facilities are relatively lacking in numbers and patients are at a geographic disadvantage when it comes to accessing treatment.

Meanwhile, many patients throughout the country also face barriers from insurance providers that refuse to cover the treatment, even for indications where evidence suggests protons could yield superior outcomes. This leaves many would-be proton candidates with no option but to receive conventional treatments, which may come with higher risk of side effects and long-term complications, particularly for complex cases.

HCB News sat down with those in the field to discuss these barriers and their impact on outcomes. One expert, Dr. Curtiland Deville, associate professor of radiation oncology in Johns Hopkins School of Medicine and medical director of the Johns Hopkins Proton Therapy Center, said that while unfortunate, challenges like this are to be expected. "Protons are a limited resource. Anything that is a limited resource is going to potentially have a variety of barriers to access and care, from personal to institutional to systemic and at the level of policy."

Reaching patients closer to home
If 38 sounds like a small number of facilities in the U.S., you only need to look back as far as 2010 to a time when there were only seven. Jonathan Weinbach, CEO of New York Proton Center, says America's proton therapy industry was born out of large cities and as a result, has branched out more in areas like the Northeast, compared to Western states. "A lot of it is driven by population density. It's expensive to build proton facilities. You want to make sure there is a large enough patient population to make use of the market."

As a result, midwest and western patients may have to travel long distances for treatment. This, however, is often difficult or not feasible due to family commitments, inability to take time off from work or costs associated with relocating. Other potential factors could be the overall climate of medical clinic control and state regulations, according to Dr. Anita Mahajan, radiation oncologist at Mayo Clinic and clinical director for particle therapy in Rochester. "If you're not living next to a city that has access to proton therapy, then you're not aware of it and accessing it, and moving yourself to a center, for close to two months sometimes, is challenging."

To help with this, many proton therapy programs have partnered with hotels, Airbnb, and charities such as Ronald McDonald House programs to help cover lodging. In this way, some patients are able find accommodations they otherwise might not have.

Meanwhile, technological enhancements such as single-room centers in place of multi-room ones have also made it easier for areas with smaller populations to afford the construction costs of proton therapy facilities. These smaller-footprint centers require a fraction of the construction cost, (although still typically several millions of dollars) and can serve a smaller patient throughput.

Jennifer Maggiore, executive director of the National Association for Proton Therapy, says that for providers and academic centers to continue to introduce proton therapy in areas currently underserved, they need to be assured that they will be appropriately reimbursed. "It is concerning when commercial insurance providers exclude coverage for proton therapy despite clinical research supporting its value."

Dealing with denials
About 70% of patients seeking proton therapy are initially rejected by their insurance provider and appeal. Of these, about 70% are eventually approved over time, according to Weinbach. "They eventually get there. It just takes a lot of time, effort and resources. For a lot of patients, it's time they don't have. If you need cancer treatment, you really don't want to wait."

Insurers often will make the case for denials on the basis that proton therapy is experimental or not medically necessary, according to Tim Rozelle, an attorney with the law firm Kantor and Kantor, who has experience litigating coverage decisions around proton therapy. He says that insurers often require proof that shows that proton therapy is no longer investigational and that it is superior to conventional photon radiation treatment, making it medically necessary.

"If you can't establish that proton therapy is superior to IMRT, you're out of luck," he said. "If you can't establish that proton therapy is less expensive than IMRT, then you're out of luck. The argument there is that you really need to be able to show that proton therapy is superior to IMRT, in order to circumvent the cost argument."

Resourceful patients denied coverage may, in some cases, pay out of pocket or tap into the generosity of others using resources such as GoFundMe, but of course that is not the way healthcare is supposed to work. Many will ultimately resort to conventional radiotherapy treatment, even in cases where doctors have warned insurance providers that such treatment poses long-term risks, such as infertility and nerve damage that can lead to physical pain and deformities.

It's important to note that there are many cancers where conventional treatment methods appear to be comparable to proton therapy in terms of outcomes. Research on other types of tumors has helped secure greater coverage, with pediatric tumors universally insured and more coverage now available for head and neck tumors. While not universal, proton therapy for breast cancer is also being insured more, says Weinbach.

But Rich Collins, a trial attorney with Callahan & Blaine who specializes in insurance and healthcare law, says insurance companies often rely on outdated research for their guidelines to substantiate why they do not want to cover certain cases and take years to incorporate more relevant studies into their guidelines. "They know it's not experimental or investigational, but they still use that as a basis for their denial. For the medical necessity component, it's how they define that and what factors they consider and the lack of uniformity."

Another obstacle that patients are expected to face soon comes from the government's Radiation Oncology Alternative Payment Model. Set to go into effect in January 2022, the ROAPM calls for cuts in reimbursement for proton therapy, according to Mahajan. She says such an action has the potential to create hesitancy around building more proton therapy centers and may negatively impact the financial earnings of currently established ones.

"There's going to be more anxiety about reimbursement and being able to keep a center open if they're even able to come up with the initial investment," she said. "I do think these types of pressures that are pushing the technology down might suppress innovation that could allow it to become better, faster and cheaper."

Access and awareness
Despite being around for decades, referring physicians may be hesitant to send a patient for proton therapy due to not understanding the benefits it holds for certain cancer cases. They also may be conflicted with a sense of loyalty to their own institution, and the treatments they are capable of offering.

"There may be a financial overlay of 'why are you referring patients out' and 'proton therapy isn't that great,'" said Mahajan. "You know things that are around you and you're comfortable with those things. So, reaching out to another group causes a bit of discomfort and you may not be aware of what other places offer. It's multilayered."

Deville with Johns Hopkins adds that external referring providers may be worried about delays to care or possibly losing their patients to a competitor. "The referral and intake process can be complex and requires a variety of healthcare and administrative team members with varying expertise — from a proton coordinator to the billing and insurance authorization team to the nurse, physician, advanced practitioner, social worker, radiation therapist, physicist, and dosimetrist."

He adds that it also requires "preparedness and efficiency to bring the patient into the system quickly, and then to also send the patient back to their original provider once treatment is complete, with follow-up recommendations and guidance around survivorship care."

The key to making referring providers more aware of what proton therapy has to offer, says Weinbach, is to educate them and patients. "We need to make sure patients know proton therapy is a viable treatment option for them and how they can learn about it and get access to the treatment and centers. For the physician community, they need to know what indications are appropriate and when proton therapy is a good option."

Mahajan says this, along with a change in their processes, is needed for insurance companies too. "Insurance companies need to be educated and need to let physicians make decisions and remove hurdles for physicians and patients. They need to reduce the time required to get denial and appropriate approvals for insurance."

Regarding geographic access, Deville says strategic partnerships can help not just in expanding access to proton therapy but also in expanding it for people of different racial, ethnic, and socio-demographic backgrounds. "I think proton centers and health systems and departments entering this arena should have an awareness that you are starting with this limited resource and technology which inherently poses a challenge in ensuring access. It's important to think intentionally and creatively about pathways for all patients to access this unique treatment."