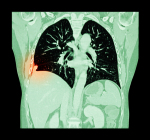 Volpara Health partners with RevealDx for early lung cancer detection
September 28, 2021
by
John R. Fischer
, Senior Reporter
In an effort to advance the accuracy of its lung cancer screening technology, software developer Volpara Health has teamed up with RevealDx, a company with an AI solution designed to detect lung cancer earlier and reduce false positives.

The agreement is expected to expand Volpara's reach in the U.S. and do the same for RevealDx in Australia and New Zealand.

Volpara Lung software uses advanced, integrated and adaptable reporting, tracking and risk assessment to guide patients through the entire lung cancer screening procedure, from scheduling to diagnosis. Partnering with RevealDx gives it access to an AI algorithm that scores nodules on lung CTs. Early clinical data suggests that analyzing nodules with AI can help detect cancer in advance and also reduce false positives, according to Ralph Highnam, group CEO of Volpara.

"As screening numbers grow, the burden on the radiologist will be huge and tools like RevealDX will be needed to reduce false positives and speed time to diagnosis. But, it's critical the results from those tools are fully integrated into systems such as Volpara's Patient Hub to ensure streamlined care," he told HCB News.

Volpara's software includes structured reporting and customizable reminders for patients who are overdue for screenings and follow-up exams. It also has more than 40 statistics reports for monitoring and tracking patients and automatically collects and validates required data to ensure the American College of Radiology Lung Cancer Screening Registry reimburses providers properly.

RevealDx's software, RevealAI-Lung, offers radiomics-based insights and AI-enabled, lung cancer decision-support for automatically analyzing each lung nodule for each patient to determine optimal clinical plans. It does this by integrating with a provider's PACS system to analyze CT images and score nodules.

Approximately 20-30% of lung CT exams show nodules that need to be categorized as benign or malignant. Often this requires patients to undergo a follow-up lung CT scan that can take months to book, or a surgical biopsy. Many lung nodules are also found incidentally during other types of exams that include CT. By detecting lung cancer through AI nodule analysis, RevealDx's software is expected to eliminate months of waiting for scans. And by reducing false positives, it may help patients potentially save on cost, according to RevealDx CEO Chris Wood. "By informing precision medicine, our products will improve follow-up for millions of patients. The ability to diagnose early, inform treatments, and optimize the total cost of care will be a game-changer."

Lung cancer screening with low-dose CT is becoming more widely available, with the U.S. doubling the number of people eligible and countries like Australia starting the process of scoping out nationwide programs. Prior acquisitions of CRA and MRS have allowed Volpara to cover 8% of the U.S. lung market. With RevealDx, it is able to expand its reach and make the implementation of a lung screening program more appealing to new customers, according to Highnam.

"Recent studies have shown the benefits of dedicated lung screening programs using Lung CT. As those benefits are more widely recognized, screening will start to ramp up in the U.S. and elsewhere around the world," he said. "Then we'll see screening starting to have the same effect in lung as it does in breast with reduced mortality, but it needs that smooth IT framework that a fully integrated platform can deliver."

Volpara is based in New Zealand and RevealDx has its headquarters in Seattle.