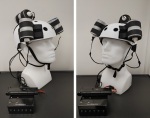 Magnetic-field generating helmet shrinks glioblastomas
September 30, 2021
by
John R. Fischer
, Senior Reporter
For one Houston patient, donning a specialized helmet helped shrink his glioblastoma by nearly one-third over one month.

Designed by researchers at Houston Methodist, the oscillating magnetic field-generating helmet administered treatment that the patient was able to tolerate without negatively impacting his quality of life. The treatment consists of electromagnetic fields, which have been shown to produce anti-cancer effects in vitro and have been approved by the FDA as a therapeutic approach.

It was the first human application for the noninvasive device, according to Dr. David Baskin, director of the Kenneth R. Peak Center for Brain and Pituitary Tumor Treatment. "Our results in the laboratory and with this patient open a new world of noninvasive and nontoxic therapy for brain cancer, with many exciting possibilities for the future. Imagine treating brain cancer without radiation therapy or chemotherapy," he said in a statement.

Nearly always lethal, glioblastoma carries a life expectancy of a few months to two years and is the most common brain malignancy. Specially devised patterns of magnet rotations have exhibited strong, selective anti-cancer effects for patients with glioblastoma and xenografted mouse models, without adverse effects, says Baskin.

The helmet consists of three oncoscillators that connect to a microprocessor-based electronic controller that is powered by a rechargeable battery. It utilizes oscillating frequencies to alter the electron flow in the electron transport chain, disrupt the integrity of the mitochondrial network and create a molecular cascade that causes Caspace-3 and apoptosis to activate. The dying cell then releases its toxic content into the surrounding area, which causes the progressive death of other nearby cancer cells.

Initially used in mouse models for research, Baskin obtained FDA approval for compassionate use of the device and used it on the patient following the recurrence of his end-stage glioblastoma, which at that point typically leads to death within months. The patient was subjected to intermittent use of the OMF helmet, first for two hours under supervision at the Peak Center and then in daily at-home treatments that lasted up to six hours per day maximum.

In an incident unrelated to the experiment, the patient died a month into treatment. An autopsy revealed that during this time, 31% of his brain tumor disappeared. This, according to Baskin, may indicate its potential use as a future alternative to intense radiation and chemotherapy, as patients are often unable to complete either due to their toxicity. The patient in this study even underwent radical surgical excision, chemoradiotherapy and experimental gene therapy prior to testing out the helmet.

"Thanks to the courage of the patient and his family, we were able to test and verify the potential effectiveness of the first noninvasive therapy for glioblastoma in the world," said Baskin.