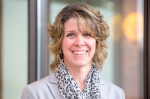 Q&A with Jennifer Woods of McLaren Northern Michigan
November 19, 2021
by
Sean Ruck
, Contributing Editor
Vice president of patient care services and chief nursing officer Jennifer Woods, has been with McLaren Northern Michigan for 21 years. She spoke with HealthCare Business News to detail what's led to her history with the organization and the innovative work McLaren continues to push today.

HCB News: Who or what inspired you to pursue a career in healthcare?
Jennifer Woods: I actually knew I wanted to go into nursing at age 14. I remember being a freshman in high school and my parents were always teaching me to think ahead in life. I happened upon an article that was talking about neonatal nursing. I remember being really drawn to what they were doing, the differences they were making in the lives of those tiny little people and the important work they were doing. I turned to my mom and told her, "This is what I want to do." And I knew it from that point.

Being in nursing school and learning all of the roles of nursing and our influence in healthcare broadened that for me. I did not go into neonatal nursing; however, I actually changed over to adult critical care and that's where I started my career. I could see early on the privilege it was to care for people in their most vulnerable times and how important those moments are to their long-term health and well-being.

HCB News: What drew you to McLaren Northern Michigan?
JW: We had family in Northern Michigan. When we moved and we were just starting our family, I did look at other organizations. But I can tell you, it was palpable. When I walked into this organization, I could feel the community atmosphere, the welcoming of the colleagues, and the engagement. I worked in several large facilities, which were amazing as well, but I always felt the difference. I felt when I walked in the door how engaged everyone was. It opened my mind to the possibilities.

HCB News: During your time in healthcare, have you seen an improvement in collaborative practices — nurses and support teams having more of a say for example?
JW: Yes, I have seen it advance. I've felt very fortunate in my career to always be valued and respected for what I could contribute. That said, as healthcare professionals, I think we have gotten better at recognizing all of the professional roles and their expertise and the contributions they provide to driving outcomes for our patients. Even within our academic institutions, we've started to teach that way. We've learned we can get better outcomes for patients when we have that multidisciplinary approach. We're able to think collaboratively, set goals, improve best practices and enhance each other's skills and abilities. Over time, there's been better recognition of that, and I see it throughout our organization on a daily basis.

HCB News: A new hospital wing just opened — how long was the process from planning to opening and what was the catalyst?
JW: It is a multi-year, multi-phased project. Being with the organization as long as I have, I was able to be part of the original discussions about what our Board envisioned for our community and what we needed to enhance our services. It was probably 2015 when we first started discussions and vetting industry partners for the construction and renovation and what our future would look like.

Over the years, we've invested in infrastructure, but we got to the point where the ongoing investment was better spent on larger scale improvements that would correct long-standing issues, such as dual occupancy rooms. We talked with the board about enhancing services, improving the patient experience, increase privacy and comfort — which has been more emphasized during the pandemic. We also had goals to decrease noise in the environment to create an environment focused on health and healing. Noise was a factor, clutter was a factor. Our board recognized these issues. The other priority was for our care team, making sure they have a safe work environment is also incredibly important. We wanted to make sure we gave our teams a modern environment that would enhance their ability to do their best work.

We are achieving our goals through a major renovation and expansion project. We just finished our expansion phase, adding a new four-story, 182,000 square-foot wing that opened in August. We are beginning the final phase, a renovation of 70,000 square feet of our existing hospital.

Part of this project also included smart technology to enhance communication and safety. We equipped all the rooms with an i-bed, electronic white board, Medisign, and bedside patient tablet. Our staff is using the Vocera Smartbadge for no-touch, voice-controlled communications. Next, we worked with our partners to create interfaces between the different systems to create a technologically advanced in-room experience for patients. For example, when a fall risk patient is trying to get out of bed, the i-bed sends an alert to the electronic white board that can verbally tell the patient to stay in bed, the Medisign outside the door flashes an alert for nearby staff to see, and the patient's nurse is sent a message on their Vocera badge.

HCB News: Let's talk a little bit more about the improvements in communications.
JW: There are several features with the no-touch communications. What we really liked about the no-touch is you can carry or wear a device that allows you to speak what you need, it just expedites the communications. Through an intelligent hierarchy, you can get to the right person in the right role. For example, if I'm a nurse in a room providing care, I can simply ask for the pharmacist caring for the patient in 101. Or I can ask for the transporter who's helping with Level II South. I can ask by name, or role assigned, or position, which gets me to who I need almost immediately. In the old days, you'd have to connect with an operator, use your phone and break out of your protective equipment in order to handle the phone to make those calls. The workflow is expedited with the wearable badge.

HCB News: How widespread is the use of the Vocera Smartbadge? Who on staff is supplied with one?
JW: We chose to provide it to just about all our employees because I might need environmental services to help with turning over a room, I might need transportation, I might need the intensivist. We use the system for calling codes as well. Most of our employees have the Smartbadge or a phone option running the Vocera app.

We chose to keep the Smartbadges here on site. Employees sign into the system and the device is personalized when they're signing in for their shift, so it can be handed off easily.

HCB News: You mentioned the importance of a peaceful, restful environment when it came to designing the new wing. Were other holistic elements incorporated?
JW: As part of our design, certainly natural light was important to the rooms we built. We sit on a really beautiful location with water in the views from many rooms. We couldn't ask for better. So it was important to have the views from the rooms to create that restful environment.

Throughout the organization, we also introduced 210 pieces of artwork that really add to the beauty and the peacefulness of the facility. About 100 Michigan artists contributed to the artwork we display throughout the organization. We also created comfortable spaces. Not everyone who comes into our facility will be in a patient room, but they need to be here and creating spaces that were peaceful and quiet were important. We have a fireplace, for example, in our atrium area where they can come and relax and find peace.

HCB News: Is there anything we missed that you'd like to talk about?
JW: One thing I wanted to make sure we cover — I'm particularly proud of our ability to have vision for the future of our organization despite challenges like the pandemic, or nursing shortages. We create structures and processes that help our colleagues to be engaged in potential solutions. In order to recruit nurses, care teams, physicians — they need to know that they'll be able to make a difference and be active partners. I think that's something we do well here.

Coming back to the smart technology, what we chose to do with the opportunity of the new build really is a fine example of where, working together, we can find solutions. We've implemented electronic whiteboards, which are very helpful in timely communication of information to our patients as well as to our care teams. We have the Vocera Smartbadges I mentioned, with the voice-activated communications, which is timely and helps with workflows. We have also implemented a different type of enhanced nurse call system, which is a computer tablet that helps the patient engage with educational material, and communicate with nurses. It works as a call light system, but also helps give the patients choices around their TV controls, their room environment, gives them access to the creature comforts of the things they might otherwise have at home: video browsers, or access to their Netflix for example. So we're trying to enhance their experience through technology. We've also enhanced our safety features. Patients who are outside their normal environment are naturally more at risk for falls, for example, or just being disorientated or not feeling safe in a new environment. Our integrated technology helps to address these concerns. To have our teams focused on continuous improvement innovative problem solving and using the technology available today are all ways we also attract staff to a place where they can do their best work.