Konica Minolta Healthcare Americas demonstrated the capabilities of its new mKDR Xpress Mobile X-ray System and its AeroDR Carbon Flat Panel Detector this week at RSNA 2021.
The mKDR Xpress Mobile is the smallest and lightest portable X-ray system designed by Konica Minolta and has a slim design and collapsible column that allows it to be moved anywhere, including in tight spaces in the ICU, CCU or the OR. But its real advantage is its customizable mobile-specific user interface, which comes with a remote control; visible buttons at the front of the device; and front and back collimator controls with laser alignment, according to Guillermo Sander, marketing director for digital radiography at Konica Minolta Healthcare.
"The buttons are big. It's portable. It has all the functionality but rather than put it all on one screen, we put the important buttons up front, so it's easier to use. What we thought about was how do we make the workflow for the user easier, so it becomes a better patient experience overall," he told HCB News.
Users of mKDR Xpress Mobile can assess images through the tube-mounted graphical user interface and use the image preview function to view scans quickly. The system also has onboard charging for two panels and front and back storage for them and consumables.
The solution is mainly designed for continuous monitoring of chest and abdomen scans but can be used in a variety of settings, including the ICU, critical care and neonatal units; and the ER. The addition of dynamic digital radiography (DDR) in 2022 will also allow it to be moved to patient bedsides, according to Sander. When your patient is too sick or fragile and it's not practical or safe to move them, you can take the X-ray to them with this technology."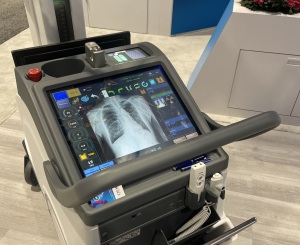 Also on display was Konica Minolta's new AeroDR Carbon Flat Panel detector. Designed for all general X-ray applications, the space-age carbon material of the detector is molded and more flexible and lighter than the traditional metal material used to make detectors. It also has been infused with antibacterial technology, which contributes to its lightness and enhances its capabilities. "You still have to clean your panels but having materials that are anti-bacterial just helps. It doesn't get in the way; it doesn't change the cost of the panel. Those little things just make a difference," said Sander.
He adds that the device is equally resistant and has the same specs as traditional detectors. When combined with the mKDR Xpress Mobile X-ray System, it helps create optimal image quality as a synchronized, smart imaging solution.
Konica Minolta previously
showcased two of its AeroDR HD Wireless Flat Panel Detectors
in 2017 at RSNA. The wireless devices included a 10x12 that was designed to image fine structures of smaller anatomies, such as extremities; and a 17x17 that was suited for imaging large anatomical areas, such as the thorax, chest and abdomen.
They were designed to be used in conjunction with the company's REALISM advanced image processing system, which allows physicians to process soft tissue and bone data separately, and provides more clarity on different areas of the image. It enhances sharpness and contrast to reveal subtle aspects for assessing even the most difficult anatomies.
At this year's show, the company also introduced new functionalities for its Exa Platform that automate clinical and administrative tasks. The platform will feature a Clinical Decision Support Mechanism (CDSM), a tool that will help clinicians abide by standards of Appropriate Use Criteria (AUC) when making treatment decisions. This function comes in advance of CMS' mandate that providers use such a tool starting in January 2023. It also eliminates inefficiencies in determining patient insurance eligibility and copay responsibility, and is expected to help radiology departments and imaging centers increase revenue and profitability by improving reimbursement and capturing non-covered costs.