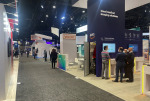 My day at RSNA 2021: Tuesday
November 30, 2021
This week I am taking Five Minutes in Healthcare on the road with me, as I join the radiology community at the annual RSNA meeting at McCormick Place in Chicago.

Obviously, this is a year unlike any other. For that reason, I wanted to capture the occasion on video. This also allows me to share some of the sights and sounds of the show with people who were unable to attend in person.

Here is my video recapping Tuesday, 11/30. You will see that I spoke to Larry Sodomire from Total Data Connect, Michal Piglas and Pawel Weber from JMP Medical, Olga and Orestes de la Paz from Puma Export, imaging expert and entrepreneur, professor Michael Friebe, Jason Green from Health Connect Partners (HCP), Rami Marom of MediRam, and medical physicist Tom Petrone.