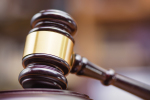 Former hospital director sues for wrongful termination
April 26, 2022
by
John R. Fischer
, Senior Reporter
A former hospital director is taking Princeton Community Hospital to court over his dismissal after he raised concerns about the safety and care provided to patients.

Mark Mustard, who worked at the West Virginia University (WVU) Medicine affiliate for over four years and served as its director of cardiopulmonary and therapy services, claims the hospitals unfairly dismissed him after he was "highly outspoken" about the need to add more staff to the respiratory department to care for COVID-19 patients and other people in need.

Filed in Mercer County Circuit Court, the suit says his firing occurred at the time when the Delta variant was beginning to surge, "at a time when respiratory care was crucial to the community," reported The Associated Press. He also alleges that his termination violated the West Virginia Patient Safety Act and West Virginia Human Rights Act. https://apnews.com/article/covid-business-health-lawsuits-wv-state-wire-134284242296270ad913ea995c7a02f1

The case is Mark N. Mustard v. Princeton Community Hospital Association, Inc., West Virginia United Health System, Inc., d/b/a West Virginia University Health System, and Albert Boland, Case No. CC-28-2022-C-60.

West Virginia University Medicine declined to comment on the pending litigation. "We do not comment on pending litigation," Angela Jones-Knopf, director of media relations and public affairs, told The Associated Press in an email.

In his suit, Mustard says that he submitted multiple patient safety complaints at the beginning of the pandemic. He said that more staff members were needed to keep up with the rising volume of patients in need of respiratory care and because the ICU was at full capacity. He also referenced a report to the hospital's executive team that said that night shift respiratory staff were exhausted and overworked and in need of additional personnel. An executive advised him to "be more positive," according to the suit.

Mustard continued to file complaints until September 2021 in which he said that without enough staff members to administer treatments ordered, patients were not able to receive the necessary amount of aerosol they required. This led to two additional meetings in September on staffing and equipment issues, with both resulting in no resolution.

Shortly after the second meeting, Mustard says he was abruptly fired on September 23, less than one month after receiving an exceptional performance review that gave him an incentive bonus of more than $6,000. No reason for his termination was provided, and he was not made aware beforehand that he was in danger of losing his job, he said in his suit.

Working at the hospital since August 2017, Mustard started as director of cardiopulmonary, and was promoted in 2018 to director of cardiopulmonary and therapy services. He oversaw speech therapy, pulmonary rehabilitation and occupational services and physical therapy, and says his job duties increased while working at Princeton Community Hospital.

He was also charged with overseeing Bluefield Regional Medical Center's respiratory services department following the hospital's acquisition of the practice in 2019.

Mustard is being represented by Bailess Law Firm.