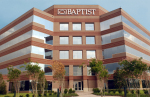 Supply chain lessons from the pandemic
May 20, 2022
by
Lisa Chamoff
, Contributing Reporter
COVID-19 showed that the supply chain is the lifeblood of a hospital system during a pandemic. DOTmed spoke with John Finger, system director of corporate supply chain operations for Baptist Memorial Health Care in Tennessee about how COVID-19 has impacted hospital supply chain in general, the lessons learned at Baptist Memorial and the best path forward.

HCB News: Can you tell us a bit about Baptist Memorial's early experience of the pandemic? When did you realize this was going to be a crisis?
John Finger: We started sniffing the wind back in January of 2020. We were getting some feelings that something was about to hit, but we didn't realize it was going to come on so fast and to such a great extent. Because we were totally slammed by mid-March.

What protected us, to some extent, was back in January, when we started getting signals that something bad was on the way, we kind of jumped out there ahead of that curve and went ahead and placed some good bulk orders on all of our PPE.

We thought we were in good shape because back there in the last crisis, we'd already bulked up on N95 masks and had them stored off-site in our warehouse. Well, we learned a lesson. We went to access those masks for COVID, but they'd been sitting in a hot warehouse for three-and-a-half years and they had dry rotted. So, that was our wake-up call. We started reaching out to our distributors, but they couldn't help us, because as soon as COVID hit, they were also placed on allocation from the manufacturers.

When they first told us they're going to place us on allocation, I thought, "That's all right. We just can't increase our usage." Well, that doesn't work when you have a pandemic. Plus, the allocation methodology was 70% of your pre-COVID usage. So they were cutting our products by 30%, and we're getting slam-dunked by the explosion in the number of patients due to COVID. It was a train wreck from day one.

HCB News: What are some of the main lessons you've learned through the pandemic?
JF: Obviously, the first one is if you're going to bulk up on emergency supplies like that, don't let it sit in a hot, dry warehouse for several years and rot away.

Another lesson we learned is don't depend on your distributor to be there for you. You better have a plan B. In this case [we were] dealing with the brokers getting stuff directly from China.

HCB News: Has COVID-19 given supply chain a louder voice in hospital leadership? If so, how?
JF: Yes, it definitely did, because all of a sudden, the light was shone upon us to fix this. In other words: you got this pandemic. Do whatever is necessary to make sure we have the product we need.


That's when we started stepping out, finding brokers getting stuff directly from China. We actually chartered a FedEx jet to fly 400,000 gowns directly to us. That's not cheap. I knew it was going to be a big expense, but I was still totally shocked when I got the invoice.

HCB News: How can hospital supply chain leaders retain their seat at the table, as we (hopefully) put the pandemic behind us?
JF: The light, if you will, gets stuff here. So, we did that, and we began having weekly meetings with our leadership group. I had to report out, once a week, per hospital, how many days on-hand of each item they had in stock, who is approaching the danger area, who has some surplus. We were doing a lot of reallocation.

We came up with a report showing the same information that we began distributing every day to hospital leadership, all CEOs. In other words, being totally, totally transparent. And sometimes, I would have to say, for instance, if a market leader called me or emailed me to say, "What do you mean Memphis has got four days of gloves on here?" And I'd say, "Yeah, that's right. We're trying to see who has some extra they can borrow from. By the way, our next shipment is due in two weeks." It got kind of tight for a while there on several occasions.

But I think that the people at the table have seen the benefit that supply chain provides the organization. We need to be the go-to for anything they need, whether it's data, product, whatever. We need to be seen in that light, that if you bring something to us, we're going to get it for you, no matter what the issue or problem is. Be proactive. Don't wait for them to ask for it. I guarantee you, everyone on that mailing list didn't open up that report every day, but at least we put it out there.

HCB News: From a data and analytics standpoint, how is supply chain management changing?
JF: Thankfully, at an exponential rate. All of our ERP (enterprise resource planning) systems, they're all going to the cloud. And what that will allow us to do, instead of having to use five, six, seven, eight different platforms to get the necessary information, you've got a single platform.

HCB News: Do you have any tips for keeping supply chain better aligned with the needs of hospitals and clinicians?
JF: Communication, communication, communication. Be fully transparent. We were letting all the facilities know where they stood. The CFOs, the key clinicians, would be notified. Just keeping them all in the loop.

HCB News: How do you imagine hospital supply chain might be different in the next three to five years?
JF: A lot more streamlining of processes that will be due to the cloud. They'll be spending their time doing more than just simply shoving boxes around. They'll be creating the reports.

For instance, nowadays, we have the capability to create reports that shows your supply expense per surgical case, by surgeon, broken down by individual line item. (We can say) by the way, surgeon B is using a lot more of this line item, and surgeons A, C and D don't use it at all. It's a lot of comparative data.