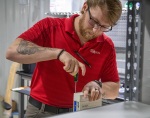 Training tomorrow's HTM professionals
May 16, 2022
by
John R. Fischer
, Senior Reporter
When in hospital, patients see the various pieces of equipment that providers use daily. From vital sign monitors to MR systems, this exposure helps them understand the important role and duties of each clinician and staff member. But what they do not see are the BMETs and clinical engineers who make sure the equipment is operating correctly and repair them when problems arrive.

Additionally, hospital executives and administrators may not be fully aware of the work that these HTM professionals provide to hospital operations. "Some hospital leaders still see us as a break-fix department. They don't understand that we get involved with equipment assessment, equipment acquisition, patient safety, emergency management and so much more," Danielle McGeary, vice president of healthcare technology management at the Association for the Advancement of Medical Instrumentation (AAMI), told HCB News.

McGeary chalks this up to a lack of awareness about the field, which as a result, has led to nationwide shortage that is expected to grow over the next few years as the majority of biomeds retire. Replacing them has also become a challenge following the closure of several two- and four-year training programs at universities. HCB News sat down with McGeary and other experts in the field to discuss these challenges and the various tactics they are employing to get the word out about BMETs and recruit new personnel.

A nationwide shortage
According to 24x7 Magazine, a publication that covers the HTM field, 40% of biomeds are 55 and older, and 22% are over 60, meaning that most are planning to retire in the next few years. As a result, thousands of vacancies are expected, with the U.S. Bureau of Labor Statistics predicting nearly 3,000 unfilled BMET positions by 2029. Additionally, young and middle-aged BMETs are increasingly leaving the profession for other careers because of low salaries and feeling overworked. The pandemic has only exacerbated these issues.

Richard Marshall, director of operations for HSS in the technologies service division, says replacing these outgoing workers will be a challenge because many young people are unaware that there is such a career. "I think the best course of action is just promoting the field. I think that's something that's been lacking for years. No one really knows about the field. They happen on it by chance or through the military."

With awareness low, universities have struggled to recruit students for their BMET and clinical engineering programs and as a result, been forced to close them due to lack of enrollment. In 2017, AAMI reported that more than 30 schools shut down their programs, with more following suit in the years after.

Margaret Berkey, senior BMET at CommonSpirit Health Good Samaritan Hospital in Nebraska, adds that justifying the need for them is also hard because they are not "technically" community programs that can just send students once they graduate to work at the local hospital. "Two and four-year programs — if we can just maintain and grow a few of those in the middle of the U.S., because there are almost zero BMET education sources. The whole Midwest just needs something to fill those gaps."

Additionally, the profession may be a turn-off to certain groups because it is not very diverse and primarily made up of white men. A study by AAMI last year found that only 10% of personnel identified as female, 8% as African American or Black, and 7% as Hispanic and Latinx. "There's definitely a lot of work to be done to really bridge that gap in the event of transition," said McGeary.

She adds that one way the industry is now tackling these issues is through the newly established AAMI BMET apprenticeship program, a two-year training program that pairs individuals interested in becoming BMETs with employers who can train them. "It allows everyone, regardless of where they come from or their economic status, the opportunity to become a BMET. If employers are really looking to increase diversity, the BMET apprenticeship is a great way to do that because it fully recognizes and understands that not everyone has the means to go to college. But that doesn't mean that they can't be a great BMET with the proper training."

What can HTM professionals do
According to Berkey, the HTM community needs to be more creative in the way they recruit trainees. In 2019, she proposed her idea for the AAMI BMET apprenticeship. AAMI and the U.S. department of Labor launched the program last year, and it now has over 400 individuals waiting to be assigned to a provider for training. "This program will familiarize selected candidates with the HTM field and really lays out the training required to be successful and for completion of the program. The individuals completing the required elements will actually become a candidate for certification through AAMI in the HTM field," said Mike Busdicker, system director of clinical engineering at Intermountain Healthcare. The healthcare system just hired its first apprentice this year.

But despite the higher number of people interested, the AAMI BMET apprenticeship is still having a hard time attracting employers who are willing to sponsor and pay trainees a salary, as well as the program's required supplemental education. McGeary says this may be due to providers not understanding the full value of HTM professionals for their facilities. She also emphasizes the need to pick up enrollment levels in university programs to prevent further closures. "If we keep seeing more schools close, it's going to be a problem and is going to keep getting worse," said McGeary. "We really need to get out into the middle and high schools, promote the field and spread awareness to students about this career path."

Jessyka Wright, director of biomedical services at Christus Trinity Mother Frances Hospital and director of clinical engineering at Crothall Healthcare Technology Solutions, says her hospital is doing just this by speaking about the profession at middle and high school assemblies, career fairs and presentations. "We're drumming up information at our local high schools in order to get the high school students to come and volunteer and shadow our department so that we can sort of steer them in the direction of going to college for a biomedical degree. That's really helped us here in a very short amount of time to fill some of our entry-level positions."

She adds that it's important to establish relationships with people in the local community to get the word out and to have representatives of different genders, ages and ethnicities to make the environment more inclusive.

Scot Mackeil, a CBET and 2018 BMET of the Year, says HTM professional societies, healthcare organizations, manufacturers and colleagues with training programs also need to play a part in recruitment efforts. "It's common for hospitals to have career fairs. It would be helpful if their CE/biomed departments participated in those events, representing the profession and recruiting candidates. Societies have a role to play in that when we have symposiums, we can reach out and invite other sectors of the technology industry to attend and see the career opportunities we have to offer."

Getting providers involved
For hospitals and other healthcare organizations to spread the word about the HTM field, they must understand what BMETs and clinical engineers bring to their operations and how this enhances their quality of care. "Until they understand our value, they're not going to accurately promote our field," said McGeary. "I think first education has to occur in the hospital, so that those people clearly understand our roles and what we do."

McGeary and other experts agree that the primary way of doing this is for HTM professionals to establish relationships with executives, administrators and clinicians, so they can more easily discuss equipment needs. "As a nurse or hospital administrator, the most helpful thing you can do is give a lot of information whenever services are needed on devices, including best times and best accessibility for equipment," said Wright. "We actually partner with all of our department heads monthly to discuss with each what items they might have been unable to locate for their assigned areas or any challenges we've had with repairs on their areas."

These relationships should also be more than just work-related, with biomeds getting to know the heads of departments and coworkers to build trust and care for one another, says Mackeil. "Everyone has something that you can talk to them about besides just work relationships. As long as you have a good network of relationships in your hospital you can accomplish almost anything. The same concepts work for all my service and sales reps at different companies. I'm very good about building my network of industry relationships. And it always pays dividends when I need help to support my caregivers.

Marshall says to take every opportunity to educate the people in hospitals about the role of biomeds, whether it be talking to them during rounds or even making small talk with C-suite executives on an elevator. He especially says that speaking up at EOC (Environment of Care) meetings should be a priority for HTM department heads. "The ones I've been in, it's a quick report out. There were no issues. But it's really getting the leaders of HTM to explain that EOC meeting and say, 'Yes, we did everything you wanted, but we did this, and we avoided this. We brought value in this way.' That way, we can really show the value of the field, and what it brings to that facility and provider network."

HTM departments also should have meetings and close relationships with IT. This can be tricky, as some healthcare organizations may have multiple IT segments, and others may not have strong distinctions between what tasks IT handles versus HTM departments. But with looming threats like more sophisticated cyberattacks and growing demands for system interoperability, collaboration between these two is essential. "As we move toward the 22nd century, everything has a computer inside. Basically, every piece of medical equipment is being interfaced or needs that network connection to be tested, validated or secured," said Berkey. "So, why aren't we looking at being on the same team versus being so disconnected and siloed."

Whether trying to recruit future biomeds or show hospitals the value that HTM professionals bring, it is important to present a concise image of the role that HTM personnel play in the structure and operations of healthcare organizations. This requires knowing the limitations in their field, speaking with different organizations about the benefits it provides and ensuring biomeds are valued, respected and receive proper wages and treatment.

"HTM is no longer an isolated support department located in the basement, where medical equipment goes to be serviced. We are an instrumental part of the entire organization," said Busdicker. "We have always played an important role in healthcare but it's time to elevate HTM out of the "fix it shop" mentality. We need to become proactive instead of reactive to ensure HTM is part of the overall healthcare solution. We need to be seen as contributors to the organization's mission and vision. Education is extremely important in that process and ranges from staying current on technology to obtaining higher education and understanding the issues facing healthcare."