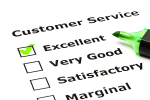 Five Minutes in Healthcare - Meet DOTmed's customer service team
June 01, 2022
With everyone working remotely, coworkers who once saw each other five days a week no longer spend much time connecting in person.

With that in mind, I decided to bring together our customer service team for a Zoom chat.

In addition to creating an excuse to catch up with a great group of guys, it also lets us discuss some of the customer service resources available on DOTmed.com.

I hope you enjoy my conversation with David Ritz, Llauger Minaya, and Alex Suvall.