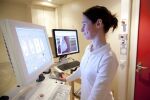 DBT may reduce advanced breast cancer diagnoses in higher-risk patients
June 23, 2022
by
John R. Fischer
, Senior Reporter
Digital breast tomosynthesis (DBT) may be able to identify small, invasive cancers earlier in women with dense breast tissue and with a higher-than-average risk, lowering the chances of an advanced cancer diagnosis.

While it may not be more beneficial than digital mammography in many women, the 3D imaging technique could potentially help certain higher risk patients avert deaths from advanced cancer, as well as the radical treatments prescribed for it, say researchers at the University of California, San Francisco.

In a study of 504,427 women, DBT was better at detecting small tumors contained within the breasts of the 29% of women with scattered fibroglandular densities or heterogeneously dense tissue and also a higher-than-average breast cancer risk. This suggests that it can identify more breast cancers earlier than DM. "A small percentage of women — 3.6% in our study — clearly benefit from DBT with respect to reducing the rate of advanced breast cancer diagnosis," said first author Dr. Karla Kerlikowske, a UCSF professor of medicine and epidemiology and biostatistics, in a statement.

She says that the results could provide insights for developing individualized risk models, as well as for reducing false positives and unnecessary invasive medical procedures and treatments for eliminating small tumors with little risk of becoming advanced malignancies.

It produced fewer false positives, and as a result, fewer unnecessary breast biopsies in the nearly 44% of women with non-dense breasts and low-to-average risk.

Breast density raises a woman's chances for cancer, say the researchers. The study is the largest to date that compares early-stage invasive cancer detection and advanced-stage breast cancer diagnosis rates between both technologies. Despite the benefits they found, the authors did not see a significant difference in rates of diagnosis for advanced cancer or for the entire population with DBT. They also did not find discrepancies in rates of cancer diagnosis between screening intervals or missed on mammograms.

But Kerlikowske says that the findings "suggest that DBT may allow detection of aggressive cancers earlier, before they become advanced in specific groups of women."

Data from the Breast Cancer Surveillance Consortium was used to compare screening outcomes for women.

The study was published in the Journal of the American Medical Association.