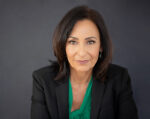 Five Minutes in Healthcare with Mimi Lively
July 06, 2022
Five Minutes in Healthcare is where I discuss current events with some of the industry's most influential leaders, as well as innovative thinkers who are working to meet the challenges of the COVID-19 pandemic.

This week I sit down with Mimi Lively, CEO of ZRG Medical in San Diego, CA, to discuss how her background in education prepared her to address unmet training needs in the medical equipment industry. By applying her experience in writing and submitting grants toward creating pathways for a new generation of biomeds, she is helping to full the void being left by older HTM professionals entering retirement.

We also talk more broadly about the refurbished medical equipment marketplace and the impact of the pandemic on business.

We hope you enjoy the conversation. Please tell us what you think, and let us know who you would like to see interviewed next.